The staff at GWCA are so excited to welcome home the Onchak family and their newest family member, Ming Wei. We applaud the efforts of the Onchak family and especially Ming Wei's courage! A reporter in China got wind of Ming Wei's story and was compelled to learn more. See what Mr. Han has to say about this heartwarming tale of a child finding her forever home.

Orphan Starting New Life in U.S.
By: Richard Han, Shenzhen Daily News
Just days before her 14th birthday, Chen Mingwei bid farewell to Shenzhen Social Welfare Center and boarded a flight in Hong Kong on Thursday to start her new life in the United States.
On the other side of the planet, a group of 30 family members in Ohio, will greet her at the local airport and organize a birthday party for their new family member.
Chen lived at Shenzhen Social Welfare Center for five years. She's the latest and oldest orphan to be adopted by a U.S. family under a program with Great Wall China Adoption, a division of one of America's leading international adoption agencies.
China is party to the Hague Adoption Convention. Children from China must meet the requirements of the convention in order to be eligible for adoption. Chinese law allows for the adoption of children up to and including age 13; children 14 and older may not be adopted.
"In China, many families tend to adopt a child younger than 3. It was impossible for Chen to find a family in China," Tang Rongsheng, director of the welfare center, said.
Before Chen turned 14 Monday, Tang treated her as an emergency case and contacted Great Wall, which sent out communications to thousands of U.S. families. A family in Ohio decided to adopt Chen after seeing videos of her attending different activities.
In the three years since the cooperation program was initiated, around 140 children from Shenzhen Social Welfare Center have been adopted by U.S. families.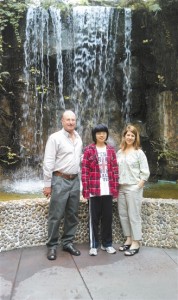 Ming Wei and her new Forever Family