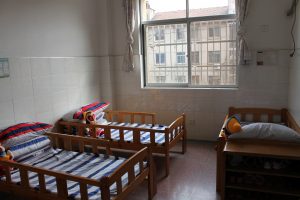 When selecting an international adoption program, one aspect that draws families towards the China's Waiting Child program is the chance to play a role in the matching process. With this unique process in place, the access that each agency has to children's files can have a great impact on the wait time for families. Over the past several years, GWCA has worked with orphanages throughout China to continue building relationships, enabling us to reach total of 16 Orphanage Partnerships! These partnerships have helped us expand our China Waiting Child program, placing more and more children with loving forever families.
What are orphanage partnerships?
With thousands of Waiting Children in China, agencies have begun to partner with specific orphanages. These partnerships allow adoption agencies to give back to Chinese orphanages by providing them with the resources to help prepare children's files for international adoption, and improving programs within the orphanage, giving each orphan the opportunity to thrive. This also means the orphanage provides any new files that are prepared exclusively to their partner agencies rather than releasing them to China's shared list. This gives each child a greater chance of being placed, as the agency begins advocating for their adoption immediately. Some orphanages partner with multiple agencies in order to best advocate for their waiting children. It is not uncommon that we will learn of certain children before their files become available. This allows and even greater chance for child advocacy.
Why are they important?
Orphanage partnerships are an important part of the China Waiting Child adoption process, as they benefit all parties that are involved. Not only do they contribute to the well being of each orphan within the institute, they help in the process of finding them a forever family by ensuring that their files are prepared and provided to an agency. This benefits the agency as they receive both files for Special Focus and Non Special Focus children. These files can then be reviewed by any families that are in process with the agency, as they have exclusive access to the file for a period of time. Partnership with an orphanage also allows for better and quicker updates, more photos, and more videos that aid in the placing of children with their forever families.
GWCA's Orphanage Partnerships:
Dainbai, Guangdong Province
Dongguan, Guangdong Province
Shenzhen, Guangdong Province
Zhongshan, Guangdong Province
Rongxian, Guangxi Province
Hong Hua Gang, Guizhu Province
Yue Yang, Hunan Province
Bai Cheng, Jilin Province
Bai Shan, Jilin Province
Luzhou, Sichuan Province
Neijiang, Sichuan Province
Yi Bin, Sichuan Province
Urumqi, Xinjiang Province
Cangnan, Zhejiang Province
Jinhua, Zhejiang Province
Yu Hang, Zhejiang Province
Shenzhen, Guangdong Province

Shenzhen is one of our orphanage partnerships that is located in the highly-populated Guangdong province. It is located in the Southeastern coastal region of China, close to Hong Kong and a few of our other largest orphanage partnerships. Our agency has been partnered with Shenzhen for over five years! When families arrive to pick up their children, the caregivers at Shenzhen will introduce families to their child's friends that they have shared a room with, and will encourage families to advocate for those children still needing homes. Shenzhen offers art and music classes for children over the age of four. They also work to teach kiddos about Western culture!
Dongguan, Guangdong Province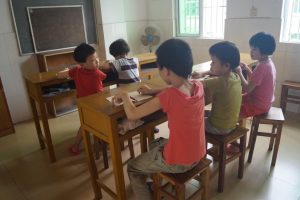 Dongguan is our largest orphanage partnership, located in the Guangdong Province in the Southeastern coast region of China. Dongguan is a Social Welfare Center, meaning that they care for both orphaned youth and the elderly. For the children in the orphanage with special needs, Dongguan offers physical therapy, rehabilitation, and specialized assistance with cognitive delays. Children at this orphanage are able to attend the Sunshine Academy, a school that helps to teach children ages 2-6. Within the Sunshine Academy, special education classes are also offered for older children not attending public school. In addition to the Sunshine Academy and the Rehabilitation Education area, Dongguan also has both an indoor and outdoor recreational area for the children to play.  
Zhongshan, Guangdong Province
Zhongshan CWI is one of our orphanage partnerships located in the Guangdong Province. This institute has over 200 children with 73 caretakers making it one of our largest partnerships. Zhongshan's services to their orphaned children include daily life care, education, medical rehabilitation and family fostership. Zhongshan does an excellent job providing education to their special needs children. As young children, they are separated into classes based on their level of needs. Each child partakes in classes on language, sensory integration, literacy, mathematics, health, sports, and art. Once the children reach school age, they are placed in respective classes to further their education. Zhongshan has an incredible medical facility and each year the children are evaluated and treated appropriately. The staff at Zhongshan are dedicated to finding children their forever families.
Jin Hua, Zehjiang Province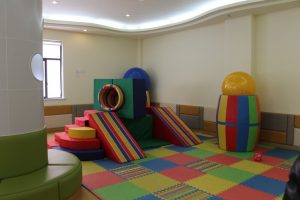 Jin Hua is one of Great Wall's orphanage partnerships located in the Zhejiang province.  Jin Hua is primarily an orphanage that provides rehabilitation services to children who have physical and developmental needs.  They have a large staff of rehabilitation specialists that work with the children on physical and mental exercises to help them catch up to their peers who do not have special needs.  Jin Hua has several large areas that facilitate play therapy and schooling for the children living there.  Many children come to Jin Hua orphanage from other orphanages and foster homes in the province for a time so that they can receive these rehabilitation services. Many of the children that have more significant physical or cognitive delays go to an orphanage school that is on campus, while the children who do not have as significant of delays go to a regular public school in the area.  One thing you will notice right away upon arriving at Jin Hua is that the facility is very big, bright, colorful and clean.  The children living at this orphanage have ample space and toys to play with. The staff and director of Jin Hua care deeply for the children under their care and want to do everything they can for them so that they can be adopted by loving Forever Families.  
Urumqi, Xinjiang Province
Our Urumqi CWI is located in the Xinjiang province. The Xinjiang province is the most Northwestern province of China which is home to roughly 21.5 million people. GWCA has placed 4 children from this partnership in the year of 2016 and we hope to receive more files from this institute this year. The children here have needs varying in degree. There are plenty of younger minor needs children as well as older children with medical needs. Many of these children live in foster families and do not live at the institute. This allows for the children to experience living in a family unit while receiving more one-on-one care as they wait for their forever families. The updates we receive on the children from this institute have been very quick and thorough. GWCA is very grateful to be partnering with this institute!
Rongxian, Guangxi Province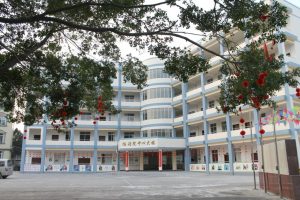 Rongxian is a Great Wall orphanage partnership located in the Guangxi province.  Rongxian is a Social Welfare Institute which means that part of the campus facilities are designated for elder care, and some of it is designated for orphan care.  The orphan care area at the orphanage is fairly small and consists of about three rooms, two balconies, a bathroom and a washroom.  This is a fairly small orphanage with only about 12 children living there at any given time.  Most of the children at this orphanage are under the age of 3 and their special needs vary from very minor to very significant.  There is usually one or two nannies at this orphanage at any given time to care for the children, as well as some older children who have aged out that live there and help out with the younger children when they are not in school.  There is a large courtyard with grass and trees at this orphanage that this children can play in when the weather is nice.  The staff at Rongxian are eager to help these children find their Forever Families.
Zhuzhou, Hunan Province
Zhuzhou is a Great Wall orphanage partnership that is located in the Hunan province.  Zhuzhou has a large facility and campus grounds, including outdoor playscapes and indoor rehabilitation facilities.  The children who have special needs that require physical rehabilitation services receive rehab in one of the facilities two main rehab rooms.  Many of the children that have more significant physical or cognitive delays go to an orphanage school that is on campus, while the children who do not have as significant of delays go to a regular public school in the area.  This orphanage has a unique feature in that there are small apartments on the property where some children live in "simulated families."  Simulated families are almost like living in a Foster Home, except they are on the orphanage campus.  About six children live in these apartments with two parents, who are also orphanage staff, so that the children receive a more normal familial upbringing and get more one-on-one attention.  Not all of the children at this orphanage live in these simulated families, but many do.  Still, these are not permanent families for these children and they will still age out of the China Adoption system after they turn fourteen years old, so they need to be adopted.  Simulated families are no substitution for a real, loving Forever Family.