At GWCA/Children of All Nations we are always excited to travel to the countries where we have programs. At the beginning of this month our CEO, Snow Wu, and Development and Program Management Specialist, April Wareham, traveled to Ghana to continue developing our program to better serve the children and our adoptive families. Check out what April had to say about their most recent adventure!
From Deep in the Heart of Texas to Deep in the Heart of Ghana
Nothing tells you more about yourself than a bumpy, winding, three-hour trip on dirt roads into the African bush with 5 adults crammed into a car on a 95 degree day. Unless you're an adventure junkie with a bleeding heart for orphans. That's what all 5 of us (Ghanians and Americans) were in that car, actually, hence our fervor to help the most unreachable children in the villages of rural Ghana. We spent 4 of our 7 days in Ghana traveling on dirt or pothole-filled roads into small towns and villages, working with local child welfare NGOs to find out how we can help the orphanages most in need, and the kids most often forgotten.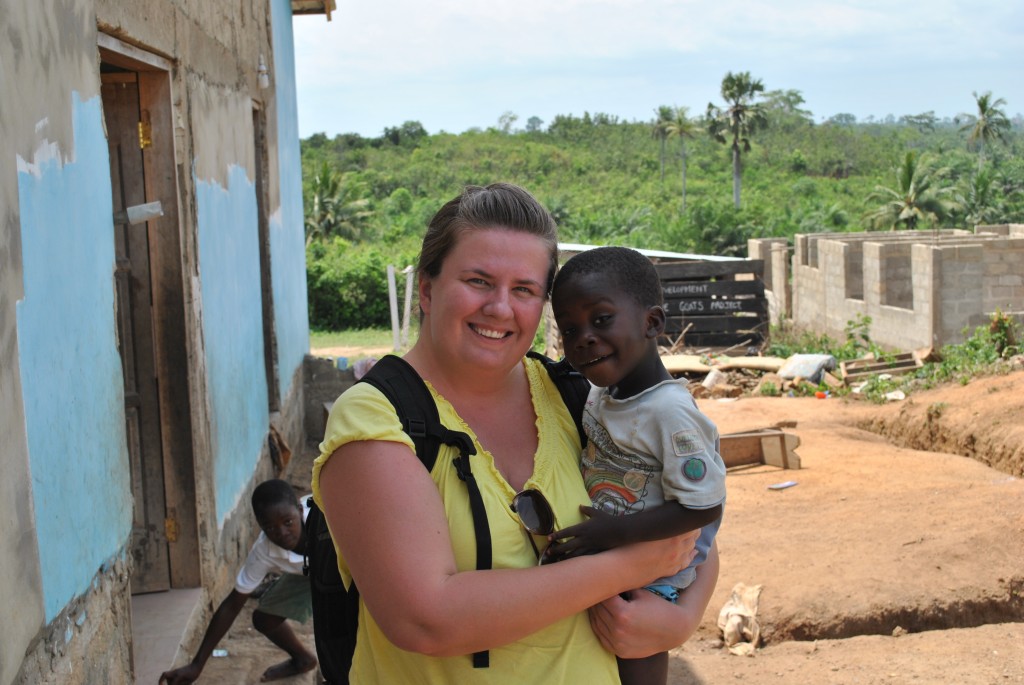 There's a strange feeling that comes over you when you visit an orphanage where children sleep in mud huts on the ground, or on decaying pieces soiled foam that were supposed to serve as their beds. It's a combination of humility, sadness, compassion, and ardor that ignites a passion to help and a yearning to take all the kids back to your home to give them soft beds, warm baths and savory meals. It's quite overwhelming, actually, and sometimes I wonder if the reaction is too strong. But one person once told me that the opposite of love is apathy. And that's why we are so moved by the children's plight. It's in those moments that I realize why I do what I do. Without love for these children, what motivation would we have to come to their aid?
That's why we trekked across the Ghanaian bush, our clothes soggy with sweat, flies and mosquitoes buzzing around our faces in the blazing sun, and downright forgetting the feel of a cool breeze from our luxurious A/C. It's a luxury those kids never had. And that's why the adoptive families do it too. How could one not respond to the call of a child clinging to your legs calling you mamma, especially when you're there to pick up another child that was referred to you? It's the word of mouth from other adoptive families that these kids need, so someone else will be moved to come back for that child.
Somehow we all push forward, to other orphanages hoping to find one that has better conditions because we are so bewildered by the last. Though the conditions are better at the next, and the children actually have beds, the kids in this place still have to haul their water in basins and buckets from a stream down the road…on their heads. The well had run dry in Ghana's dry season. They won't have running water again until the rainy season in April or May. And the question screaming in my head is, how on earth will I ever convince everyone – adoptive families, friends, family, the people reading this right now – how much need and the near desperation there is here? These kids needs homes, families. They need food, medicine, someone to go to when they cry.
Our mission is to find these kids families, and get them placed into foster homes with better care. Our mission is to support these orphanages so they can give better care to all the children, including those left behind. Of course, you can't just work at the grassroots level to accomplish your missions in the area of child welfare. You have to go straight to the top as well and advocate for these children. Thus, our other 3 days were spent in wonderfully informative and relationship-building meetings with the Departments of Social Welfare in various regions where we will be working to place children. Our trip was inspirational, humbling, eye-opening and successful. We are renewed in our efforts to place children in Ghana, and we hope any families who were looking to adopt in Ghana will be too. As in many African countries, these kids are depending on us, waiting for their families.
As I flew home I started thinking, how can one go from deep in the heart of Ghana, back home to the heart of Texas? It should take more than 2 days and a few plane rides to get back, because these places seem worlds apart in reality. How are we living on the same planet, but not in the same world? To return from places like this, you have to let Africa drain from you drop by drop, slowly, to readjust to your daily latte (that costs the price of a day's salary of a rural Ghanian), to your refreshing A/C, and all the other luxuries you didn't realize you had until you were away from them.
I do know, however, that when we do go back, and when our adoptive families head to Ghana, they will be met by some of the most welcoming and friendly people in the world. Each and every person we met greeted us with "You are welcome" or "Akwaaba" in Twi. The people of Ghana have a heart for hospitality and a heart for their children, they just need our support.