Amanda Carr, an adoptee of 15 years, shares a beautiful adoption story through creative words. She says that she came up with the name of her poem "because even though we (adopted girls and boys) don't know our biological parents, we will forever be theirs."
Amanda currently resides with her parents Tony & Shelley Carr of Pflugerville, Texas. Great Wall China Adoption helped celebrate her "Gotcha Day" in 1998.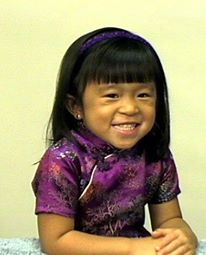 She carried me in her womb
For nine months I was being formed
All alone by herself my Mother hid
Hiding her daughter that grew inside.July 11th 1997 I was born
My Mother and Father wept
Holding onto their first born
Their daughter
My name is Dai-JunTwo weeks later My Mother and Father mourn
Wrapped in a blanket and placed in a basket
One last hug and kiss
Before getting whisked away
Into the darkness I am carriedDown the street of Dai Shan in Nanchang.
She places my basket down on the street
Kissing my hands, head and feetShe says "Goodbye" and quickly fades in to the darkness.
On the street of Dai-Shan a little girl lays
So helpless and vulnerable
Wrapped up in a blanket so delicate and neat
Her Mother watches from afar
She wants to go and get her little girlThis little girl gets whisked to the orphanage.
So many little girls
All abandoned
All without a family.
The Mother goes back to her village
Going to the room where her daughter was born
She weeps as she holds a picture close to her heart.
The Father sung to his daughter every night he could.
Holding her close as possible he rocked
And swayed her
Singing and kissing his first born daughter.
Every year on Dai-Jun's birthday the parents' morn and cry
Not knowing if their daughter is okay or even alive.
The parents hold a picture of her and whisper
"You are our Daughter Forever and Always"
-Amanda Carr
Read More