The conditions in the social welfare institutes and orphanages have greatly improved for children awaiting their forever family. Great Wall China Adoption is committed to improving the orphanages and enhancing the lives of the children through the Great Wall Gifts of Love charity mission.
Gifts of Love allows you to donate gifts to Chinese orphanages that either care for your child before you meet or other orphanages in need throughout China. These are simple gifts that improve the quality of the orphanages and enhance the lives of the children who live there.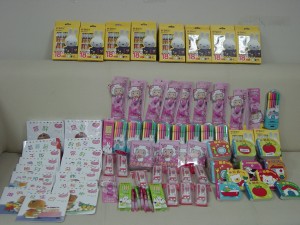 Individual item donations can often get held up in customs. Great Wall China Adoption has eliminated the hassle of shipping altogether, by allowing families to contact GWCA to request an orphanage donation list. Once a family or travel group selects an item from the donation list, our China Division in Beijing will purchase the item and deliver it to the specified orphanage. Many orphanages are in need of basic necessities, such as refrigerators, AC/heater units, washing machines, dryers, and cribs. Donating to a child's orphanage is one way for parents to say thank you, or "xie xie," to the orphanage director, staff, and nannies who took care of their children while they lived there.
Travel Groups
If you are interested in joining the members of your travel group to donate to your child's orphanage prior to your travel, please inform your travel advisor. Travel groups are encouraged to donate through Gifts of Love in lieu of giving individual gifts to nannies and orphanage directors once you are in China.
In order to sufficiently cover the cost and to arrange for the delivery of appliances or other gifts to the orphanages, there is a $225 minimum donation for this charity project. Travel groups are welcome to collaborate to raise the funds for gifts for an orphanage of their choice.
For more information, please contact our Travel Director Diedra at 512-323-9595 ext. 3080 or diedra@gwca.org!