Over the years, Great Wall China Adoption has created a variety of service plans to better fit our families. These cost of each service plan differs based on the amount of assistance that you would like from our specialists and the amenities which are included. While families that have been through the international adoption process previously might be able to complete each step with little help from our specialists, we offer more inclusive plans to ensure that all of our families are confident throughout their adoption journey.
Preferred PlanConventional PlanElite Plan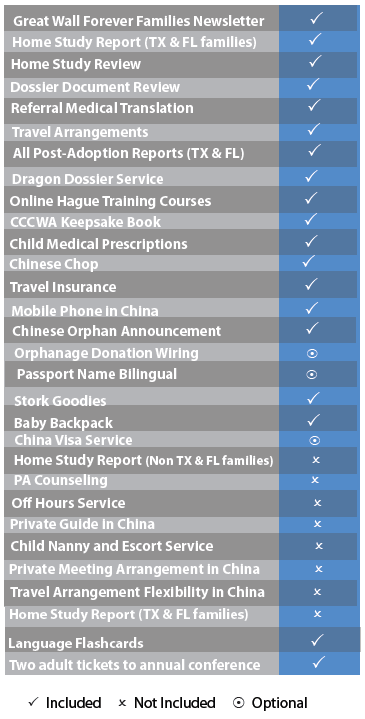 The Preferred Plan is our most popular plan. You get the benefits of the Conventional Plan, plus additional services and amenities. Formerly known as the Premiere Plan, the Preferred Plan builds on the exceptional service of the Conventional Plan to provide a customized approach for each Great Wall family's adoption.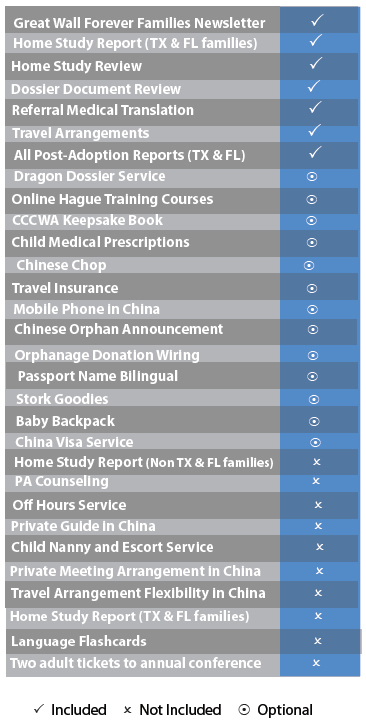 The Conventional Plan is perfect for a family familiar with the adoption process or for those who do not mind devoting more time in gathering their documents. Families accumulate official documents by following Great Wall's detailed step-by-step instructions provided on a weekly basis. The plan offers unlimited guidance, phone, and e-mail support from Great Wall case managers during application approval, dossier gathering, referral, travel preparation, and post adoption phases. It is a more economical plan used mostly by families interested in gathering paperwork and keeping adoption costs low. Families choosing our Conventional Plan may also want to upgrade to our Dragon Dossier Services. This valuable resource makes the dreaded paper chase a much smoother experience! Learn more about Dragon Dossier Services here.
This is our second adoption with Great Wall. We used the Dragon Dossier Service the first time and never considered doing it any other way this time around. The peace of mind that came with having an "expert" review our documents and handle the certification/ authentication was well worth the price. Thank you once again for offering this service.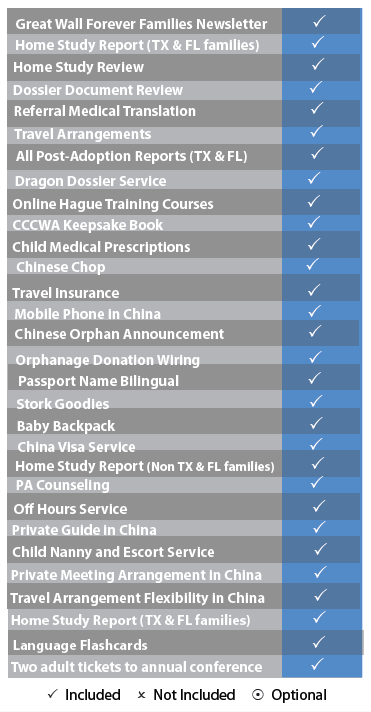 Great Wall China Adoption's Elite Plan was created for select clients whose schedule and/or lifestyle requires a more personalized and discreet service plan. Formerly known as the Executive Plan, Great Wall China Adoption's Elite Plan was created for select families whose schedule and lifestyle require a more personalized and discreet service plan. Our Elite Plan provides privacy, convenience, and flexibility without sacrificing Great Wall's service or level of expertise. There is no other plan that comes close to this level of personal service anywhere else.

Apply Online Now! Request a Child's File, Request a Video, Financial Assistance, Member Access, Personalized Match, CLICK HERE
For more information on any of the Great Wall China Adoption service plans, feel free to give us a call at 512-323-9595 or contact us here and we'll be happy to assist you!