The Flynt family has overcome many obstacles since their decision to adopt. They are an admirable family and we commend them for not being afraid to always share the truth, especially when it comes to adoption. Surely looking at Logan's sweet face is a constant reminder of what LOVE can do.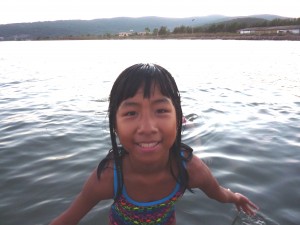 What LOVE can do? Providing a testimony to what LOVE can do seems like such a simple act, but how did we get here?
My husband and I realized we had both been thinking about adoption since we were children, each had stories on how this desire came about, and as for everyone, it starts with the love you want to give to a person that you know needs it. Time went by and we felt ready to take that step. The kids already home were very excited at the prospect of a new sibling, and even more at a sibling from China. They both love that country and even set out to learn some Mandarin with an online program from our library.
We chose our agency and later found out it was the same one our neighbors used. We were pleased as our neighbors now have 4 successful adoptions from China! 
The process isn't as glamorous as some would think. Paper-chasing is a lot of work, I even got carpal tunnel syndrome checking email and getting as much info as I could online. Then we did the online preparation parenting classes. Trust me, no matter how many books you read and classes you take you will still have a lot to learn after you come home! So I say, "be prepared for the worst, hope and pray for the best." Have a capable counselor ready, choose one that can work for anyone in the family as you do not know what your needs will be. Hopefully none.  
We got the rooms ready as we had a young boy in kindergarten and an older teenage girl. All that was needed was a bed and dresser for the newcomer that would share a room with one of their a siblings. This would also make final inspection easy on the social worker. Our social worker is a very nice one. She lives near our fave pizza place so going to take papers to her was always a joyous occasion for more than one reason!
We really did not have a preference in boy or girl but were thinking of the new child being the youngest as we had no idea about the existence of older child adoption from China. Then Logan came along and we decided to join her life story. We adopted an older child.
I was looking at the GWCA listing and as usual I wanted to adopt all the children on the list but we had decided to wait for the search until most of the paper-chase was done. I just went to look after finishing a class on international adoption online. Once you get that password you are constantly checking for new faces and rejoicing when children have families that choose them, but I knew that we were not done with papers yet. Then the kids and I see Logan, and she was their sister. Roger was just as impressed so we asked for her file.
What? A 9 year old? How about those baby toys I bought? The tiny robe? A 9 year old? She will be over 10 when we bring her home! How am I going to get to go to our beloved preschool now? I had visions of preschool plays with a tiny tot as I had gone through with my other children, now what? We are skipping straight to 4th grade? YES! Yes we are. Yes, yes we did. Why? Because she was waiting for us. 
She was a waiting child, do you know what that means? She is WAITING for someone to tell her she is their own. And she had been waiting for years. We were ready to adopt and she was ready to come home. How silly of me to think I should wait for papers to be in a nice stack in every possible office and then put in my royal requirements.
The first few days in China we had were perfect, the first few days home we had were perfect. Then perfect left! Remember those classes you took? Me neither! Nothing is going to prepare you for your specific need. It is important to have a counselor in place that can help you understand the behaviors and tell you how to help in the proper way. You might be among the families whose older children are angels on earth, or you might be my family, where the only angels around are the Guardian Angels, and they are working overtime all the time.
We have come a long way since Logan came home 2 years ago. We are going forward to bigger and better things. The kids are happy, they love each other and behave like ordinary siblings. Logan is a lot faster than the other two and can manipulate a log into a house. But thankfully the other two are catching on and their bond is solid. The two already at home loved her from the moment they set eyes on her picture and have been very patient through all that she dishes out. Logan has gotten to know us and has adapted her behavior to our "boring" house. She loves her siblings. She adores her dad, he is the greatest. He can do math, how helpful is that! Even her mom, (who makes the worst stir fry) is worthy of hugs.
Sarah is very happy with her sister, she says that she is smart and funny and feels lucky to have her. Victor feels the same way even if she does not ever want to play with him. She gets excused since she knows nothing about Star Wars and would not know how to play with the Lego spaceships. Plus she is a 12 year old girl and Victor is a 9 year old boy. He is still very happy to have her as a sister and thinks that she is 'good' and can be funny. 
Logan will tell you that she likes it here and that she wishes there were more siblings to play with since the ones here are 'boring'. Anything less than a Tasmanian Devil is boring for Logan. She likes her school, her teachers, and her classmates. She is now in 6th grade and is doing very well. She decided to keep us as a family. She loves playing with the neighborhood kids and going to the park. She loves her IPod touch her dad bought it for her birthday. She feels adoption is good as she has gotten to see America and Italy. She wants to go to Disney World and is shocked we have yet to take her since she asked months ago already.  
All that stuff about a better future? She is 12, all she cares about is playing games on her IPod, being on QQ, and running around at the park chasing other kids. She knows the importance of education as a means to a better life. She intends on being the best at whatever she does that way she can do whatever she wants with her future earnings, a Disney Cruise and a trip to Disney World are the first things she'll buy! Hopefully I can tag along!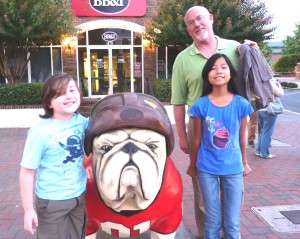 Victor, Dad and Logan in Athens, Georgia with the University of Georgia Bulldog!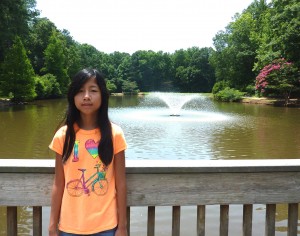 Logan at a park in Athens.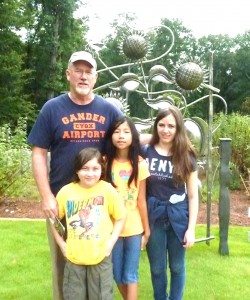 The family at a park in Athens, Mom always the photographer!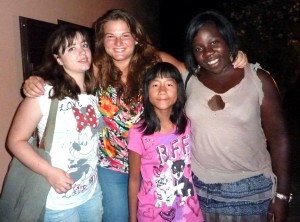 Logan with sister Sarah and friends.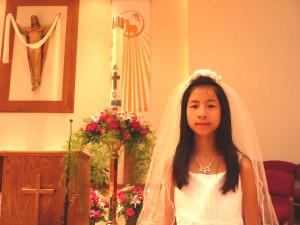 Logan at her first communion, how beautiful.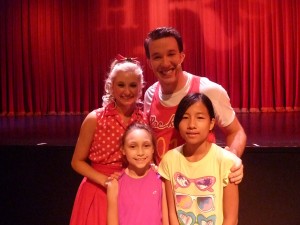 Logan at Fiesta Texas with Rockville performers and friend, Emily.
Read More