Some of our host families are eagerly advocating for their precious host children. The children return home to China January 12th and we are hoping that by January 31st adoption paperwork will have begun for all 25 children.
The following kiddos are hoping to find their forever family. If you would like to learn more about them please contact our Matching Team, you can also visit our photolisting for more information. The families are happy to share with you their experience and more videos and photos.
Meet Cody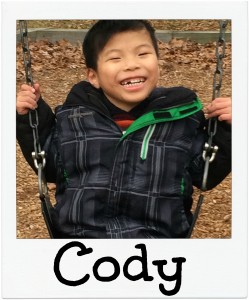 "Cody is a very happy and affectionate little boy. He loves music, singing and dogs. He has cerebral palsy but he does not let that stop him. Both feet are turned inward which makes walking unsteady at times but the pediatrician thinks he would do very well with surgery to straighten them. When he falls he gets right back up and is as happy getting up as he was falling down! At the park he is determined to do everything all the other kids do. We took Cody to our son's swim lesson and he started to cry. We were stunned this happy little guy was crying. It turned out that he had never been swimming before and wanted to swim! He has had 2 lessons and just squeals with delight when he's in the water. He gets along well with children of all ages though falls behind with the rough & tumble kids due to his unsteady gait. He is picking up English quickly. He counts and says the alphabet in English and is able to express his needs. He is not a picky eater and is willing to try most everything. He is independent with feeding and toileting but needs some help with bathing due to safety concerns and is learning to do a better job brushing his teeth. This little lovebug would thrive in a family." – Cody's Host Mom
Meet Josiah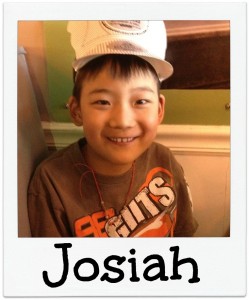 Josiah is precious. He just turned 9 years old in December 2014. He LOVES being in a family and truly needs and deserves a Forever Family. Your heart will be warmed by his smile. At the age of 2, he had life-saving heart surgery and has done amazingly well since then. You will be impressed to hear him sing his ABC's, Christmas songs, count to 29, and wholeheartedly dive into the English language with you and others while smiling the whole time. Also, he can say "today is Friday, yesterday was Thursday, tomorrow will be Saturday." He is appreciative of the smallest of gifts. Of course, being 9, he exhibits the usual stubbornness, sometimes, by pretending he did not hear what was asked of him, but then he will say, "okay." His host family in the USA has a small dog, and Josiah walked right up to it as if it had been his pet forever. He expresses love easily. He loves eating pineapple, bananas, rice, chicken, pizza, and will let you know when he is "hungry." And you will smile, too, when you hear him say "so-o-o g-o-o-d. Thank you, Mommy." -Josiah's Host Mom
Meet Jon-Jon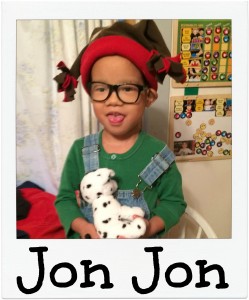 'Jon Jon Has the sweetest little smile. In his smiles you can see he just wants to be loved. He is 5 years old on paper but developmentally he appears to be more like a 3 year old. He is very smart. He loves to be held and cuddle. He loves riding around town in the stroller and playing with toys that make a lot of noise. He had corrective heart and palate surgery as a baby but is all fixed now. He seems very healthy and would thrive in a family. He has the sweetest little voice. He loves to color, run outside and be held. He really needs a mama that will dote over him and give him lots of love and attention. He wants to know you will keep him safe. Since he is more like a 3 year old emotionally he does have some typical toddler behaviors such as minor tantrums but it is nothing more then I had with my bio son when he was that age. He has one minor special need that doesn't effect his daily life, Hypospadias.' -Jon Jon's Host Mom
Meet Matthew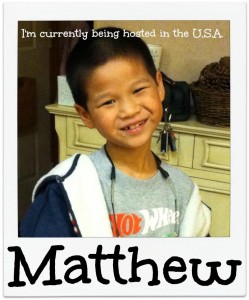 Matthew is a sweet boy who is very shy when he first meets people. He is smart and has been showing us how he can count in English. He has learned the word 'hungry' and we aren't sure where he is putting all the food. He gets along great with our other children who are both younger and older than Matthew. He is very helpful around the house and we believe he lives in foster care which explains why he functions so well in the household. He noticed we hadn't put the ketchup away after dinner and he picked it up and put it exactly where it was supposed to go in the refrigerator. He does have a hard time transitioning away from something he likes doing, like Wii Nascar is his favorite! But he will cooperate with very little coaxing. Matthew's legs are somewhat 'floppy' for lack of a better word from his CP but that does not seem to slow him down one bit. My husband does help him in and out of the bathtub just to be on the safe side but he is very independent and does not really like help too much. Matthew is just a great kid that will make a wonderful addition to a family.
Read More