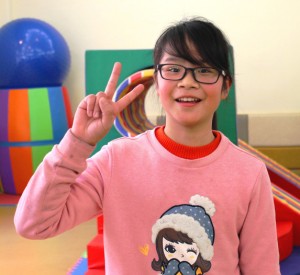 Last month I wrote a blog post for our Great Wall China Adoption website detailing a little bit about what my journey to China was like. I went to China this past February/March for two weeks to visit some of GWCA's 14 Orphanage Partnerships. My main goal while being there was to meet the kiddos whose files we have already received or will be receiving in the not to distant future, and to get as much additional information on those children as possible. It really helps potential adoptive families move forward with a child when they have newer information on them, including good photos and videos. Everything I did on my trip was in an effort to get more orphaned children from China adopted.
The short blog post I wrote wasn't long enough to write about my entire experience in China (you'll have to read my blog for that), so I instead focused on one girl I met while I was in China named Eva. This is the part I wrote about Eva in last month's blog:
There was one girl, who I'll call "Eva," that I met while I was in China who is 13 years old and will be aging out of the Chinese Orphanage system next February. Aging out means that a child will not be able to be adopted after their 14th birthday, so kids like Eva will never get a chance to have a family after they turn 14 years old. Out of all 99 kids I met over the two week period I was in China, Eva was one that really stood out to me. Eva walked up to me as soon as I entered the orphanage and with a big smile and lots of confidence she said, "Hello! I'm Eva. Good Morning!" Eva was such a happy kiddo, telling me somethings in English, some through a translator, what her favorite games to play were, that she is in school and what grade she is in, what her favorite sports are and who her best friends are. As you can imagine, after years of not being adopted, Eva really wants to be adopted and have parents and a family. She only has about 10 months left before that will no longer be a possibility.
Every day since I've been back from China I have thought about Eva and what a special little girl she is. Eva is so very deserving of the love and attention of a forever family, as are all of the wonderful kiddos I met in China. I have been hoping that there is a family out there who will want to adopt Eva and give her the family that she has always dreamed of! Could you be that family?
Well, I have some very good news! Eva has been matched! A family that has a lot of great personal experience with Eva's special need is moving forward with adopting her! I am so beyond excited! When my teammate told me that the family she was talking with was definitely moving forward with adopting Eva, I literally jumped out of my chair and started jumping up and down, with tears of joy streaming down my face!
Eva is the first child from the group of children that I met while I was in China that our China Home Finding Team has matched. I can't tell you what an amazing feeling it is to know that a child you met in real life, half way across the world, is getting a Forever Family! I am so hopeful that there will be dozens more over the next several months! But for now, I will bask in the joy of knowing that this amazing girl is not going to be aging out of the China adoption system, but instead will be brought into the loving embrace of her Forever Family very soon!
Read More