Oh, the joy of boys! Did you know that there are hundreds of boys in China waiting to be adopted? Many people believe that little girls from China are the ones that need help, however that is definitely not the case. Because of the well known one child law in China it is often thought that families in China would not want to give up their little boys. This is definitely a myth that desperately needs to be overturned.
If a boy is born into a family that already has a child it is possible his family may choose to no longer care for him
If a child is born with a special need that a family is not able to handle they may choose to no longer care for him.
If a child loses his family at an older age they may become eligible for adoption.
There could be a number of reasons as to why a family would abandon their little boy but the bottom line is, these little boys need forever homes too. Annually there are 3 times as many little girls adopted than little boys so the number of boys waiting is increasing everyday. Take a second to learn a little more about some of our sweet little boys waiting. Click here to view all of our waiting children or contact Jessie@gwca.org to learn more about these guys.
Hi, I'm Andrew! I am 6 years old and I am the life of the party. I had surgery when I was very young because I had CHD, and, since then, I have been feeling better! I am able to play with my friends and I love to dance and sing. I am very smart and love to ask questions. I am a great eater and my favorite food is sweet fruit. My caregivers say that I am typical boy that loves anything with wheels!
I met a very nice adoption advocate this summer and this is what she had to say about me.
"I met this 6 year old boy with CHD. This little guy had so much energy and was ALL BOY running around and playing and showing off for us. I was alone in a stairwell with him and nearly fainted when he jumped from the halfway point on a flight of stairs to beat me to the bottom! I tried to scold him but he gave me one of those smiles that led me to believe he was gonna do it again on the next flight…yep… This little guy is so full of life and just adorable!!! I imagine he keeps his foster mother on her toes! He was very curious about us and followed us all over the orphanage building."
Hi, I'm Patrick! I am almost 10 years old and I love to play the keyboard and organ. I had surgery to remove a hematoma of the scrotum, but I have not had any other complications since then! When I had my surgery, the doctors found out that I have hemophilia. That doesn't stop me from doing most things throughout the day, but sometimes I can't walk as far or run as fast as my friends. I take medication every week to help my blood clot. If I get hurt or fall down sometimes it takes longer for me to stop bleeding, but I still love to be active. I have been living with a foster family since 2006 and I am learning a lot. I can read full newspapers, do chores around the house, and even go on the Internet!
Hi, I'm Louie! I am 6 years old and I love to run around and do things on my own. I came to the orphanage when I was 2 years old and I had a lot of tests run by doctors. The doctors say that I have hydrocephalus, but I have a healthy heart, lungs, and diaphragm. Also, one of my feet is 1 cm longer than the other, but the x-rays show that both feet are very healthy. This has not slowed me down at all! I went to live with my foster family in 2011 and I am learning a lot in school. I am a little bit behind my friends in school and sometimes I am slow at communicating, but I am fast at playing games. I love to play with blocks and build tall towers!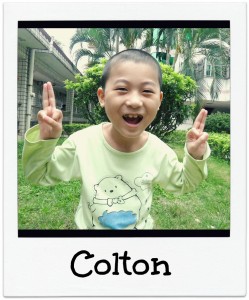 I'm Colton and I am 9 years old. My friends say I am outgoing and polite. My doctors tell me that I have cerebral palsy, a mild deformity of both elbow joints, clubbed feet, and paralysis of both legs. Though I cannot stand or walk, I don't let this hold me back. My caretakers tell me that I am not even affected by these problems with how much I move around. I am even a pro at using chopsticks and scissors. I can cut out paper flags, kittens, and boats. I would really like to learn how to draw too. I hope that someone can teach me more about this one day! In order to get around I have a cool chair just for me. It has really helped build up the strength in my hands. I love reciting rhymes and stories and helping the other children. I love learning new things and sharing with the other kids around me.
Hi, I'm Daniel! I am 6 years old and I love to play with my toy cars! The doctors say that I have Cerebral Palsy and I go to physical therapy to help this. I used to not be able to move around, but I have been working so hard in therapy that I am able to roll over, sit, stand, and go upstairs all by myself! I almost have walking down to perfection, but sometimes I may be a little unstable . My caregivers say that I am a chatterbox! I love to ask questions and learn new things. I can keep up with my friends in school. I enjoy playing with my toys and I especially like playing outside with my friends!
Read More