The adoption journey is an interesting ride with many bumps a long the way however, once the chance to travel comes a long, families begin to see the light at the end of the tunnel. For John and Mylene their excitement to bring their little Maya home is undeniable. Maya is considered an 'older child' in which the gotcha day and adjustment period in China could potentially be very difficult. They have agreed to share with us their journey as they meet and get to know Maya. Below is their journey thus far.
5/15 The Final Journey Home
Thank goodness for the weekend. It will give me a chance to catch up on some sleep, at least that's the plan, while I slowly piece together the story of our journey home.
We spent the night at Novotel Citigate since the hotel GWCA recommends was booked. It also has an airport shuttle so an easy choice. Because it's a hotel normally used by traveling businessmen and airline crews, no free wifi or free breakfast we had grown accustomed to. The room was nice enough to spend just one night and after breakfast we caught the 10 minute shuttle ride to the airport. The nerves started kicking in. How were we going to survive 12 hours to SF, a 6 hour layover and another flight to Orlando? We had been trying for a week to upgrade to economy plus on United but the flight was full. In the check in line, we ran into another family flying out of Hong Kong so we chatted up a bit, said our goodbyes then headed to our gate.
The security was about the same in the States except I got to keep my shoes on. Of course we had to dump our waters but bought more before boarding. We made our way down the ramp to another security bag search before boarding. The lady did a quick search, checked my passport for the third time since checking in for my flight, then grabbed the unopened water and said "sorry, no water" and threw them out. We got to our cramped little home to be for the next twelve hours and set up iPods, blankets, pillows and books the best we could. I wish I could tell you about anything interesting about the flight. Four movies, two meals, and twelve hours later we made it to San Francisco. The only damage was an extreme case of boredom and the fact Maya only slept for about an hour. We decided we would just keep her up for the Orlando flight.
When we made the reservation, we chose the long layover in San Francisco since we had family and friends in the area. I got ahold of my uncle and he said he would bring my grandma to come pick us up and grab some lunch. We were excited to see family and since Maya had been doing so well, we knew she would have a good time.
We landed then taxied to the gate without the mad rush by everyone to get to the front of the plane unlike the flights in China. I texted my uncle that we had  we landed and where to meet me. We still had to go through customs and immigration. We got to immigration and were directed to a line for NEW immigrants. We are so excited for Maya. Since the "visitors" line has no line for wheelchairs, they also use the "new immigrants" line so we were third in line. Another lady from Customs told me we were in the wrong line as My wife leaned against a sign next to me that read "new immigrants." She told me it was for wheelchairs and that she "thought " I need to be in the next line. There wasn't one and I let her know I wasn't moving unless she knew for sure since there were now five more wheelchairs behind me now. After a twelve hour flight I was allowed to be a little chippy. She asked another agent who told her they just use the line or wheelchairs since it was so short all the time. This small victory made me feel good enough that her pride was hurt enough to not apologize. We made it to the front five minutes later and were told that the paperwork would take about another 5 minutes but he had to finish processing the "wheelchair line. We waited in the waiting area with another family that we recognized from our flight. It was still nice to get to know other adoptive families and their stories so we chatted while we waited. About ten minutes later the agent came out and told us our paperwork would be about 2-6 months in the mail. We left immigration and onto the baggage claim to find our bags. The rest of the passengers had long since left and our bags were left along with about 20 others on the floor around the carousel. We collected them then off to another customs line to get them X-rayed again so they could be rechecked onto our flight home. It had been about forty minutes since we left the plane. I texted to apologize to my uncle and let him know we were done. He texted back that he was still 15 minutes away. Really, uncle!? Ok fine. We waited another 20 then he texted asking which baggage claim we were waiting. I told him….again. 90 minutes after we landed I was hugging my uncle and grandma and I introduced Maya to them. She seemed to understand how we were related and since my uncle had his 2 year old son with him too, Maya was excited.
We went for a quick lunch and Maya seemed very comfortable with everyone. We found a park about five minutes away so headed out. The park overlooked the airport so the kids enjoyed watching the planes takeoff and land. Maya was also having fun chasing around her little cousin. We walked along a paved trail used by many local lunchtime power walkers and eventually ended up at a Marriott for a kiddie restroom break and about twenty rides up and down the escalator. As we waited long enough for our dismissal from the premises that never came, we decided to leave and slowly head back to the car so we could get back to the airport. It had been a while now and it was a great visit with family if only for a few hours. We would get back with about an hour and forty five before our next flight. Plenty of time to charge all our devices for the last leg home.
We said our goodbyes and Maya said goodby to my grandma and awkwardly hugged my uncle and we were on our way to the next gate. We pull out from the gate on time. It's a noisy flight. The flights to Orlando usually are filled with so many toddlers. Before we taxi, the captain announces we are returning to the gate to let a family off the plane. It seems most of the noise is coming from two children. As they exit the plane, the mom is apologizing as they make their way down the walk of shame. Some angry faces stare at them. I am not one of them. I could only think that the six hours of screaming has just left and I am grateful. Now if the couple if front of me with the two twins would do the same, I may make it home without a nervous breakdown. Less than 5 minutes after takeoff, Maya eyes tear up. I see my wife is mad and Maya is fiercely grabbing at her crotch.  She has held her pee as long as she can. She has been letting us know about 2 minutes from bursting that she has to go. A habit we are working on. Mylene had the foresight to pack extra pants and underwear for her. She had a feeling it wood happen. We are still climbing and obviously not suppose to be out of our seat. Sorry folks, this is an emergency.
I'm  at about 20 hours no sleep now. The next few hours are a blur. I wake up two hours from Orlando. I have a massive headache and Maya is asleep. We are keeping our daughter from school tomorrow so she and Maya can get to know each other.
We get to Orlando about midnight and load the car. Maya has some more "wows" when she gets into the backseat and we get no argument getting her into the booster seat. It's probably the first "wow" our Rav4 has ever received. When we get home, my older daughter is asleep on the couch. She had a busy week at school so she's exhausted. Bless her heart, she gets up after about ten minutes but lasts about another twenty. She sleeps on the couch and Maya will sleep on the other couch by her older sister. We aren't ready to put Maya in her own room yet by herself. Sometimes you just have to pick your battles. We stay up another hour unpacking best we can so we have less to do in the morning. Maya sleeps until about 7am and is ready to start the day. I don't bother waking my oldest daughter since we have a busy day and it's an adjustment for everyone. This is getting too easy. Something's got to give. We have to go to the grocery store, do laundry, visit our Mandarin speaking friends' restaurant for lunch then pick up the dog from the kennel. It's going to be a busy day. Thank goodness the 24 hours of traveling went well. Now we have to prepare for our first weekend at home. That's fine with me….it's good to be home.
5/14 Wednesday Leaving Guangzhou
It's our departure day before our departure day! Today we leave for Hong Kong then fly home tomorrow. We packed most of our things last night so we could have a stress free day. We slept in a bit and Maya did her usual opening the blinds and staring out the window at the amazing view below. We hustle up so we can head down to breakfast. We are doing amazing on time so I am not sure why I am pushing to hurry up now so we can relax.
After breakfast we head outside to the koi pond by the waterfall. This really is a nice hotel. We are excited to see our friends, family Maryland, come out to see us. We have a nice talk and Maya plays with baby boy for a bit. After an hour or so we head upstairs to finish packing.
Parents are suppose to meet our guide downstairs at 4pm to get our children's visa. The family South Carolina and our are the only two families scheduled to take the train to Hong Kong and fly out there. We heard from more than just our guide that the train can be a bit stressful for families. The luggage car is sometimes out of sight so no way to keep an eye on it. The ride is two hours to Kowloon, then must go through customs with everyone else, then take a taxi to our hotel which is by the airport. We were looking at about $50 in fares if we could get all the luggage in and getting to our room about 930pm. Our guide arranged for both families (for about $315 usd) a private van to drive us door to door. A week ago I would've scoffed at the price. Today I would gladly pay double. We received all the final documents and had about 5 minutes to say our final goodbyes to all our new friends.
I asked our guide if I should tip the driver in Hong Kong and she let me know how much. We hugged her goodbye after she explained in Mandarin to Maya about the two planes and long flight home. We didn't want her getting confused in San Francisco during our layover. The 2 1/2 hour trip was a breeze. Lots of bridges which meant lots of pictures, then 10 minutes at customs, one quick bathroom break and dropped off at the front door.
After we got to the room we headed out to the mall that the hotel was connected too. The food court consisted of chinese, Japanese, Macau, Thai, Korean,Cantonese  and Vietnamese food. Let me be clear. I love all kinds of food and will try anything. I am adventurous and I consider myself a foodie. Maya had some noodles from somewhere….I can't remember and at this point doesn't matter. I took a bite and I was done. No more dim sum. No more rice. No more noodles. No more chinese characters on menus. Me and my eclectic palate got up and went straight to Mcdonalds! I ordered the American staples plus a bowl of broccoli off the dollar menu for Maya. She loves veggies.
We watched about half hour of Cartoon Network then back to routine. She had her bath then called me in for tooth brushing time. I reminded her we were going on an airplane tomorrow and then I said "home" in Mandarin. She said yay then rattled off words to fast for me to understand. She is excited thank goodness. She did mention Jie Jie and said "gou" (dog) and started barking. She is excited to meet Molly our Boxer.
Maya was kind of difficult to get to to to bed tonight. I should say difficult for what we're used to with her. I know a lot may be going through her mind but she genuinely seems excited and ready to go home. I hope she is just as excited in the morning. Our flight will consist of what we consider 3 legs, but two flights. Leg one is the twelve hour flight to San Francisco. Leg two is the six and a half hour layover in San Francisco. Leg three is the six hour flight from San Francisco to Orlando, Fl. Twenty four hours! She is a good girl but she gets really restless and has so much energy. Wish us luck.
5/13 Tuesday Consulate Appointment
The consulate appointment for all the families was at 8:30 am. That's what time we usually went to breakfast so it was an early day for us. We met with the four other families: the Marylanders, the Georgians, mother in law/son in law origin unknown(mama home six months pregnant) and the South Carolina clan. A couple of the little ones had flashbacks to physical day so were a little irritable and scared. Outside the consulate, things were a little pushy and crowded just to get through the guards. Not too chaotic: think Memorial Day sale at Target, not Black Friday at Walmart. Our guide walked through the crowd and up to the guards like she owned the place. The crowd parted for us and we made our way to security. We were moving a little quicker since we were told to leave all our belongings on the bus and allowed no cell phones inside. As we waited in line two boys about 10-12 were so excited to see American soil. One of them asked me " is that technically considered America?" Unable to resist having a little fun, I rattled off a couple sentences in Spanish with the few words I knew. The poor boy stared at me confused. At that moment, In between laughing to myself, I realized I could hold my own in a restaurant or department store with all the mandarin I've practiced but probably couldn't even order a meal anywhere that spoke Spanish. The language of my ancestors. The fun was over and our turn through security. Maya went through after me and of course we forgot my iPod was in her mini sized purse. The guard at the X-ray machine said sternly in broken English," electronic!" They way they were talking fast and loud I half wondered if they were going to slap the cuffs on this pint sized terrorist. My wife placed the iPod in Maya's purse and handed it to our guide who was waiting by the entrance since she had to wait for the group outside. International incident averted.
We followed the guides instructions: go right, then left, 2nd floor, window 7, take a number. There were groups of parents from other agencies there too but we all got taken care of quickly. First I got called up to this window 7. Maya, who we have all figured out by now is very nosy, followed me. I greeted the "teller" in Mandarin and said a couple things with Maya. When we were done, the "teller" complimented my Chinese and asked if I ever lived here. I thanked her and answered "no." I went and sat down proud of all the hard work over the last fee months paying off. My name was called to window 10 a couple minutes later to finish final paperwork. The young woman working window 10 looked at my paperwork then at me and asked me something in Spanish. Turns out she is of Colombian decent and is from Florida. I got the usual ,weekly it seems in Florida, "you don't speak Spanish?" Oh well, the feeling of pride was nice while it lasted. Our group of five families was out in just under an hour. Back to the hotel.
I never really meant to be a pain in the rear of our guide but I knew there were some other things off the schedule I wanted to do. In my defense I did ask for direction and was willing to do everything else on my own. This is a tribute to how awesome she was though. First was last nights cruise of the Pearl River….a must! During yesterday's shopping trip I told her I am not a jade and pearl kind of guy. I don't collect knick knacks but I do want a souvenir for myself. Our family being a soccer family, why not a "real" jersey from a Chinese super League Team? I told her I needed a Guangzhou Evergrande jersey. The most popular team in the league. Back at the hotel I reminded her that I was willing to go on my own and just write down the address. She said to meet her in front later that afternoon. Have I mentioned how awesome she is? Mr. Maryland decided to join us sans baby boy and the Mrs. Baby boy was in the middle of a sound nap so I'm sure it was a nice break for both. There is just something relaxing going shopping with another man for sporting goods. I don't think my wife would get it, but she had an eye for bargains so I was in good hands between her and my new pal.
We get to the stores and it's a whole street lined with small "shops" with nothing but sportswear. My wife,the Zumba queen, was excited to be there too. Our guide finds us a store to check out first. I find last years Evergrande jersey in the clearance bin for about 10 yuan. ($1.75) I dig through and grab the only two in there. I find two more plus some sports wear which apparently my wife says is my color, a couple shorts for my athletic daughter back home and a jersey for her as well. Maya keeps grabbing jerseys and saying "Jie Jie" and smiling. It means older sister and she knows it refers to my other daughter. Mylene reminds me we have a soccer tournament this weekend ( because apparently we haven't been quite busy enough) when we get home so Maya should pick out a soccer uniform to wear for Jie Jie. We are not sure what it is about yellow but Maya loves it. I ask her if she wants a shirt like Jie Jie. Dumb question but it was the psychology behind the question. Of course we end up with the yellow/goldish team Brazil jersey. After a few more shops, I collect my treasures and we look for a cab. I was at a mall the day before and almost bought a jersey in one of the (expensive) stores for 299 yuan. About fifty bucks. I gathered my 4 jerseys, jersey and three shorts for Jie Jie, soccer kit for Maya and another too and shorts workout kit for me and I was out about 280 yuan! Have I mentioned how awesome our guide is?
We find a cab and Mylene is adamant about going to the top of Canton tower so we head on over. Daddy Maryland and our guide look around the shops for a bit then head back after we assure them we will survive the trip back on our own.  Mylene, Maya and I buy our tickets to the top and enjoy the view for a bit as well as the Bubble Tram on a track on the outer ledge of the building. For you Amazing Race fans, this will look familiar.  1450 meters sure is a long way up! We get some more of Maya's ever so familiar "Wow!" And we take lots of pictures. After a bit Maya has had enough and says "chifan" or "eat." It's usually accompanied by a gesture of two fingers being held up to her mouth. If I didn't know what she wanted, it would look like she wanted a cigarette.
The evening ended with another great dinner for practically nothing then our walking around for a bit. Poor baby. I am afraid we won't be eating out every meal every night and walking 4 miles a day. Even now she gets cabin fever and points to the door to go out walking.  We were told she has energy and likes to be outside, but my gosh!
5/12 Monday Exploring
Things have been going so well that I was concerned these posts would start to sound like Tripadvisor or Yahoo Travel reviews. I was reminded that this is all about the adoption journey. Everything Mylene and I do with Maya is about growing, learning, trusting and bonding whether it's shopping, sightseeing, or going for a walk. It also helps us learn about her and what makes her happy.  After the first two days, we had Maya prepare the toothbrushes and pour the bottled water into our glasses every morning and night. Something that seems so insignificant as brushing our teeth together has brought is closer and now Maya takes her job very serious.
Our guide picked us up for a quick shopping trip to Shamian Island. I am probably spelling that wrong. It's actually a neat little neighborhood. The buildings line a quad area with plants, trees and sculptures. The buildings used to be a bunch of
Former consulate buildings. All but one (Poland) are abandoned which is a shame because they are gorgeous buildings. There are a bunch of the stereotypical Chinese souvenir shops. Cheap goods and not much variety between shops. Ok travel tip coming up……. Take turns taking care of the little one OUTSIDE of the shops. The shop owners have a nasty habit of opening their own toys and handing them to the kids. A few parents came back with some unwanted items and were not happy about it. End travel tip. When we got off the bus, we asked the couple from Maryland who had already been to the island if we could hang out with them. We, too, were all shopped out and the park looked like a great place to enjoy a peaceful walk with a couple we immediately hit it off with. Also, Maya absolutely loved being around their beautiful little boy. We spent the hour and a half walking around the grounds, enjoying the company of others with similar interests and the same complaints about being here. We shared each other's adoption journey frustration and excitement. After about 20 minutes, mommy Maryland let Maya push the stroller. I was impressed  how comfortable and confident she was. Watching Mr. and Mrs. Maryland with their baby boy was really fun. Their excitement was infectious since this baby boy is their first child. I knew we would meet other families when we finally got to Guangzhou, but never considered what a huge part it could be in the whole adoption process. I knew we would never make it through the whole park without the ladies entering at least one store. Daddy Maryland, baby boy and I walk around a bit until the ladies exit the store, bags in hand. Maya has a new souvenir. I'm not sure how baby boy ended up with a cut across the top of his foot but Mommy Maryland will spend the next couple days asking me why I broke her child.
I was told by a friend that I must do two things while in Guangzhou. Visit Canton Tower and take the Pearl River cruise. I did homework on both and I constantly reminded our guide to set it up for me. I asked the other families if they wanted to come and our guide would set it all up for us. No one else had heard of it but since I was so adamant about going, they figured I knew what I was doing. I didn't. I was just hoping this cruise was worth it or I wouldn't hear the end of it.
Our guide picked up my family and two other families and headed to the pier. We opted against the dinner cruise since I read the food was not worth it. Our guide confirmed that the food was bad on the dinner cruise…. Another tip that I wish I thought of. There was a Papa John's that delivered about fifteen pizzas to a group of passengers. We took snacks with us but I didn't want to touch them after smelling pizza. I asked the delivery guy if he had an extra pie I could buy. I didn't think so but would hate myself if I didn't try. We made our way on board and I held Maya's other hand so I could hear the "Wows!" up close again. We were about 25 minutes from sunset so I knew this was going to be worth it. The whole narration was in Mandarin, which is funny since about 2/3 passengers were westerners. I was told about this too and it's no big deal. It's still a gorgeous tour. When the sun was fully set, the whole city lit up, the bridges were colorful, the river came alive with lit up boats and Canton Tower was stunning. Maya has long since claimed my iPod as her own and I am constantly deleting pictures of the rug, her pillow or her finger. She has mastered an American tradition… The selfie! She won't stop asking me to pose and after a while I have to put my foot down. "Bu paijao!" No more pictures of Daddy. When we reach Canton tower, the "Wows!" Are back. The tower at night changes colors constantly and sports rainbow colors too.
There is a great ice breaker with others when you hear them speak English. "Can you take a picture of all of us?" And hand them your phone. A very nice couple from Indiana asked Mylene for a picture and her being the social butterfly she is, we soon had their whole adoption story too. Their baby was about 16 months old and adopted through another agency. Maya was all smiles looking at their baby. She would make such a wonderful big sister, but Mylene reminds me that we should actually get her home first.
The cruise was a success and the Maryland clan, Georgia clan and my own Florida clan all enjoyed themselves. The kids were all smiles and just after a couple days, it's easy to see the difference how happy and comfortable all the children are. Tomorrow is the appointment with the consulate. Should be painless.
5/11 Sunday Mother's Day
Happy Mother's Day!
After a quick breakfast, we hustled up to get ready for our tour with the other families to Chen Clan Academy. I did a little research on it before we came to Guangzhou and I was a little concerned. It seemed like a museum and I thought Maya would be bored silly. I was even more concerned now that I knew how active she is.
My wife and I love history and other cultures. When we arrived, we knew this was the right tour for us. Maya let out a few more "Wows" and I hoped it would last. She was fascinated by the architecture, art, and carvings on the doors. Not all the parents made the trip. Some stayed behind because of a rough night with the kids. We try to remember not to take for granted how easy this transition has been with Maya. A couple members of one of those families made it, including Maya's new friend, so they just hung out with us. I'm sure that helped a bit keeping both girls occupied. We got to talking to another family who had just received their beautiful 2 year old baby boy. Everyone has been tactfully asking each other what "special need" their child is diagnosed with. Maya's hypothyroidism seems so insignificant compared to what some of these brave parents are doing. It's also a wake up as to how different cultures have different values with regards to people…..specifically little people. Warning: sarcastic remark coming!!!! The poor 2 year old baby boy has to grow with the "special need" of……still can't believe this…. Being a mixed race! LMBO! Yes folks because he is half Caucasian, he was considered a special needs child. Our families have become great friends.  Maya has become a big sister to him quickly and holds his hand when he cries and pushes his stroller now that mom sees how they have bonded.
After the academy it's back to the hotel for lunch then we will be picked up again in the afternoon for shopping. This was not mandatory and was arranged by our guide since enough of the Mothers decided they wanted to go to the pearl market and jade market. The pearl market was dirt cheap and it's amazing the crafts they make with imperfect pearls to get them to sell. Some small and flat pearls are used for bracelets and for about 10 yuan (about $1.75) They will make great gifts for my daughters friends back home. One of the teens in the group buys about 50 of them! After what seems like hours at the shop with nicer pearls, the ladies have their custom necklaces and earrings. Us men can only bite our tongues, smile wide and say those three magic words," Happy Mothers Day."
Maya is learning another valuable lesson. Just because we go out shopping, she is not going to always get what she wants. She doesn't really throw a fit when she is told "no", but she definitely pouts and wants to be left alone for about 5 minutes. The smile returns pretty quickly. After a couple hours we are driven to a store with better quality jade, nice crafts and some quality tea. I asked the guide," If you were going to impress someone with good tea, which would you buy?" She kind of chuckled and pointed out the only three she would buy anywhere. They were packaged in a very plain sealed plastic package that will probably draw some attention from customs agents on the way home. She told me  to enjoy the tea and not worry about all the fancy boxes and tins other teas at the tourist traps come in. Maya did much better at this store. I did explain we were shopping for grandma and grandpa so she instantly went from hoarder to helper. She is just too sweet. I resist the urge to buy her something but reward her with thanks and praise for being a good helper.
Back to our room and we pack up our treasures and decide to relax until dinner. Maya points the the door then points her finger down repeatedly. I know she means she wants to go outside and walk some more. Mylene's Fitbit says we've been doing about 4-6 miles (sometimes more) a day since we got to China. All this kid wants to do is walk outside. We have to tell her no and that we are tired. In my broken Mandarin I say "maybe after we eat." I think she gets it because she turns on the tv the puts on her iPod to play music and take pictures and takes out a book. Don't ask…I don't get it either. I do like our down time in our room. I continue to practice Mandarin. It's also a great time to bond on a different level with Maya. We tease each other a bit. I have to reign her in a bit sometimes though. She tends to take it a bit far as most kids her age do. I want her to understand we laugh with each other not at each other. She gets it. We take turns making silly faces, then take some selfies with my iPod doing those faces. Well, it used to be my iPod. Not sure how it happened but the silly face contest turned into a make crude noises ( with mouth!!) contest. She has such a cute happy little laugh. There is an honesty and innocence in it. The new contest even drew a couple snorting sounds from her which set my wife off with uncontrollable laughter too. I didn't realize until writing this how these laughing, joking and silly sessions are strengthening our bond.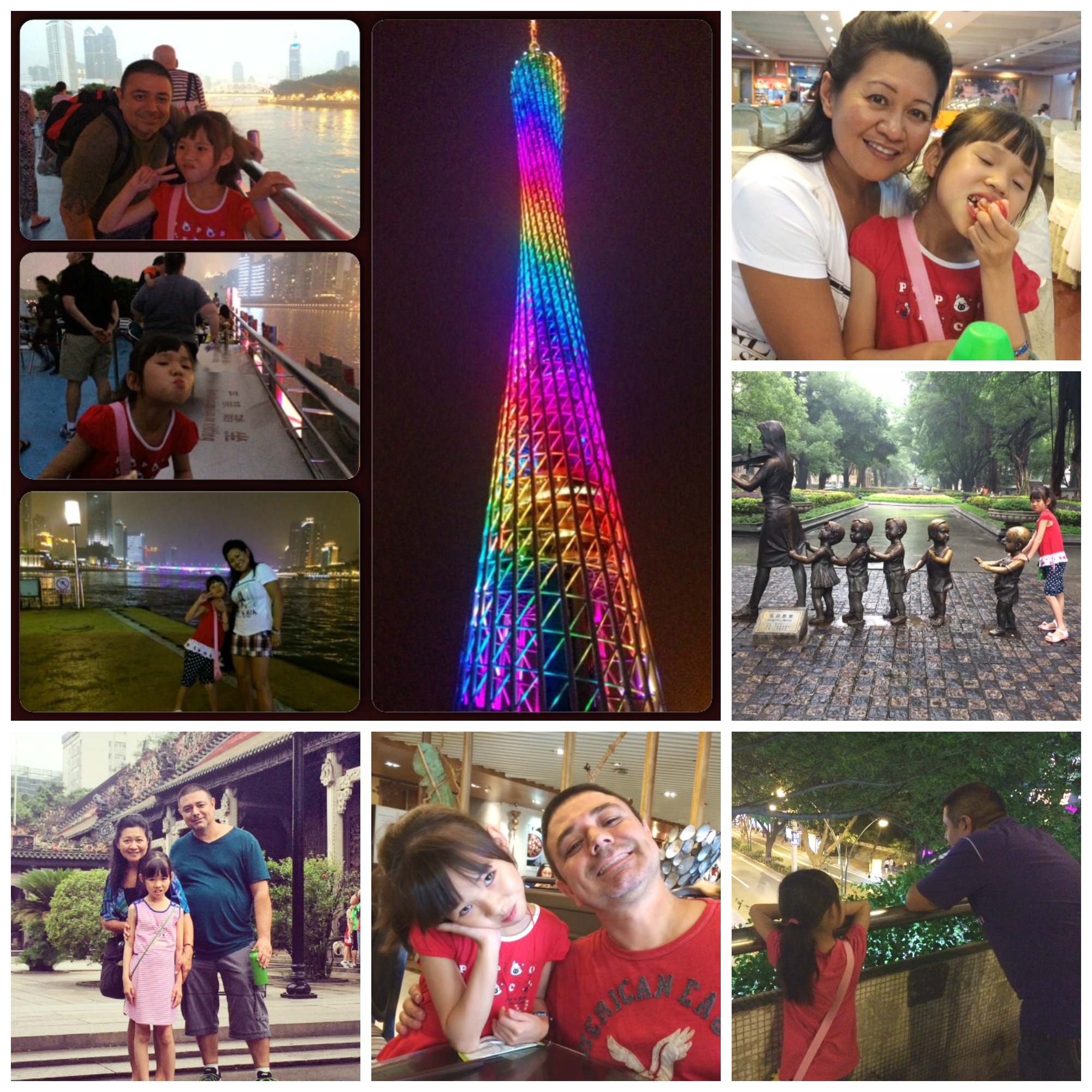 5/10 Saturday, Medical Exam in Guangzhou:
Since we had a late night, it was nice we could all sleep in a bit and still have time for breakfast before heading out for the medical exam and TB test. Breakfast was a really big deal for me. A huge style buffet breakfast with sunny side up eggs, sausage, bacon, hash browns, pancakes, etc. All the breakfast foods I had no ideas I would miss. This was just a fraction of what was offered at this huge spread. I spent more time than normal at some of the stations getting food listening to the sweet sound of English being spoken.  Of course there were families from other countries as well. We finished and headed upstairs for a quick wash then met our guide and three other families for the trip to the clinic. A couple children were already crying, I assume, because the adults were just as nervous as the children. I'm sure the kids could sense it.
The itinerary said we were to get the TB shot. This was actually going to be a TB shot plus medical exam: eyes, ears, vitals, medical history and a quick check under the hood. We figured someone in the group would get a surprise or two and everyone was hoping for the best for each of the children. Maya was doing great since entering the building. The thing that bothered her the most was all the crying. She gets annoyed with loud noises. The first stop was an office to take the children's picture. Maya was doing so well. The only problem we had was trying to get her to stop holding up the "peace" sign that young Asians usually pose with. Now onto the eye test. Mylene was really nervous. She had a suspicion something was wrong with one of her eyes. We watched her take the test and were relieved when she zipped through the 20/20 line with both eyes. Next were the other vitals then a meet with the doctor. He was kind enough to ask if we wanted a female doctor. We said no. We didn't know how long that would take and the other parents were getting stressed by their children's crying. Maya was just taking it all in stride. Now onto the inoculation room for the TB test. We weren't allowed in so Mylene stood close to the door ready to console as soon as Maya would need her. Maya emerged, quiet as a mouse but smiling so proud sporting a shiny new band-aid. We were so proud. We chatted up some of the parents knowing they must be stressed out and hoped that an understanding ear would relax them a bit. We figured we should all get to know each other anyway since we will be spending a few days together.
All the families we have met are such a joy to talk to. Everyone is excited to have their new child and it helps that we all know what each other is going through. Maya is loving having other children in our group. One family has a little girl Maya's age they adopted about 6 years ago. Of course she speaks perfect English since that is the only language she's ever spoken. It was so funny seeing our very not so shy Maya sit right by this other beautiful little girl and start speaking Mandarin. Maya was met with a "Huh!?" The little girl kind of giggled and said something to her mom. Maya looked at her and reciprocated "Huh?!" That has been the extent of their conversation but they seem to enjoy each other's company. Another family has a little girl a couple years younger than Maya who she treats like a little sister. It is so sweet watching them snails and wave at each other.
After the clinic it was back to the hotel for some rest then we wood meet again for a trip to a Chinese goods store than a walking tour around the streets surrounding the hotel. This was very valuable. We love being out walking a couple hours at a time so it was nice to see the restaurants (almost all cheap) and clothing stores (not so cheap) around the hotel. There are three 7-11s surrounding the hotel. We buy our water there because a gallon costs the same for a small bottle in the hotel. It's about $2.50 USD. Lots of variety of restaurants so we decide to try something different for lunch and dinner every day. A good way to test how difficult Maya's palate may be. After the walking tour we eat at a nearby Malaysian restaurant then walk a block and a half to the grocery store to get a milk tea. Some of you may be familiar with something close in the States as Boba tea. Yum! Afterward we head upstairs to buy Maya a few more clothes. So far every grocery store we have been to also sells clothes, household goods, etc. Just Like Target and Walmart.  We have figured out Maya is an impulsive buyer. Once she sees something she likes, she will say no to everything else. I have explained to pick 2 shirts but will only pick one then say no to the rest. A lot of times Mylene will ask if she likes something else and again a head shake "no." I wonder if she thinks we will out everything else back. Or she is just being difficult. We manage to pick two outfits that made the cut. We also found a summer dress I insisted we get. She adamantly refused to consider it. And FYI, we ask her to pick out her clothes for tomorrow at night now. Hmmm, guess what she picked. That's right. She looks so cute in that new summer dress. We end the shopping with a new bathing suit, but I'm not convinced we will get to use it.
It's such a different feeling being in Guangzhou. It's a combination of being with the other families and being in a more western friendly city. We would take long walks at night in Nanning but it was the same every night. We know we will be venturing off many directions here.
Another couple hours relaxation and we venture out at dinner time. We make our way a couple blocks to a recommended Vietnamese place . It's packed. A good sign. It must've been what we ordered because we were not impressed. Not bad but barely average. We walk a ways down the street toward the hotel and see an eatery called "Surprise  Me." My experience with some menu items I've seen offered tells me, "Let's not." It's a bakery and since Maya didn't enjoy dinner either, we decide to stop in. We make our choices then venture out for another hour to explore more. Once we get to the hotel, Mylene checks her Fitbit and we have walked another 5 miles that day. I don't know if I'm more surprised that I am doing this or Maya is doing this. All I know is after 10 days I am needing a smaller belt. I know I'm going home soon so I will hold onto the one I have.
Back at the room I double check my pronunciation for the phrase "we share" the treats from the bakery. Since I had been pronouncing " you behave" for a couple days, I figure this is another one I don't want to screw up. The rest of the evening we stick to our scripted routine. Bath time then we all brush our teeth. Maya is in charge of filling the glasses with the bottles water and for removing the toothbrush caps and handing them out. After about a 15 second protest we manage to get her in bed. She allows Mylene to kiss her head and allows me to hug her. We all exchange our second ever "wo ai ni" (I love you) and first in Guangzhou. All of the cold symptoms are gone except for my throat, so since I'm averaging about 6 hours sleep a night, it will be a NyQuil evening. I want to be well rested for Chen Clan Academy tomorrow morning.
5/9 Friday Maya's First Flight Ever: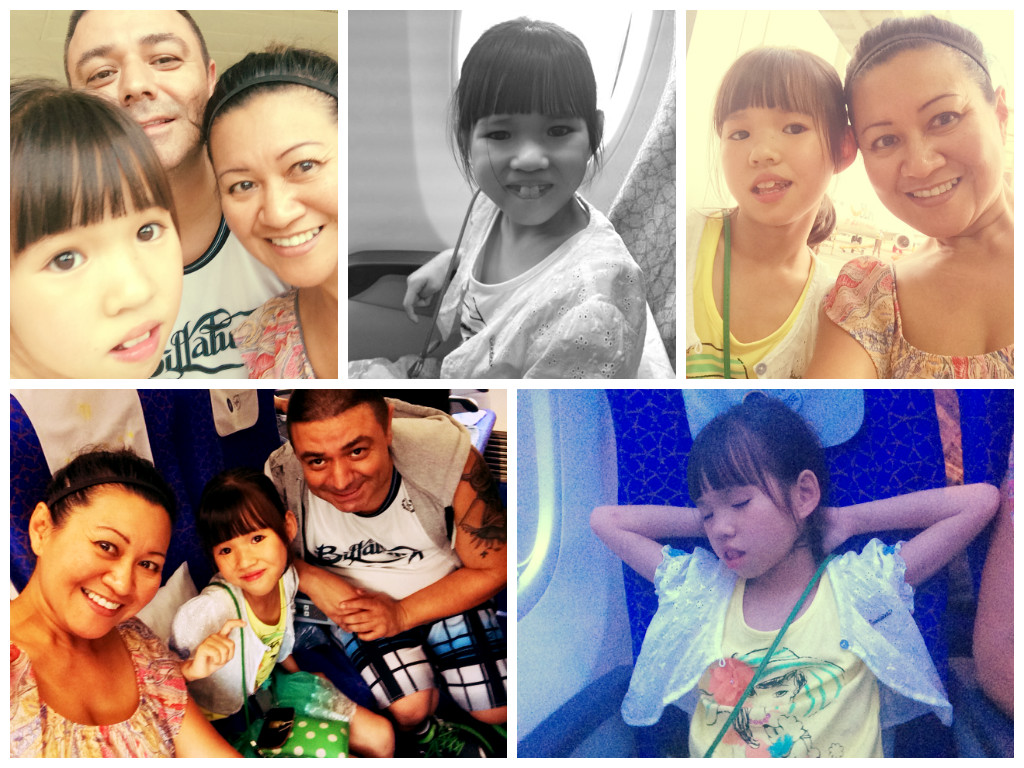 I wanted to start out this post, not as a warning, but as information. We can prepare all we want as adoptive parents but there are so many things out of our control that can be frustrating. Yesterday at lunch we had our guide ask Maya a few questions since there were some suspicions. We had sent Maya a second care package and it included an ABC outline book. We got it back completed at gotcha day and we were so impressed. A couple nights ago Mylene drew an A and a B. Maya drew something that looked like a cross between a triangle, a star and omega sign? After some careful questioning we discovered Maya, at 8 years old, can neither read or write. We assume someone else did the workbook for her. We don't believe there was any deception involved. We think it is just another example of how she was not allowed to do anything herself. We also knew that she was only in kindergarten but had not been in months. Now this is no big revelation. Of course we expect some things that are just unexpected as any adoptive parent should. So we now know moving forward what work we have to do.
All of the message boards and blogs I read in preparation for our trip regarding care packages pretty much said the same thing. Your child may show up with the photo album you send. You child may receive some other items. Don't expect any of the clothes you buy to show up with your child. My two cents……. Do the shopping for the clothes anyway. It was good for me mentally and emotionally preparing for Maya's arrival. It's like over decorating a baby nursery. Baby Looney Toons or Disney? Do you think the baby cares? Of course not. We do it because it makes us feel like great parents and preparation is part of the process. So just don't overspend for the clothes. Maya showed up wearing a shirt and jeans we sent her. She had another pair of pants in her backpack. The plagiarized workbook, crayons, and one of the two coloring books were also packed. From what I've read, that's not bad. One thing I gave no thought to but really upset Mylene was that she showed up without the photo album. We found out from the nanny that the foster mom kept it for memories. Maya did get it because we took pictures of the family, her older sister, our dog, our house, her room and her school. She recalled them in detail. Not sure what kind of memories are worth saving for the foster family since Maya is in none of the pictures obviously. I guess the problem is that a complete stranger has pics of our family, my daughter and our house! Creepy I guess. We will chalk it up to another cultural difference. Again not a warning but something to be mindful.
Ok since I spent so much time on my soapbox I will try to keep the events of our last day in Nanning to a minimum. We had a check out time at the hotel of 3pm. Surprisingly we all woke up early so after breakfast, we braved the traffic and walked a few blocks looking for any worthwhile treasures we could find in the small local shops. Since it was the hottest day of the week, we gave up after three blocks and grabbed a cab to the super center shops so we could be indoors. We wanted to find some things for our daughter at home since we were in Nanning for her birthday. She couldn't come on the trip because of her AP exams at school. We decided clothes would be best for a teen as long as they were hip and not something you could find in the States. After some successful shopping we headed to lunch then back to finish packing. Our driver was there before our guide and kept Maya busy. He only speaks Mandarin and because of how silly he was playing it was obvious he has young girls too. Our guide showed up and told us it would be another half hour for Maya's passport to be ready. Also it would take longer than normal to get to the airport because of all the construction. Great! Maya has never seen an airplane and everything is in the works to make this the most stressful day possible. The passport was ready 45 minutes later. 2+30 minutes to departure. Because of traffic, it takes us 15 minutes to drive 4 blocks. We are freaking out. We finally make decent time. It's not busy, but the traffic is slow because of all the detours. We are making good time because of our driver though. Me: "is this suppose to be one lane or two?" Mylene laughing," I think it's suppose to be one!"  Me a minute later " GEEZ! I know this is not suppose to be three!" We make it with about 1+15 to spare and there is no one at the check in counter. Sweet! Our guide explains to Maya that we are not going to America yet and explains in the simplest terms where we are going and why. We say our goodbyes and Maya grabs our hands like business as usual. We make our way down to our gate and I see Mylene welling up a bit. I don't say a word for a couple minutes so she could gather herself in front of Maya. I ask if she is going miss our guide that much. She says it's because she is scared for and feels sad for Maya. Maya is looking around the airport in amazement with a huge smile on her face. With all her fascination in wonder, I don't really feel that bad, but I know where Mylene is coming from. We get a seat at the gate by the window so she can watch the planes. This keeps her occupied.
Even though we get the the airport later than recommended, it seems like forever until our boarding time. We have no idea how Maya will react to being on a plane. They never really call our flight number. I am in the gift shop when I see the bus being loaded at our gate. Mylene doesn't see it being seated a gate over because heaven forbid she can't charge her phone and it drops below 80%. I sprint out of the store which makes the cashier run to the door behind me. I realize how it may have looked but she realized what was happening and I continued to gather the family and on to the bus. We found our seats and of course out Maya by the window. This will be exciting to watch or an epic failure. Ok the countdown begins: Maya's got her iPod and headphones, door closed, safety briefing done, seat belt on……"we regret to inform you because of bad weather over Guangzhou, our departure time will be delayed. As soon as we have more information we will let you know." So Maya's first experience on a plane is a weather delay with no estimated time of departure. About 45 minutes later an announcement to prepare for departure. No collecting trash from the cookies and drinks and very little is said. We taxi faster than normal. Being in the industry, I know that means we probably have a five minute departure window. We ignore the call for stowing electronics so we could record Maya's reaction during takeoff. We know flight crews needlessly over react to this bit I notice flying in this country a lot of rules are ignored. I will get into adventures of flying mainland China in a later post. We turn the corner off the taxiway onto the runway and we are off. Maya is amazed with continuous "Wows"and smiles and a couple giggles. A priceless reaction and so happy we got it on video.
The flight is pretty uneventful and we get into Guangzhou about an hour late. As I am waiting for our luggage, I ask Mylene to look for the Great Wall of China Adoption" flag held by our new guide. As I finished my sentence the flag was waving at us through the glass. We did kind of stand out. We said our greetings and started the long drive slowed by the rain to the hotel.
The hotel had Mylene and I in awe. It made it that much more fun to watch Maya's reaction. More "Wows" and smiles. The room brought the same reaction. Guangzhou at night was beautiful and all the lights on the buildings seemed to hypnotize Maya. After ten minutes looking out the window, we are passed her bed time and we are all hungry. After getting lost a couple times, we find a Cantonese restaurant on the second floor. As I said before, we never eat Chinese food at home. I think it's a disgrace and disrespect what is done to the food. In Nanning, we ate the real thing everyday and night we loved it so much. The restaurant at the hotel in Guangzhou was so much better than anything we had in Nanning. A great meal to end the long day. We finish dinner and rush to the room to get Maya ready for bed almost 2 hours late. Not how we wanted to start in Guangzhou since we have to be up for the medical exam and TB test/shot tomorrow. Disappointed but not too worried. After all this becoming a piece of cake right? We shall see.
5/8 Thursday Gotcha Day + 3:
The weather in Nanning has been pretty warm, but we did get rained on a couple times. Add that to the fact that the air conditioner kicks on every time we leave the room dropping the temperature to freezer level and what does that give you? Gotcha day plus three and a I have a full blown cold. We are suppose to go to Nanning people's park but the thought of being around the fine folks of Nanning today does not thrill me. At least we don't have to cross any streets to get there. Although the three times I was almost run over on scooters was on the sidewalk.
For the first time, Maya woke up in a pretty good mood. I'm sure it helped she woke up on her own instead of us waking her up. This cold is killing me so forgive this post may sound a bit hostile at times. Of course my worst mood of the week coincides with Maya's best. After breakfast we packed up ready for the park and waited for our guide who said she would be here at ten. We decided to save her a trip upstairs and wait in the lobby. Of all the days to still be waiting for her at 10:30! When she finally showed up she was surprised to see us in the lobby. I did an Oscar worthy performance with a winning smile and friendly greeting. I was fuming but I'm sure the red face and sweaty complexion I could just blame on the cold. She said there was a problem at the notary with one of our documents and she had tried calling the room. Ok, so our fault, I feel better. She really has been an incredible guide. It's a five minute walk to the park and it's exactly what I need to improve my mood although my cold not helping. The park is relaxing and Maya absolutely loves it. Coming from the States I am used to seeing a money collection whenever someone is singing or playing music in a park. The people here do it because the Peoples Park is the place to do it. Cool, free entertainment. Since it was still morning we watched some older folks do some tai chi….some with swords. I think the best part of the morning was watching Maya be mesmerized by a bunch of elderly women doing a kind of modified electric slide dance to "Total Eclipse of the Heart." A few yards passed them was a class doing the Rumba! We watched a bit and started to realize that this Latino couldn't hold a candle to their Rumba. Moving on. Maya of course wanted to feed the fish so I found a guy that looked like a local student selling fish food out of his backpack. Three bags for 5 yuan. What a blast and Maya was all smiles and laughter. Ninety cents well spent.  The park was just what we needed. It was a beautiful day for a walk around the lake and Maya was all energy. I was not.
We told our guide we really needed to buy Maya a suitcase. She said since we needed a couple other things, she would take us to the Walmart super center later. Without getting into a labor debate, I just want to point out my wife had not stepped into a Walmart in about 15 years, it's been about 10 for me. We relented since the area was covered with shops and who knows what else we may find. We really need to get Maya a couple more things. After lunch we walked to the super center. Wow. I may have to suck it up and shop for a bit. This place was huge. I hate McDonald's but combine my misery from my cold, to my growing homesickness, and terribly missing my other daughter, the Golden Arches are looking like a good way to connect with home. I walk passed them since I feel I am already selling out by what I am about to enter. We ask a sales associate where the luggage is, in 5 minutes and a couple more confused associates later, we find it on our own. Ah yes I remember this store now. Maya runs to a pink fancy looking piece and of course it's more than I want to spend. I show her a fine looking red one for half the price but twice the size. "Wow!" That's about one of five English words she knows. So quantity wins out over quality and I save a few bucks. Not that big a deal since four and a half days in we only spent half our food budget for Nanning. The free breakfast spread at the hotel is very good and the restaurants are really cheap. I can not believe how much food we get for the price. Anyway, the clothing section for kids is a joke. About a dozen racks total for boys and girls. We manage to find a couple tops and as we leave the store, Maya wants to be the one to proudly roll her new luggage out of the store and down the street. This thing is bigger than her but I figure if she insists then I may as well throw her new clothes and my water bottles in it too.
I know my wife feels bad for me but I also understand why she just won't bite the bullet and tell me to go back to the room. I can't help feel like a trooper and a wimp at the same time but I know she appreciates me staying with her despite having a guide. We get about fifty yards out the door when it starts to rain. Maya puts her pencil thin arm over her huge suitcase to keep it from getting wet. I just look to the sky in disbelief. Mylene gives me a sympathetic, " Oh baby I am so sorry!" Then why is she laughing? Our guide takes us to the nearest street and practically kills herself stopping a cab. This lady is really taking her job seriously! We get to the hotel less than ten minutes later and of course the rain has stopped. We part ways with our guide and head to the room with new luggage in hand and start packing for our flight to Guangzhou tomorrow.
Maya watches me pack some things in my bag and she starts to pack up her clothes and toys and do the same. I seriously can't believe how sweet she is. I ask her about the new clothes I am holding in my hand and ask her in Mandarin "Tomorrow?" She says yes then puts her little purse on top of them so everything is ready. I am almost done with my carry on when Maya yells "baba!" And some things I don't understand. Sweet girl was trying to open the safe so I wouldn't leave it's contents. I say again "tomorrow" and "thank you good girl" and finish up.
Now that I'm done being busy for the day look at the time and I have about 20 minutes before my daughter catches the bus to school. Now I see shows like Survivor where everyone gets all weepy missing their loved ones and fall apart reading one letter from home. I always roll my eyes and say "suck it up! It's temporary!" I never will again. I take a moment to compose myself. Maya is listening to music on my iPad so I give her a pair of headphones for quiet. She acts like they are the best gift she has ever received. She is so fascinated by them. I dial my daughters cell and she said she was actually a little early so I would have about ten minutes with her. She asks about twenty questions about Maya, tells me about school and soccer and pretty much answers anything else I ask to keep her talking. She asks about the people here city and tell her how different things are. Ten minutes with my other baby has recharged me mentally and emotionally. Physically I am still feeling terrible.
Maya has a new talent to show us tonight. She is dancing to the music on our iPods. Maybe it was seeing the group dance in the park to "Total Eclipse of the Heart" or it's just one more comfort box we have checked. Of course we laugh during some of her dances so to keep her going, I have to agree to dance some too. The things we do for our kids right? Later, the routine is the same as the last 3 nights. Dinner, bath, brush teeth as a family, ten minutes on the iPad, refuse bed, get put to bed, protest for 90 seconds and fall fast asleep.
Tomorrow is the one hour flight to Guangzhou. That is 1/24 of of our trip the following week home. This will be a nice warm up test. Keeping our fingers crossed for continued success. I'm hoping these two NyQuil my wife just handed me do their job. Cheers
5/7 Wednesday: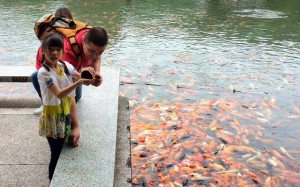 Our third day with Maya but only second morning. Another peaceful night. I think all my knuckles are broken for "Knock on wood" has become the normal saying between Mylene and I. We both woke up about 630, got ready and woke Maya up at about 8 for breakfast. Our guide showed up at about 10 to take us to Green Mountain Park. It was beautiful and we took a lot of pictures but Maya wasn't in the mood for pictures today. We are seeing a pattern with her. Definitely not a morning little girl. She seems to really loosen up about lunch time and again wouldn't leave the guides side. After a couple hours at the park, we went to lunch. I had my parents Google some western style restaurants the night before and text them to me. Our guide had been awesome but the local definition of "western restaurant" is KFC and Pizza Hut. Mylene being a pro photographer on the side insisted we drive by the Nanning bridge for pictures. I learned not to argue when it comes to bridges and lighthouses.
I was surprised when our guide suggested we look for some souvenirs close to the restaurant. It was time for her to go but she said she had to go to the bank anyway and there was some craft stores and tea shops on the way. Nanning is not a tourist destination so crafts and tea are cheaper than Guangzhou and Beijing, but the selection is a bit smaller. We found a local tea shop. Once we finally picked out one to try it was like a show preparing it. A lot of care and pride from the preparation of the water to cleansing the leaves and cups to the actual serving. Did I mention delicious? I did forget to mention that Maya LOVES tea so a normally restless 8 year old sat with us the whole time waiting for more to be served. We bought about a year supply of different teas and moved on back to the hotel.
We discussed that since we don't really have the major behavioral issues, other issues from institutionalization, or major attachment issues, what things do we need to work on now after only a couple days and how hard do we push? We started with boundaries and of course that goes with all children. We talked about respect, manners, English, heck we don't even call her "Maya" yet. We also came to the conclusion that Maya was probably coddled to a fault. We know she never slept alone and when she needs something she says "hey!" She never says please or thank you. I'd be willing to bet her foster mom, who is in her sixties, let her get away with a lot. Then there are the times when we get ready to leave and she has all her things put away before we have to ask. Or when I'm done with the electronics, she opens the closet door where the safe is so it gets out away properly. I think she is going to be very independent person. She knows right from wrong but doesn't want to be told what to do. I can live with that as long as there is a respect for authority and she knows sometimes you just have to do as you're told. You don't have to like it.
For some reason she wanted nothing to do with me today. Of course I expected her to attach to Mylene first so it's fine. We just want to make sure she respects us both the same. Shortly before we left for dinner Maya walked up and said something I didn't understand and tried to take the iPad out of my hands. It wasn't an aggressive move, but more of like I didn't matter or exist. Let's just say a firm couple sentences and I don't expect it to happen again. Later we are off to dinner and I point out to Mylene I am the constant disciplinarian. Maya needs to know our boundaries are set by both of us. What if she just looks at me as the bad guy? Not 5 minutes later it was time to step up. At our table, I sat at the far end and Mylene just casually said, " I want her in the middle." She asked Maya to move to the middle of us. Of course she sat in the seat farthest from me. Maya shook her head. She told her again and got the same response. We got up and walked out with her. Maya knew exactly what was going on. She fidgeted her fingers the whole way back to the room since Mylene wouldn't hold her hand. Something as simple as pushing the elevator door and opening the room with the key card ourselves was a big deal because rose were tasks we saved for Maya. She never made a sound but had that stare that only parents know when their child knows they messed up.
In the room Mylene worked on some pictures from her sd card while I picked up a book and pretended to read. I had to remind myself that this had nothing to do with dinner. This was actually more learning and actually bonding too. Fifteen minutes later Mylene wanted to try again. I looked at Maya and in Mandarin I told her "let's go eat. You behave." She actually looked right at me and slowly nodded her head. We walked to the elevator and Maya stood by the elevator doors. I told Maya "down" and pointed to the button. The huge smile was back. We sat down to order and again Maya refused to sit where Mylene told her to. The waitress learned from fifteen minutes ago and just held onto the menus until she was sure we were staying. I looked at Mylene and said to her in Mandarin "no behave." Maya slowly took her seat, but not before moving it six inches to the right to she was 55% towards Mylene and only about 45% towards me. I tried not to laugh….successfully but barely. Mylene took Maya to the restroom after we ordered. Not sure what she said to her because Mylene speaks hardly ANY Mandarin. I speak about 100 more words and phrases than she does. So that puts me at about 105!  Anyways, the food was arriving just before they were and I was already serving as they sat down. In the faintest voice I hear "xie xie, baba" (thank you daddy) I was stunned I forgot "you're welcome" for a moment. Mylene had to remind me one of her five phrases. She actually used "Qing" (please) a couple times too.
The rest of the evening was the same as the last two. Of course I mean that in a good way. We watched about twenty minutes of Finding Nemo, played with her translator, took about 500 pictures with my ipad( most of her finger since she doesn't hold it right) then bath time. It's bath time, pjs, brush teeth then fifteen more minutes before lights out. Third night and I think she is getting the routine. Maya actually called me into the bathroom for family brush the teeth time. I know it sounds silly but if it makes it routine for Maya, then I'm ok with it.
I am amazed how little attachment and behavioral issues we are dealing with. I didn't expect to be where we are at least for another two to three months. Tomorrow we are going to another park. We hope if we let her sleep in a bit she won't wake up grumpy for the third day in a row. She is not a morning little girl, but seeing this little girl smile for the next 10-12 hours straight is special.
Mylene put Maya in bed before heading off to shower. I told Mylene "say,' wo ai ni.'" She did and Maya giggled. Mylene asked what it meant and I told her. She said awww and said it again and Maya returned the phrase with another giggle. Mylene goes off to shower so of course Maya is tossing and turning refusing to sleep alone. She giggles and laughs and says in a silly voice "wo ai ni, baba." Stunned I casually say to her without looking at her ( can't let her see this tattooed biker POSSIBLY have something stuck in his eye!) but I make sure she could hear me "wo ai ni, Maya" (I love you too, Maya)
5/6 Tuesday, 1st full day with Maya: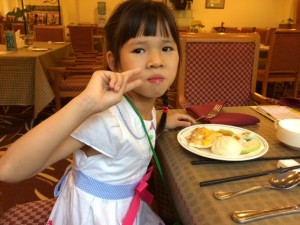 (Breakfast the next morning. A new dress. She laid it out that morning when she first woke up to make sure she would wear it that day.)
Maya slept through the night but insisted mama sleep with her. We had a 9:30 am appointment at the civil affairs office to finalize adoption paperwork and notarize some paperwork for the passport and some other official things I won't pretend to have a clue about.
First we had breakfast which went well. She pointed to almost everything at the buffet but was adamant about the things she didn't want. She ate almost everything and wanted Mylene and I to finish the rest. She HATES wasting food. A trait I hope she passes on to my teenage daughter back home. We waited for our guide back in our room and Maya was so excited to see her.
At the civil affairs office the first thing Maya did inside was run to the nanny. We expected as much and Mylene stayed close but tried not to force herself on them. The nanny did a great job being supportive of Maya but not too close. She basically just kept her company while Mylene and I finished up the paperwork and finally got rid of all that cash we'd been carrying and worrying about. There was an interview with civil affairs official then kind of an oath ceremony where they basically asked the same questions. I thought this was a formality but when the guide brought up the officials concern about Maya's age, I started to worry because she wouldn't let it go. " she is already 8 years old and only speaks mandarin. How are you going to take care of her?" "What if she doesn't want to learn English?" "Will you be patient enough while she learns?" "Did you give careful consideration to this?" All we could do is smile and answer yes and assure them Maya is our daughter and we will do everything we can not only to make her part of our family but a productive member of American society. On the inside I'm fuming and thinking " as opposed to waiting for someone else to try to take this beautiful older child and turn them down too? Wait until she is 14 and you put her out on the street?" So I just kept my cool and reminded myself they don't care about offending me as long as they know Maya will be cared for properly. They are still looking out for her so I relax. The guide tells me later that this was not normal but different officials have different concerns.
We finish up and after exchanging gifts with the nanny (which I totally over thought) off to see notary. The nanny told Maya she was driving separately but the truth was she just left. I wasn't too thrilled with that tactic but Maya never asked about her again. So now of course she is clinging to our guide. Our guide is polite but barely acknowledges her and a couple times Maya tries to hold her hand but our guide ignores the gesture. Mylene is an incredible trooper. My heart is breaking but Mylene reminds me that anyone close to us speaking Mandarin is like Maya's security blanket……and it's only been 24 hours. We finish at the notary, lunch then back to the hotel.
We did make a trip to the grocery store for another couple gallons of water and some undergarments for Maya, but of course bought about 20 more things then we intended. We drag ourselves back to our room and Maya gets her second wind. She wants to watch movies on the iPad then 20 minutes later play with her toys, then take pictures of everything in the room. This is the perfect time to start with boundaries. While she plays with toys, I put the iPad in the safe. She tries to grab it out of my hand. I say "no more" in Mandarin. Then she uses both hands. Sternly I say in Mandarin "I am your father. I said no. You listen. Behave" I didn't have to raise my voice and she got the message. No outbursts or tantrums. It was over like that. She went on playing with her translated toy included in our backpack and came over to me a couple times as I was dozing off to say some words with her. I am exhausted and I think I dozed off for 10 minutes twice uninterrupted. Now I feel worse. Mylene can live off 15 minute naps so I go play with Maya while Mylene catches a cat nap. Maya point to the swimming pool and says it in Mandarin. I actually understand "swimming pool" but have no idea why I do. Great! Daddy/daughter time….baby steps and I will take what I can get. I grab my iPod ( not a typo. We have two iPads,2 iPhones and an iPod for backups to our backups!) and we head out toward the pool. She just wants to take pictures of the flowers and of me. She acts out the poses she want me to strike and being the father of another daughter, I oblige her without hesitation by posing in the most feminine poses she can think up. We leave the pool area and take a long walk around a couple blocks taking pictures anything that catches her eye. About an hour later we get back to the hotel and Maya is tired and Mylene is like a new woman bright eyed and refreshed.
Dinner is about an hour and a half later. Thank goodness our hotel has three restaurants. We tried walking around looking for something around town. We would point to menus and ask "yingyu'?" (English?) a lot of no head shakes. Nanning is big and really interesting but NOT considered a tourist city. On a side note that means all souvenirs will be bought here so we don't have to pay tourist prices elsewhere. At dinner another test. Maya waited until Mylene was away, said something I didn't understand and wouldn't stop jumping on the seat in our booth. Another scolding in the few mandarin discipline words I knew is all it took.
Time to go back to our room and brush our teeth. Another refusal by Maya. This one was easy. No scolding this time. I took her hand and just casually lead her to the bathroom where Mylene was getting the toothbrushes ready. (Put a towel over the faucet so you don't mistakenly use the tap water! Use bottles for everything.) about 2 steps from the bathroom she pulled away. No scolding or saying anything at all. I just took her hand and walked her back to the bathroom. She gave in that easily! Not! She didn't throw a fit but as we entered the bathroom she tried to shrug me off and caught me with her elbow. It was just in the thigh, unintentional and with the force of a gnat. I was actually waiting for something like this. Mylene's first reaction was a loud and stern "hey!" I calmly walk her out and make her sit on her bed and a stern "bu da!" (Pronounced Buddha and means Do Not Hit) and again was over just like that. These are such small correctable things. We have to keep reminding ourselves we just met her yesterday. When we do, we realize how incredibly lucky we are not only for this beautiful little girl but for a little girl that is for the most part well mannered, very sweet, cleans after herself and is constantly laughing and smiling.
Bed time at 9:30 pm. Another quick protest which consisted of a couple head shakes while she was wiping her eyes trying to keep them open. Less than ten seconds later she put her toys away without being told and neatly put her stuffed bear she showed up with at gotcha day and the stuffed Minnie Mouse on the pillow she sleeps on. She arranges her slippers by the bed and crawls in but won't put her head on the pillow until Mylene crawls in with her. She has to sleep with someone we were told. A gift courtesy of her foster mother and a habit we will have to break.  About 935 we are all out for the night.
5/5 Monday, Gotcha Day:
I believe they used the leftover pieces from the Great Wall of China as mattresses for these beds. Not that we were going to sleep that well anyway. Mylene and I were both up at about 6am, a full hour before our alarms. The stress and anxiousness gave way to pure excitement. After breakfast we double and triple checked our money and all our paperwork. The guide showed up about 9:30 am.
We went to meet the driver and off to the civil affairs office we go through the gauntlet of morning Nanning traffic. We go through all the paperwork, sign this, sign that, file and save this. I wish I could tell you what any of it was. The problem was the office across from where we were was open and we could see the back of our little girl. We couldn't pay attention to anything else. The new director made his way by where we were, along with his entourage and a photographer. He quickly made his rounds and also greeted us. I guess he is staying to watch us receive Maya. We understand the concerns with adopting an older child. She doesn't know the language and she is already part of her culture by now. The problem is magnified since Maya had been with the same foster family for almost seven years. We were mortified to find out she had just left them 2 hours ago! Later we would bring this up to the nanny and the guide that this was not a good idea. We believe she would be better prepared if she was separated at least a day or two prior.
We hear a couple of "awww's" and I assume it means the same in English. We turn around to see this beautiful little girl looking at us. Words cannot describe the feeling and she is absolutely beautiful. She looks scared but not petrified. I guess more uneasy and unsure than anything else. We aren't a tall couple but we stay seated so not to appear to tower over her and are amazed she was encouraged to give us a hug and she didn't hesitate to oblige both of us.
With the paperwork done for the day we go to a "get acquainted" room with Maya, our guide and the two nannies. It's starting to sink in for her and she doesn't want to sit with us. We finally have to intervene and tell the nannies to stop insisting. Maya will when she is ready. She spends most of this time standing at the door facing away from the room as we talk with the guides and nannies. She keeps turning her head so I know she is listening to everything. After an hour or so we ALL head back to to our room. One nanny doesn't come up. I think Maya knows what's up now. After thirty minutes talking and Maya is actually facing us now. Mylene is allowed to carry her backpack for her and we show her which bed is hers. Without warning and very stealthy the second nanny is gone. Maya notices after about ten seconds and screams for the door with the guide and Mylene in chase. The elevator isn't fast enough and the nanny has to bring her back. Our biggest fear now is she will leave in the middle of the night! The tantrum isn't as violent as we expect. She is sad and angry but not out of control. We have read many blogs so we are prepared for the worst and expected to be viewed as the big bad Americans taking her away from all she knows. Mylene insists she be the one to pick her up and keep her from leaving again. The whole thing is hard to watch but we talked about our roles and we don't want to look like a group ganging up on her. Mylene takes Maya to the guide and the guide firmly explains to her this is happening. The tears stop in about 5 minutes. After another ten we open her backpack along with some gifts we brought for her and she starts to warm up. We are playing with her new toys for about an hour and she shows us what clothes she had with her. We were surprised to find a pair of jeans, a shirt and the coloring books and crayons made it with her. We told her we need to go to the store later and get some more clothes and some snacks for her to have in the room. Soon she says she wants to go and my wife wisely tells her since it's busy, we could only go if Maya holds her hand. It worked. We find out Maya has a fascination with escalators and wants Mylene told help her race down them. Not the kind with stairs but the airport conveyor kind. So we are less than two hours later and Maya is a completely different little girl.
(She is staring at the nanny and knows what is coming soon. Not a happy camper. Taken outside our hotel room right when we left civil affairs.)
Shortly after we get back to the hotel our guide explains to Maya she will be back tomorrow morning. We all say goodbye and now we are on our own. We did our best with what little mandarin we studied and Maya knew no English. We played, drew, colored and listened to my iPod which the music turned out to be a huge hit. Bless her heart Maya didn't get too frustrated and we all actually laughed during some of the blank stares we gave each other after "wo bu ming bai" (I don't understand). We went to a late dinner and promised ourselves to get her on a regular schedule ASAP. Just like lunch, Maya proved to have a healthy appetite and since lunch proved she likes to talk. I'm not sure she stopped talking for about 6 hours now! We expected bad and even tried to prepare for the worst. Things could not be more different. She let Mylene bathe her and fix her hair. We FaceTimed my parents and daughter back home and couldn't shut Maya up. She was so excited to talk to Yeye and Jie Jie. She warmed up to me pretty quickly as well through the music and even danced with me to a couple songs I won't admit here to having on my playlist.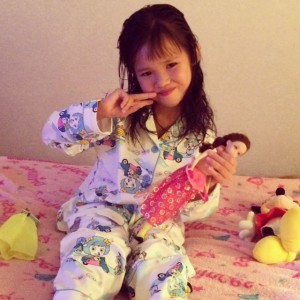 (Can you believe this was our first night?! This is gotcha day plus 8 hours! Look at that happy girl.)
Bedtime was about 945 and she protested for about 10 seconds and was asleep in about 5 minutes. Tomorrow we finalize at civil affairs and the nanny Maya is so attached to will be there so I'm sure there will be some bumps afterwords. So far so good though.
5/4 Sunday:
We had about a half day in Hong Kong before we had to be at the airport at 4pm for our 90 minute flight to Nanning. We forced ourselves to sleep in until about 9 and we were really feeling the miles on the legs from the day before. Without feeling rushed we were able to sleep in, get breakfast, do what little laundry we had, shop for some quick souvenirs for neighbors kids then get to the train station 5 minutes away where we were actually able to check in for our flight. How convenient since airport is 30 minutes away.
At the airport we are starting to realize we will have our Maya in less than 24 hours. Nervous, excited, happy, scared, anxious……a whole cocktail of emotions going on right now.
Our plane got to Hong Kong late so of course we got into Nanning an hour late. No big deal I guess since nothing on this trip has been inconvenient except for the flights.
We land in Nanning and instant culture shock. We are in row 5 of the plane and I have to look behind me to see if something's wrong. So much pushing and eagerness to get off the plane for a moment I thought there may be a fire of something. Nope! I finally had an opening and jumped in the aisle and refused to move until Mylene was able to get the rest of the bags, then we made our way off the plane. Customs was a breeze then off to claim our bags off conveyer belt. I am a quick learner so I psyched myself up for the hornets nest of people gathered around the carousel. Mylene watched safely from about a hundred feet away. It seemed the first 50 bags or so belonged to no one directly in the front so of course more pushing, but this time with 50lb pieces of luggage. I see both our bags coming out next together so grab the handles turn around and just go unsure of who I may have left on the ground.
It gets so much easier after this. Our guide is at the passenger exit waiting for us we say our greetings. We took an instant liking to her and her English is really good. The chaos continues trying to walk out of the airport and crossing the parking lot. We survive the twenty yard trek to meet our driver and now we start the 40 minute drive into Nanning and our hotel.
We are happy to make it to our room finally and we think about tomorrow. We get our Maya. We think about how different the culture is and how scary it is not knowing the customs, the language and even not knowing what is on the buildings. At least Hong Kong had just as much English as chinese on all signs. Of course it makes us think of how hard it will be for Maya since she is already eight years old. We discuss this over a late dinner and look forward to sleeping in so we are well rested for the big day tomorrow. We are to be at the civil affairs office at 230pm.
We get back to our room at about 11pm and there is a message waiting for us from our guide. The civil affairs for the province has a new director and wants to watch the overseas adoption process. She will be picking us up at about 10am. Four hours earlier than we were expecting! The airport experience was chaotic but we did laugh about it. We just chalked it up to culture shock. This phone call from the guide is what started the real stress. Time to get to bed right now! Eleven hours to go.
5/3 Saturday:
Our first full day overseas. We called it our sight seeing/recovery/preparation day. We had a pretty good idea what we wanted to do since we only had one full day but we are at the mercy of the weather. It was really windy so to my wife's disappointment, we scrapped the Big Buddha monastery and the 25 minute glass bottom gondola ride to it. Inside I'm am so relieved.
We spent the day going to the fook hill temple and 10,000 Buddhas monastery in Kowloon, taking a cab up Victorian peak, eating at Tim Ho Wans dim sum (cheapest Michelin star restaurant in the world. Spent about 22 bucks American), did a little shopping then back to Kowloon for a walk on the Avenue of the Stars. It's Hong Kong's version of the Hollywood walk of fame. It was the perfect place to watch the Hong Kong skyline and see the famed symphony of lights show on the harbor.  So the relaxing day that we had planned by just visiting a couple sights ended, according to my wife's Fitbit, with almost 35,000 steps/14 miles walked!  So we know we are leaving tomorrow so time for a quick snack then off to bed.
5/2 Friday:
A quick explanation about our first couple days. Originally we were suppose to fly to our daughters province Sunday night and our "gotcha day" was going to be Monday. My wife and I were worried what condition we would be in or any travel delays scheduled to get there only about 14 hours before we received our daughter. We looked into flying into Hong Kong instead of our daughters province a couple days early and found that the savings actually saved us enough for our hong kong hotel and also covered the flight to Nanning.
Our flight arrived in Hong Kong about 22 hours after we left home. Strange to see that since we would be traveling west from Orlando and into the sun, that night would be the first darkness of night we would see in over a day. The sun was out the duration of our trip.
Getting into Hong Kong at about 5pm was perfect. It gAve us enough time to wander around the airport trying to figure out where to go, get through customs, take the train to downtown (The train system there called the MTR is amazing, cheap an convenient), check into our hotel, ask for a nearby non western place to eat, walk around a bit to get the blood flow back into the legs then a good nights sleep. Everything is working out perfect so far and we are getting more excited with each passing hour!
5/1 Thursday day of departure:
After preparing for so long, we were actually looking forward to the excitement of departure day. However waking up for a 645 am flight leaves room for nothing but the stressed of feeling rushed. Everything went fine and as we pulled out from the gate at the airport, the excitement started to kick in.
We forced ourselves to stay awake for the 6 hour trip from Orlando to San Francisco. We figured with a 14 and a half hour flight to Hong Kong it would be best to try to just sleep most of the way. Bad idea. The Boeing 747 (capacity of almost 400 passengers!) was completely booked and it is amazing how much less room you get on a bigger plane. Sleeping was difficult just because of the cramped space.  For he most part the ride was ok but we are definitely looking to upgrade for the flight home just for the comfort. We were please to learn because of a tailwind, our flight was going to land a little over an hour early.
Read More