Friday February 6th
Wow, five days of interviewing children, what an exhilarating and exhausting experience. We met with over 100 children this week, visited three different orphanages, and met children from close to 20 different orphanages. We have seen some really great things, and seen some things that just make you cringe, but all in all, the goal is to get these kids out of these orphanages and into their forever families. We are walking away with a new refreshed perspective. All of these kids deserve a chance at life, some have only known the life of an orphanage, others wound up there at an older age and don't know why. There was a constant that we saw in all of these children and that's the lack of that sparkle in their eye. Now don't get my wrong, many of these kids were full of life and personality, but deep in their eyes you could see where there is a missing piece. You could see the longing to be a part of a family, a longing to have those people they can count on, day in and day out. Many were asked what their New Year's wish would be and most answered to have a family in the United States. We had one little guy today that just came 'crashing ' into the room. He had a killer smile and was mister personality, he had hope in his eyes, but through his rough and tumble I caught a quick look from that sought approval from us and fear of the unknown. He charmed us with his adorable demeanor and killer basketball skills. He's going to be heart breaker for sure! Look at this precious smile!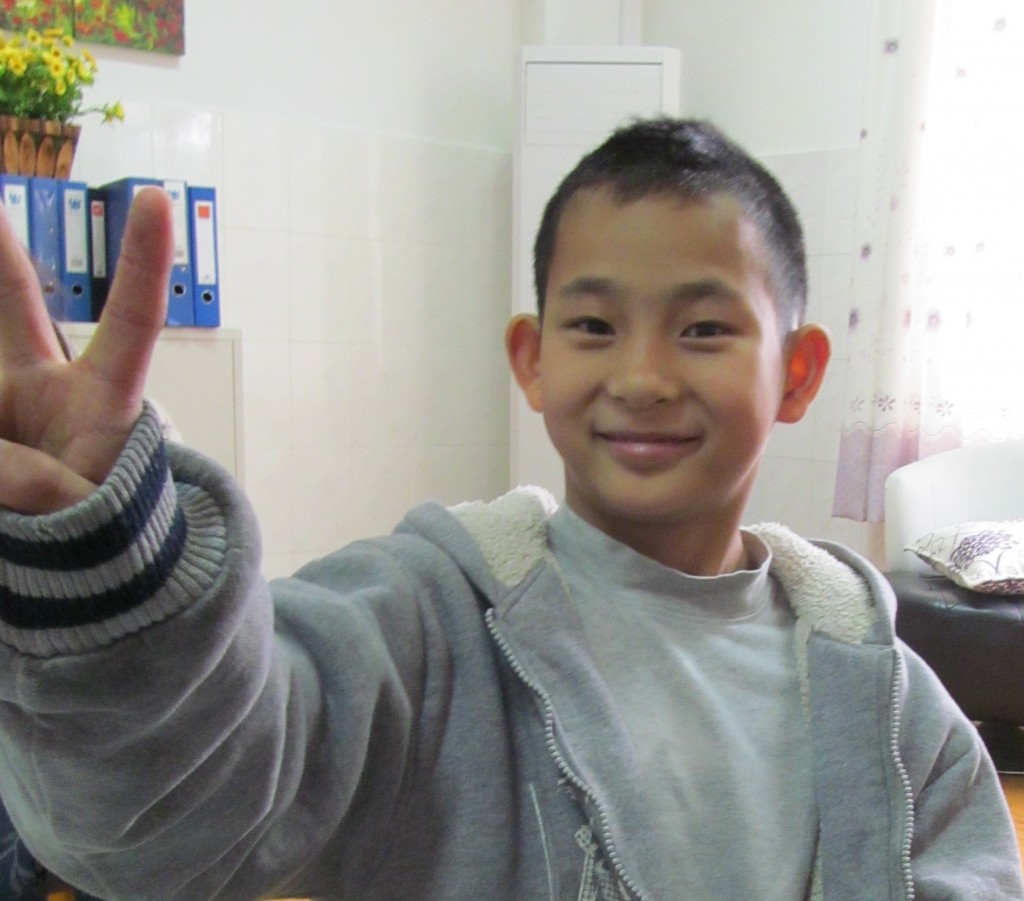 Wednesday is the last day for for VIP registration. We encourage all families to register now to guarantee priority matching. Out of all of the children there are far more boys than girls and the average age of host kids is about 11. The photo listing will go live for all Monday February 16th. For the families that register by Tuesday February 10th, they will have access to the photo listing beginning February 11th. Sign up today so we can bring these kids home and give them the family that they are longing for.
-Shannon
Wednesday February 4th
We just finished our first two days of interviewing. We have seen over 60 beautiful children and can't wait to begin advocating for them. We met workers from several different orphanages and it was intriguing to see all of their different styles as they work with each of their children. One of the teachers was unbelievable. Their orphanage obviously uses musical therapy for their children which is beneficial on so many levels. The children were THRILLED to show us their talents, patiently listened to their teacher, and were overall just wonderful to meet. Some of the children have been taught to sing, dance, play instruments, or all of the above. I probably changed batteries in my camera 8 times today because I took so many photos. I also made an interesting discovery that has become quite the comic relief, Chinese batteries are terrible! I am convinced they are fake. My 'American' batteries lasted through almost a full day of interviewing, at least 20 children. Today I went through 3-4 children before it was time for new batteries, but it was totally worth it. I can't wait to share all of the children's performances. It is late so I am going to keep this short, but for now check out this young lady's incredible musical talent, and her mad dancing skills. She is sure to fit right in to a family full of music lovers!
-Shannon
Monday – February 2nd
Wow, we made it through the first day of interviews! There were definitely some nerves to sort through this morning. With a new interview team, new doctor, and new province we were prepared to have to find our groove. I guess our team was meant to be because it took no time at all to get moving. We met 29 incredible children today and can't wait to share them with everyone. We had singers, dancers, artists and more! We know we shouldn't have favorites but just to give a little sneak peak, you must meet one of our super talented little guys. He is an incredible artist and super cool gymnast. This sweet 11 year old has smile that will melt your heart, he loved showing off all of his talents and responded so well to us and his friends. This sweet little guy is deaf but he had no problem signing with his friends and showing us what he wanted. Check out his art below and watch his video here.
Stay tuned for more updates and featured kiddos from the trip.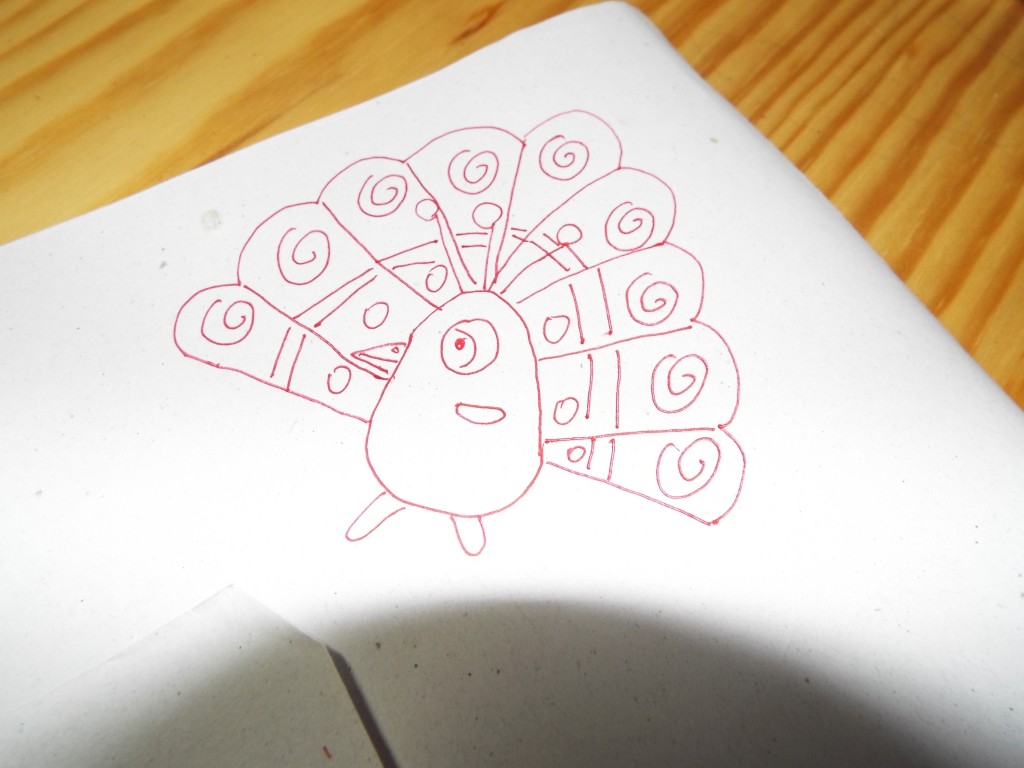 -Shannon
Saturday – Jan. 30th
Today was an amazing start to our journey in China. This is both Shannon and I's first trip to China, so to have some time in Beijing to relax and see the sights before we start our interview trip has been wonderful. We were lucky enough to see the Great Wall, Tiananmen Square, and the Forbidden City all on a crisp, cold, but smog-free and clear day. 
Although sightseeing and having a day to get over our jet lag has been great, one of the best things about this trip has been getting a corner of the family's perspective: packing lists, how much money to bring, customs, airport connections, and navigating cultural differences. These are all things I advise on daily, but now had to put into practice myself. Even as a travel advisor, it can take a minute to get past the stress that travel brings. To add an adoption on top of that is a wonderful thing, but also yet another layer of nerves and emotion – sometimes happy, and sometimes more complicated.
Adoption, even from the caseworker perspective, is a lot like something we experienced today: climbing the Great Wall. Standing at the base and looking up, Shannon and I were a bit daunted because it seemed huge. But then we laughed (we both deal with stress through humor) and started, because you can't get anywhere if you don't start somewhere. So step by uneven step, we made it further. And then when I thought we were done, Shannon noticed more (even steeper) steps. But then we made it, and it was worth it.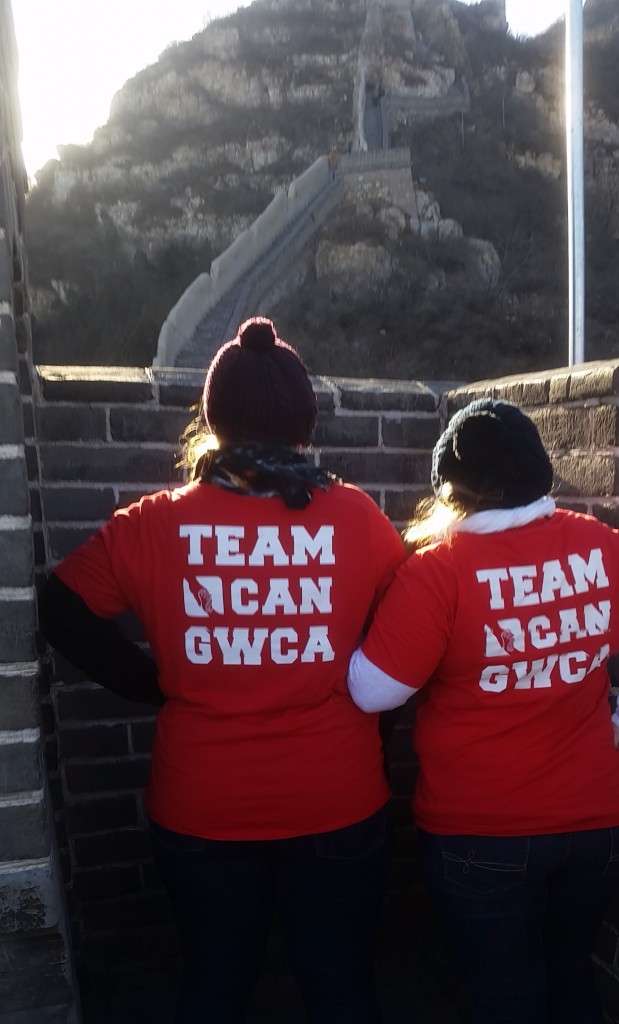 – Kayley
Tomorrow is the big day! Our team departs for the long awaited interview trip. Kayley and myself are checking our lists over and over to make sure we have everything covered. The world travelers of the office have donated their useful items, devices and back up devices have been checked, and gifts for our new friends have all been bought. We are so ready to begin meeting the little ones that have no idea that this initial meeting is the first step of many that could change their life forever.
As I talk to people in my community about what exactly I do, what exactly is orphan hosting it spurs many questions. Why must they go back to China? How do you pick the kids that come? Do they know they are being selected for this? What if it doesn't work for their family? How horrible, you show them how great life is here, then you ship them back to the orphanage? I have learned to not get so overworked when I hear these questions. I too had these questions at one point. I once hated the idea of hosting. But after closely working with our previous programs I have watched 'unwanted' children find their forever families. I have seen older children that have lost all hope for adoption, find their forever families. I have seen the 'hard to place children' fall perfectly into sync with their host families and soon to be forever families.
Why must they go back, we are fortunate enough that the CCCWA allows the children to even come for a visit. They must go back on the account that all processes are fulfilled and fulfilled legally. Is that what we want, of course not. We wish to bring them all here to be with their families but the process, the paperwork, the fees, are to ensure that these children will be placed in a safe and secure home.
I wish that every child I meet next week could travel for the Summer Hosting Program, but it's just not realistic. For many the actual travel could be very difficult, but more importantly for some it's just not safe. The children travel up to 24 hours straight to reach their final destination and that's hard on anyone. These kids are so brave they come here to stay with a family they have never met, to speak a language they don't know, and partake in a lifestyle that is completely foreign to them. We must select appropriately for the sake of the children, their safety, and their growth and development.
It's not just about their experience here in the U.S. its the love of a family and the advocacy that can come of a child's trip to the United States. These kids have been waiting their whole lives to be adopted but because they were born with something that may be different, or isn't perfect, or a label was placed on them as young child they are deemed 'unwanted' and they wait. Some of these kids have been waiting just because they are boys. Nothing against a family looking to adopt a sweet girl, but there are just more families wanting girls than boys, so the boys wait. These are kids that would continue to sit on agency listings for years without the direct human contact they receive through this program. Half of the host families usually adopt, a good portion of the families meet their host child's forever family while the child is here, and the rest have so much more valuable information about them that make it much easier to advocate for them to find their forever family.
We leave tomorrow knowing that another group of children are about to have their lives changed. I leave with my heart breaking for those we won't be able to help this go around, but more importantly for each child that finds their family I am grateful, for each family that sacrifices everything to be that forever family, I am grateful, for every advocate, volunteer, and staff member I am grateful. It's because of all of you that help these kids each day. It's like the starfish story, we may not be able to help them all but for that one, it matters.
-Shannon
1/28/15
Visit www.orphanhosting.com to learn how to participate in the Summer Hosting Experience.
Read More