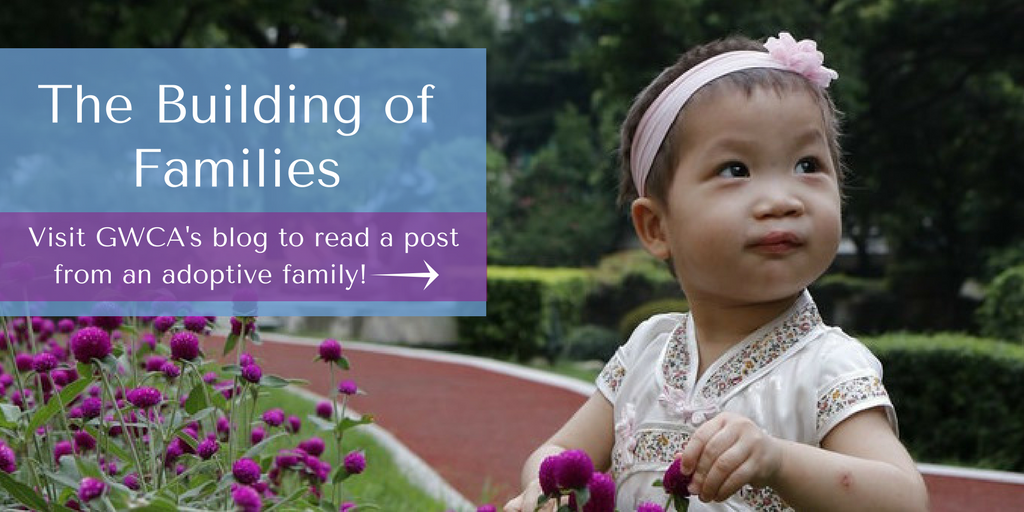 The Building of Families
This blog post was shared by one of GWCA's adoptive families. This family recently traveled to China to bring their daughter home. While they were there completing their own adoption journey, they had the opportunity to see FOUR other GWCA families complete their adoption journeys as well!
I am moved by adoption stories. I love reading how children are joined with their forever families.  How God in His providence chooses children and parents and builds families – not only in the traditional way, but also in the redemptive way because our world is broken. Even in the painful and heartbreaking circumstances where children are left without parents, God has made a way for restoration, for hope and healing and a home for the least of these.  I am moved reading such stories. Now I have my own story, and I have front row seats to four other stories.
I write this glancing out of our hotel room window from the 21st floor in Guangzhou, a city of 16 million people, the 4th largest city in China. High rise buildings touch the sky in every direction. The highways are a blurred with vehicles. Sidewalks never cease from the motion of pedestrians.
Yet here, in this huge city in China, our lives have merged with four other American families, all with our own unique adoption stories. All with the same adoption agency, our lives intersected here in Guangzhou, here where families are built. How can I articulate this miracle? When I'm sitting in the Civil Affairs office waiting to finally see my own daughter in person, I have the honor of seeing other families meet for the first time. The boy running to his father's arms for their first embrace. The reluctant girl who loves her nanny, yet wants to be with her new sisters and parents too. The parents who have sacrificed so much to get halfway around the globe – for love, for their child, yet knowing that this, the building of a family, is hard. The children, these precious ones who have endured more loss and pain than many of us combined, they are being grafted into their forever family. With some pain. With enduring the loss and confusion of their entire worlds changing. With strangers who they are slowly getting to know over the past week, learning that their needs will be met. That they can trust us. That we are here. That we'll fan them and give them a drink in the heat. That they arrive with us at the many official appointments and then they leave with us. Together.
Together the five families arrived at the US consulate office yesterday morning for our ceremony. Together we took the oath. Together, husband and wife approached the window with their Chinese child to answer questions. Together, the newly built family came back and sat down, waiting until the next family was finished.  Together we walked back to meet our guide. Together we cross through crazy traffic that does not stop for pedestrians!  Together we ride the bus back to our hotel, one dad in our group playing Michael Jackson on his phone for Hugh, an older adopted child, because he knows Hugh likes it.  Together we all hear "Thriller" on our commute. And I smile. I knew adoption was a miraculous gift in my own life. But to witness adoption happen right before my eyes with families I've known for less than 10 days is an experience that even after trying, I just cannot describe. Words fail for what my heart feels.
What blessings await us? To watch these children grow and flourish in their forever families will be one of life's sweetest joys. For I had the honor of being here at the beginning, when they joined their forever families.
So to Hugh, thank you, sweet boy, for showing me everyday that joy is a choice. You are not limited by what you can't see, but choose to see things brightly. Your pleasant and happy countenance brightened my days here in Guangzhou. You are so brave and an amazing young man. I'll miss hearing you say my name. And now anytime I hear "Thriller," I'll smile and think of you.  See you later, Hugh!
To LuLu, sweet girl, you are so brave. You've had big changes and now you are right where you need to be with your mama and baba and sisters. I love your friendliness and your determination. Thank you for sharing your crayons with our Kyla girl.  I look forward to seeing you flourish with your sister Lily as you two have similar beginnings and a beautiful future.
To Nora, sweet girl, you are precious in His sight. I met your parents just a couple days before they met you to bring you home. I'm sure you know, but your mama and baba are full of love for you and your family. They are such great people, and I am so happy for you to grow up in their love. You are courageous, Nora. I know how scary it is not to see clearly, yet you are calm and courageous. I hope you enjoy seeing this beautiful world God gave us with your new glasses. I am excited to see you grow, dear one.
To Amani, sweet girl, I know these are big big changes for such a little one. You are resilient, sweetie. You have a mama and baba who love you to the moon and back. They have come so far, through so much, to bring you home. I love your caring heart, Amani. Thank you for reaching out and hugging our Kyla girl yesterday morning. Could you sense something we couldn't?  Your sensitity was touching as you showed love to your new little friend. You two are close in age, the littlest adoptees of our group, but you both have big bright futures.
And to Kyla, our sweet girl. I know right now all of this doesn't make much sense. The driving. The heat! The eating ramen noodles and Starbucks sandwiches in our hotel room. The dinner at an Irish pub with American rock-n-roll playing.  The coming and going and waiting. The strange looking grown ups (no offense, friends) with their Chinese children who we travel with. But over the past nine days, you've stolen my heart. The way you pull our fingers as you "run" down the hall, then pause and gleam up at me with the most joyous look I've ever seen. The way you slurp noodles using your tiny fork. They way you carefully inspect pretty things. The way it takes you a while to wake up, that's my girl! How you look at yourself in the mirror, you with your pretty dress, shoes, and bow. You are beautiful, Kyla Brooke. Beautiful and sweet and smart and silly. I'm so incredibly happy God chose to build our family with you. You are resilient, precious one. It has been one heck of a week, but you have handled it better than any adult would.
As have your friends.  You five kiddos are amazing. I am truly honored to have met you all and witnessed your first days with your forever families. You have showed such strength in your first years of life.  Now as you continue to grow, you will have the family God gave you to lean on for support, to laugh with, to establish traditions, to go and see new things, and to be loved.  Family is beautiful. Happiest of homecomings to y'all!
Resources
Read More