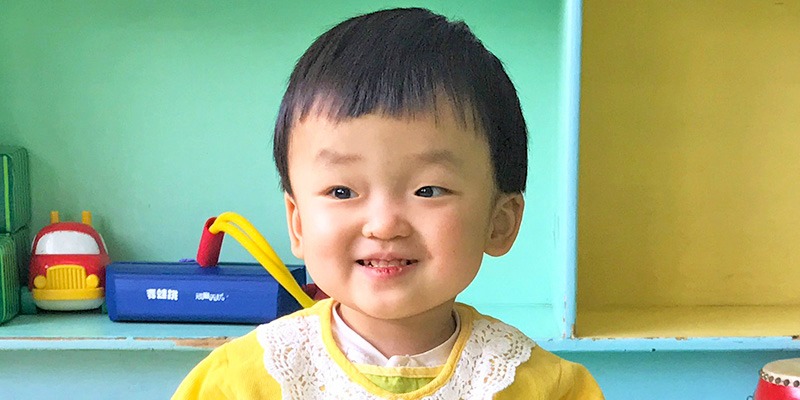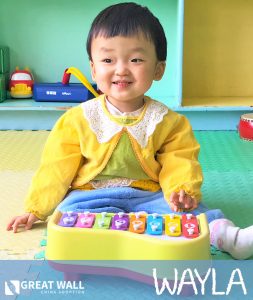 Wayla is a beautiful little girl from China that is 3 and a half years old! Wayla had hydrocephalus when she was younger, but she received surgery and a shunt in May 2015 and she has recovered well from this operation. She also has some speech delays. Wayla is not walking yet but is crawling very well and she can stand up when holding on to something. She can sit up by herself and play with toys.
Wayla is a shy and gentle little girl. She likes to push the ball between herself and her nanny. Wayla also enjoys threading beads. She is very attached to her nannies. Wayla will make sounds such as "ya" and "na" and can say "mama." She likes clapping her hands when her nannies call her name.
If you would like to learn more about Wayla, please request to review her file today!
Luke is a sweet little boy from China that is 7 years old!  Luke was hosted by a family in the United States during Winter 2017 and had a great time while he was here!  Luke was going to be adopted by a family, but
becuase of the recent changes in China's eligiblity rules, Luke was not able to be adopted by that family.  Now Luke needs a new family to bring him into their home and love him for the rest of his life.  Could you be his Forever Family?
Here is some information the host family provided about when Luke was in their home during hosting:
"Luke is a seven-year-old who radiates joy.  He loves life and has such a pleasant, fun personality. Every day he wakes up happy and ready for the events of the day.  He is very easy to deal with and transitions well from one activity to another.
It appears he is very smart. His writing in English workbooks during hosting shows he writes letters very well and can correctly copy information. The way he interacts with people and summarizes situations shows he is a thinker and processes situations well.
Playing outside or on the playground are two of his favorite activities.  He loves to run, climb and slide!  The Zoo, BounceU, Above All Trampoline and swimming are some of his other favorite activities during hosting in the US.
He has bi-lateral hand malformation with missing digits and bilateral cleft foot deformity with missing digits.  He does tedious projects with his hands such as making crafts, slotting beads, painting, writing and more.  If not looking at his hands, it is not obvious that his thumbs are not normal or that some fingers are fused. Because he has two thumbs, surgery on his hands would probably not be recommended.  His foot deformity does not affect his walking or running.  The pediatrician noted that these deformities do not require surgery, rather being aware that as he grows up, he may need wide shoes.
He is small for his age which is often typical of children who live in an orphanage.  The pediatrician thinks he may be a short stature child based on his shoulder girdle and pelvic girdle displaying some malformation.  In January 2017 he weighed 39 pounds gaining two pounds during hosting and was 3'5" tall. Oral care seems to be very good with no concerns at the dental visit.
A Chinese friend talked to him several times and says he speaks excellent Mandarin. She noted he does not speak the dialect that is heavy in the area where he lives. Google Translate works very well to translate his Mandarin into English because he speaks so clearly.  He is very conversational and speaks some English words now.
He is very obedient and rarely needs to be redirected. He has a bit of an obstinate streak that surfaces occasionally, but it allows him to express his opinion in an appropriate way.
His daily routine of hygiene, getting dressed, and chores is well-developed. Every day he sees what needs to be done to set the table for meals, get food out of the refrigerator, clear the table after meals and more and does it!  His favorite foods are bananas, oranges and rice.
Luke sees the beauty of family and expressed through translation to the host family that he wants to be adopted. He should transition well into a family."
If you would like more information on how you can adopt Luke, please contact the GWCA Home Finding Team today!
This beautiful girl's name is Essie! She is 5 years old and was born with esotropia of her eyes. This does not impact her vision in any way. She is also described as having cognitive developmental delays compared to the other kiddos in the orphanage. Essie does not appear to have mobility delays or any concerns with her fine motor development. She is able to understand adult's directions and can speak using 1-2 word sentences! She loves to listen to music and dances happily when a song is playing. She loves to play outside and watch cartoons with her friends! Please reach out to Great Wall to learn more!
This sweet kiddo's name is Dane! Dane is 7 years old. He was born with a heart defect but appears to have had surgery prior to arriving at the orphanage at one year old. He is deaf in both ears and has needs impacting his eye development. He does not appear to have visual impairment. Dane is a bright, happy kiddo who communicates well with his teachers using simple gestures and lip reading. He has attached well to his caregivers and loves to show affection by hugging! He is extremely independent and is able to feed and dress himself without assistance. He does not appear to have any mobility or cognitive delays overall. Dane is able to write numbers from 1 to 100 and draw patterns! He loves to learn and has a natural curiosity. He also loves to play outside with other kiddos. He is a smart, sweet kiddo who would thrive with the love and care of a family. Please reach out to Great Wall to learn more!
This precious boy's name is Mason! Mason is 5 years old and was born with cleft lip and palate and congenital heart disease. He file indicates that he has had surgery to repair his cleft lip, but not to repair the cleft palate or heart defect. Mason is described by his caregivers as being a bright, smart, and polite child. He is very independent and is able to feed and dress himself without assistance. He always greets teachers when they come in and waves goodbye when they leave! He appears to be on target cognitively and is able to verbalize his name and age. He has a lot of friends and is able to tell you his best friends name if asked! Mason is very enthusiastic and loves to help his teachers. He will assist with other children and loves to push wheelchairs for his friends in need. His teachers all love him and praise him for his good memory, imitative ability, and ability to learn new things. He is speaking in full sentences and is very communicative. Mason is an incredible boy who would thrive with the treatment he needs. Please reach out to Great Wall to learn more!
Resources
Read More