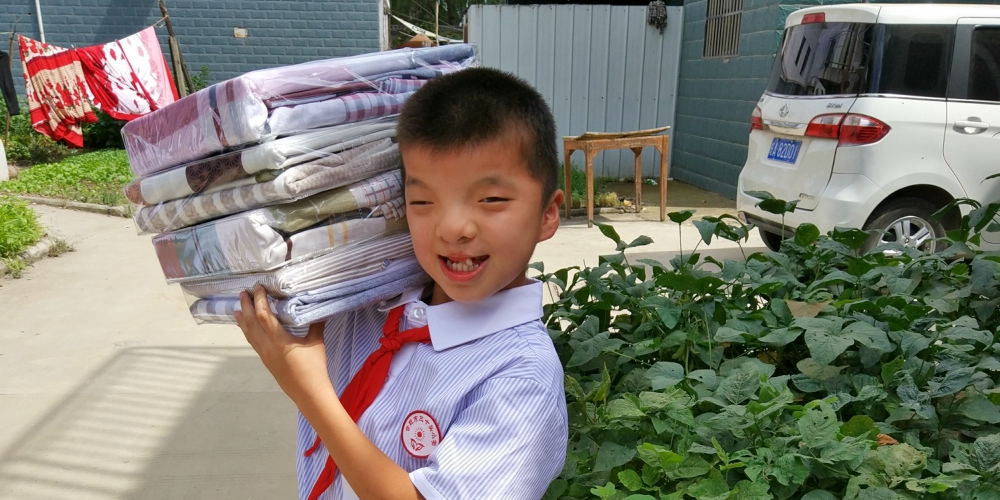 Kyle is a sweet 10-year-old boy who has been diagnosed with exotropia and postoperative cleft lip and cleft palate. Kyle was placed in a foster home when he was 1 year old. He is developmentally on track and attends school regularly in the 3rd grade. Kyle quickly shines as the leader when placed in groups in school and among his friends. He takes initiative to help do chores around the home and assists his teacher by tidying up the chairs and encouraging his classmates to line up for lunch and recess. He has been described as an intelligent, outgoing, and curious boy who is always asking questions. Kyle is in need of a family to call his own. Contact us at GWCA today to learn more about him!
Maddie is a darling little girl who is 7 years old. Maddie has been diagnosed with Down syndrome, and her legs are slightly different lengths. She's been engaged in rehabilitation training for years, and with her hard work and persistence, she is able to walk steady and faster than ever before. Maddie has been described as a happy, self-independent girl who always has a smile on her face. She is always able to brighten up her caretaker's day! Contact us at GWCA today to learn more about sweet little Maddie!
Mia is a kind little girl who is 3 years old. She is developmentally delayed compared to her peers. Her file is currently outdated, and GWCA is working on obtaining current information. According to an update in April 2016, she can locate the direction of a sound, grasp her favorite toys, look for dropped toys, imitate sounds, and rise and stand with assistance of a chair.
Mia has been described as a shy little girl who is very curious and observant of her surroundings. She is always intrigued by what the other children are playing. She is sweet as can be and loves receiving hugs from her caretakers. It always puts a big smile on her face! Mia would thrive in the home with the love and care of her forever family. Please reach out to our GWCA adoption counselors to learn more about Mia!
Kayla is a precious little 2-year-old girl who has Down syndrome. She has just started to walk and is starting to say a few words. Kayla is very active and likes to play in the ball pool with other kiddos. When there is music playing, you'll catch Kayla dancing. She has been described as curious, yet obedient little girl. Kayla is in need of a family to call her own. Reach out to us at GWCA today to learn more about this sweet little girl!
Resources
Read More