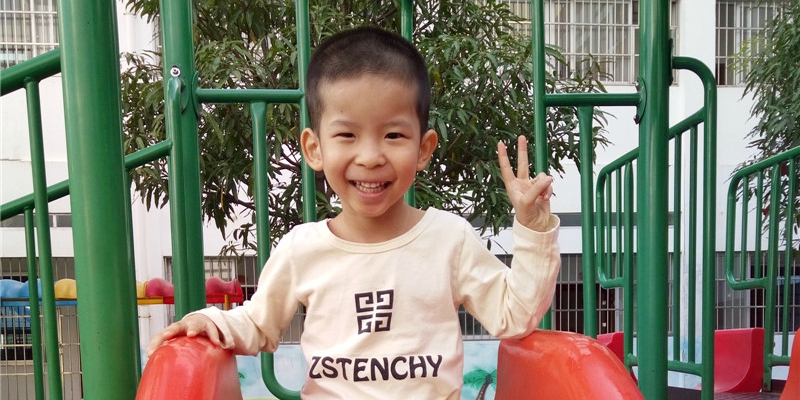 Hoyt is an adorable 6-year-old boy who we've advocated for before in the past! He was born with anal atresia and an extra digit on his right hand. He has received surgery for both of these special needs and is doing very well! Also, he appears to be on target developmentally. According to his file, Hoyt has been in a foster home since 2014. His caretakers are always mentioning how clever and curious he is. Please contact one of our matching specialists if you'd like to learn more about him!
Amelia is an adorable little girl who is 5 years old. She was born with Thalassemia and receives blood transfusions once a month. Amelia loves to sing and dance and play games with the other kids! She has made tons of progress since she came into the orphanage's care. She is currently in preschool, and her overall development is normal compared to her peers. She is a confident and polite little girl who is described as being introverted. She can complete some simple self-care tasks like getting dressed on her own, washing her hands before meals, and tidying up with her caretakers. Contact us at GWCA today if you'd like to learn more about Amelia!
Miles is a precious 9-year-old boy. He is delayed compared to his peers, but he would thrive once placed with his forever family! In school, Miles is the class monitor, and his teachers have spoken very highly of him. Miles is super helpful around the orphanage: he takes initiative to assist his caretakers by sweeping the floor, washing dishes, and caring for the younger children. Miles is a shy boy who is very observant of his surroundings and uses direct eye contact when speaking. Contact a GWCA matching specialist today to learn more about him!
Derek is a sweet 5-year-old boy with cerebral palsy. We're working on obtaining updated information, as his file is currently outdated. According to an update in September 2016, Derek was attending rehabilitation training twice a day for language and limb flexibility. With his hard work and persistence, Derek is able to walk freely. He has been described as a happy and introverted little boy. Please contact us at GWCA today to learn more about him!
Bentley is an adorable 4-year-old boy who was diagnosed with rickets and a growth development delay. According to an update in August of 2016, Bentley was living in a foster home and had formed an attachment to his caretaker. Bentley is self-independent, as he he can walk by himself, dress himself, eat by himself, and was starting to become potty trained. Bentley has been described as a happy and extroverted boy who is active, obedient, and cheerful. He loves to dance, listen to music, and play toys with his friends. Bentley would thrive with the love, care, and support of his forever family! Reach out to us at GWCA today to learn more about this sweet little boy!
Evan is a precious 4-year-old boy who was born with microcephaly. He has average gross motor skills and some difficulty running, but he has great understanding ability and can follow instructions. Evan can imitate adult's actions and behaviors, and his caretakers note that he has great observation skills. He has good memory and judgment and generally enjoys learning! Evan is warm and outgoing, and his file states that all the nannies and kiddos in the institute enjoy him very much. He gets along very well with other children and is fond of playing games with them! Contact one of our matching specialists if you'd like to review his file!
Resources
Read More