6547 MILES TO HOME
What an incredible week we have had in the city of Guangzhou, however, we are ready to get home! Suitcases are packed. Ready for to take a train to Hong Kong and then hop a flight to the good ole' USofA  – 6547 miles to home!!! Spent the last morning in Guangzhou sleeping in, eating a late breakfast, sneaking some bread from the breakfast buffet to feed the koi fish in the pond, then enjoying a lunch with another adopting family.
A total of six families from our adoption agency traveled together and we so cherish each of them! Incredible that six more children now have families and are sons and daughters. Gives you chills to hear how god moved in mighty ways over the last year to unite these families with their children. We are grateful for how they all took care of duo and i as well. Our guide, Kelly, was also a precious gift as she took great care of us. We boarded a train from Guangzhou to get to Hong Kong. My incredibly silly son passed the time by making faces for the camera!
After arriving very late in the evening at our hotel, regal airport hotel, we ate dinner and went to sleep. The next morning we woke up early and boarded the flight to home. We happened to be flying on the same flight as our friends that just adopted a precious 2 year old girl and sat next to them. Made for a fun 12 hour flight! Duo slept a good half of the flight (thank goodness!) and watched movies the rest of the time. He was as happy as can be… lots of food, drinks, and cartoons!
We landed in seattle – duo is the newest citizen of the usa!!! That smile tells you how he feels about it!
We had a three hour layover in Seattle as we waited for our flight home to Portland. We walked around, ate more food, and watched all the airplanes on the runway. He was so exhausted from the time difference he slept the entire flight to Portland. We were the very last people off the flight because he wouldn't wake up! Groggy and dazed Duo arrived home in Portland and I captured his first photo on the famous airport carpet!
The most incredibly talented and kind-hearted friend, Colette Hoekstra of coco photography, documented Duo's homecoming. Through the adoption journey Colette provided photo sessions for families and donated all the profits to the adoption. We are forever grateful for her generosity! And we are so blessed by the amazing friends who welcomed Duo's arrival home! Though he was exhausted he felt very loved, as did we. Thank you to everyone!
It feels like he never left. Like he has been here, a part of our family, forever. He jumped right in his bed, smiling and happy, feeling perfectly at home. We expected to rest in the week after getting home but we've done anything but rest. Duo has been ready for every adventure around the corner. He picked out a new bicycle, went to church (even chose to go with his siblings to the kids church), spent a day at the local aquarium, and has been having a blast playing with his brothers/sisters. We've been working on Phonics so he can start reading. I was shocked when he spelled out mom, dad, Duo, Evy, Noah, Jude, Piper, love, and fun. He knows all the ABC's and can count in English. He communicates his needs in English very well. This morning he said "I want noodles and two eggs please." He is learning hundreds of new words each day. So proud of him!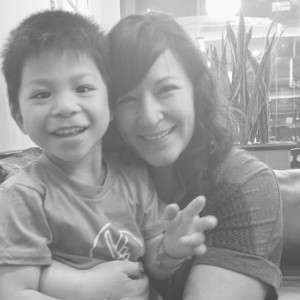 Guangzhou – Part 2
We have had a sweet time of fellowship and fun in Guangzhou this past week. As I am buried under a pile of clothes that I need to somehow figure out how to get back in the suitcase I thought I'd share a bit about our week. My husband returned home last week in order to care for our five children and so I pressed on alone in China with my new son, excited for the individual time to spend with him. It has been better than I could have hoped for. In Guangzhou there are so many adopting families and our agency put our entire travel group at the same hotel, which makes for a great sense of community in a foreign country. We have been able to explore the city, eat meals, and do activities together, all while supporting one another through the transition of adoption. The Garden Hotel changes the lobby decor frequently and i just love the new display. My poor son was not as thrilled when I made him go take a photo by it!
The hotel's pond and garden area has been so lovely as well. Most mornings we eat breakfast and then go for a walk in the garden and take bread out to feed the koi fish. Such a nice little retreat.
Thankful for the older kids in our travel group as they have included our son in everything. They don't let the language barrier stop them from having a good time. The first two or three days duo refused to engage with the other children, partly out of shyness but mostly because of insecurity. As the week progressed he began walking near them, then even sat with them at dinner, then he really came out of his shell at the swimming pool. Amazing to see his confidence grow so quickly.
I think I may need to buy a camera for him. He loves taking photos and videos of everything. At this moment he is watching a cartoon but recording it on his iPad! he and I have a fun game of taking fun selfies that leave him in a fit of giggles. He loves it so much!
We are beginning to work on some fine motor skills so sticker books and coloring with a fine tip marker have kept him busy as we pass the time in our hotel room.
He has also become quite silly when I ask to take a photo of him. Instead of the cute smile I used to get he will give me a cheesy grin, pretend he is asleep, stone cold face, or stick his tongue out. Photographers kids are the worst!!!
I snapped a few shots this week that I want to remember – the first is Duo's breakfast. We go down to the buffet every morning and he fills two plates and one bowl full of food. This week he has been eating a hard boiled egg, bone broth, congee, fish balls (???), watermelon, fried noodles, rice, bok choy, and sushi. He tells me how many sushi he wants – today is was 8 pieces. For breakfast!
The second photo is a photo duo captured on my iPad when we ate dinner at a hibachi restaurant. He was enthralled with the chef and wanted to take a photo to show his dad.
The third photo is to remember the way duo sits against a wall when he is bored or waiting for something. He simply walks over to a wall and squats down. I used to do those exercises in boot camp and could hold it for seconds, much less minutes!!!
We went to shamian island for souvenir shopping. so impressed with a gift from china (they donate 100% of proceeds to orphans in china) and jenny's place. Both stores are owned by believers and they were the kindest, most generous people. We bought an English/Mandarin bible and a Mandarin scripture wall hanging, as well as lots of gifts for the kids. I purchased a special gift to give Duo for each of this birthday's until he is 18 years old.
This is a famous statue among the adopting family community – lots of sweet photos with newly adopted children posing cutely between the statue. My son was not as excited as I was to have him pose with the statue. He grumbled and pouted as I told him where to stand. Poor kid. Shopping for two hours and then posing for photos with some random statue… not his idea of a good time.
The next day we woke up early and went to the us consulate to apply for his immigrant visa. There has been some delays in processing visas over the last week but we are hoping his visa will be issued on time tomorrow so that the moment we land on American soil in Seattle he will be a us citizen!!
On our free day we decided to go to the Chimelong Safari park. I have been to a lot of zoos but this blew everything out of the water. The safari animals were all roaming around, cage free. There were 14 pandas and one of the momma pandas had triplets recently. A Jurassic exhibit was the highlight for the boys – dinosaurs!!!
Our time has been so amazing here. It is bittersweet to leave. Part of my heart will always stay in China. The people and the culture are beautiful and unique. It makes me very emotional to take my son from his homeland as it is such an important part of his life. I hope to always keep his culture present and give him the opportunity to return on a homeland tour one day. For now we will be packing our bags and making the long journey home tomorrow through Hong Kong, Seattle, and finally home to Portland. In a few days we will all be together as a family. We will all be reunited.
Orphan Hosting to adoption has been the sweetest journey – my children have spent the last 10 months praying, waiting, raising money, and preparing for their brother to come home. Soon. They will be back together again!!!
Guangzhou – Part 1
Leaving his birth province and heading to Guangzhou (southern China) to complete our adoption trip with a USA visa by the end of the week. We all flew together to GZ then my husband took a late night train to Hong Kong and from there will fly home to take care of our other children (Duo was not thrilled with the plan that his daddy was going to America early).
We had a 3 hour flight delay in to Guangzhou because of bad weather so we sat in a hot airport (no air-conditioning ) for three long long long hours. this is where i finally had to use a non-western toilet, aka squatty potty. China southern airlines was amazing, however, and provided drinks and meals to make up for the delay. We said goodbye to our guide, Emma, who has taken care of our every need in Beijing and Jinan. We boarded the plane and Duo's smile was larger than life. He has said that he wants to be a pilot when he grows up so this was very exciting for him. The only other time he has been on an airplane was when he came to america for the summer hosting program. He was bouncing up and down in his seat with excitement, studying every part of the plane's wing. The flight was a short and then we dropped off my husband at the train station where my son then proceeded to get carsick and vomited all over the backseat of a brand-new car. We tipped our driver well, very well.
Our guide took us to our new home away from home… the Garden Hotel. I have never in my life been to such a swanky hotel. It was an upgrade from our last hotel for sure. The great thing about this hotel is that a ton of adopting families stay here so we are able to connect with one another. Our entire travel group is staying here so it is comforting to have support and help as we all are walking through this transition. The garden hotel is beautiful. It has a waterfall, koi fish pond, garden area, indoor play room, the best breakfast I've ever had, and is located in the middle of the best restaurants around. Starbucks and H&M are across the street so we've already been there!!
Part of the visa process is a required medical exam and TB test. Duo had a height/weight check, eye/ear exam, and then a full physical exam with a focus on his special needs. A blood TB test was taken and results will be back in a couple days. He was so brave and followed all the instructions the doctors gave him. He did not resist the blood draw and walked away proudly showing off his band aid.
To celebrate completing the medical exam we went to a grocery store and I told him he could pick out anything in the entire store. He loaded the cart with Pringles (meat flavored), mints, pineapple gum, shrimp flavored chips, jello, and fruit gummies. He kept trying to grab bags of noodles and seaweed wraps but I tried to explain that we can't cook them in our hotel room. At breakfast he loads up on noodles and seaweed. I am going to have to find some new recipes!!!
We visited the chen clan academy (also known as the Guangdong folk art museum or chen family temple). It was used to offer sacrifices to ancestors and for study. Now it shows off the characteristic guangdong architecture.
Inside was an incredible artist that was creating scrolls with the traditional Chinese calligraphy. We purchased a large scroll that says the Raney family in Chinese characters, a name plate for duo with his entire new name in Chinese characters, and a painting of a panda. duo was fascinated with watching the artist work.
We went to the pearl market for a bit of shopping. These strands of pearls are fresh and just beautiful. Many people buy a strand or two to make necklaces or bracelets for future wedding gifts for their children.
Duo and I are having a great time together as we continue bonding. While I desperately miss having my husband here I am grateful for the individual time with Duo. He is slowly letting me be his mother more each day. He is very independent as he has taken care of himself for so long and he struggles to allow me to be his mom. He doesn't know what the role of a mother is and so we are starting at ground zero, helping him to break down the walls of security he has built. Letting me in and letting me help him is hard. But we are making steps towards it. Right now we are trying to bond through having fun – lots of being silly and laughing. Boundaries are very loose – letting him eat junk, drink sodas, stay up really late, and watch lots of television. When we get home we will begin tightening up on boundaries but for now this transition time to be fun. We are off to see baby pandas at the safari zoo!
Time Together
What a wonderful week it has been together. We spent five days all together in the capital city (Jinan) of the Shandong province. Most of our time was spent exploring the city, trying new foods, and bonding in the hotel room. Our morning ritual was letting duo go down to the hotel breakfast buffet – filling two plates of food and devouring them. Then we all walked to a local coffee shop where my husband and I had breakfast and coffee.
My husband gave Duo a special necklace that had the character for 'family' inscribed in it. Very precious and Duo has not taken it off since. They bonded so much during the week together. They would race up and down the hotel hallways, play games on the iPad, wrestle on the bed, playing hide and go seek in the bed comforter, do sticker books and build legos. They truly have a special relationship.
We went to a local market and duo chose grapes and cherries as a snack. He loves food, especially fruit and vegetables. He eats tons of boiled eggs, congee, rice, fruit, and vegetables. He still is weary of western food, especially chocolate, ice cream, and breads. He took a trip to Haagen Dasz for ice cream and he could only do a few bites before he pushed it away. He does not like cold foods as he is used to hot water, hot tea, and hot noodles.
We promised duo a remote control helicopter so our guide took us to walmart. My husband was snapping photos of all the products in Chinese… he was very excited as he found China's version of Mr. Clean.
We spent an entire day walking through five-dragon spring park. One of the most peaceful, beautiful places I've ever been. Feeding small koi fish in the ponds, walking underneath hundreds of willow trees, gazing at the incredible architecture and details throughout.
You can hear music and singing all throughout the park. We thought it was a group or choir that came together to play but our guide said that it is simply people within the community that come together to sing and play music throughout the day. Someone brings sheet music, others bring instruments, and they spend time meeting one another and making beautiful music. We came upon several different groups of people that were doing this. Such a great way to build community!!!
Duo's shirt says worth the wait. I bought this shirt a few months in to the adoption process when we were really exhausted and tired of waiting. So incredible to see him wear the shirt and he is absolutely worth the wait.
As we were walking through the city we stopped by a small temple where people were worshiping the warrior god.
On another day we explored daming lake park, which literally means lake of the great splendor. Again it was filled with hundreds of willow trees. So beautiful. The lotus flowers will begin blooming on the lily pads next month.
Again there were many groups of people gathered to sing and play instruments. We stopped for a while to hear this sweet couple play (she brought a microphone even!).  Such a peaceful time to slow down and enjoy life.
We also saw a ton of bride and grooms taking wedding photos. Our guide is engaged to get married so she explained that couples go to a photo studio and rent gowns/tuxes many months before the wedding to take photos. They take a day or two worth of photos, both indoor and outdoor. It's a big deal.
What a fun week we had together. Loved the city of Jinan. For five days we did not see a single person that was not Chinese and enjoyed being in a city that was not very influenced by the western culture. Now we are packing up to take a flight from Jinan to Guangzhou as that duo will have his medical exams and visa appointment with the us consulate. My husband will return home to take care of the rest of the children and we will return home next week. I truly believe god ordained this time for duo and I to bond. He and my husband have bonded so well but not it will just be the two of us so we will have some good time to bond without fun daddy around!!
 Reunited
One of the things on my bucket list has been to ride a bullet train one day. Well i wasn't quite prepared for the overwhelming crowds at the train station. It was one of the most stressful times of our traveling experience thus far. The station was huge and extremely crowded. We had to fight and push our way through the crowds to get to the trains, which i am learning is just the way you do things around here. Pushing people is the only way you will survive – push or be pushed.

The hour and a half train ride itself was so relaxing as we were able to enjoy seeing some of the countryside. Plus we had the cutest 4 year old boy sitting in front of us that Kyle taught magic tricks the whole trip. We arrived in Jinan, the capital city of Shandong province, and were shocked at how big the city is. We were told it is one of the smaller cities in China, at only 7-8 million people, but that is a huge city in my book! Our guide, Emma, took us to the Jihua hotel so we could get settled in. My excitement was brimming as we unpacked in our room knowing this is where Duo would sleep the next evening. We settled in a bit but decided that we wanted to check out the city so we went exploring with only our hungry stomachs and a physical map of the surrounding area. We have not seen a single other non-Chinese person in this city. Not one. That means that we stood out a lot walking down the street. Somehow we came upon a mall and a pizza hut! Both of us have been a bit nauseous with trying some of the different foods so we decided to eat something a little less exotic; and pizza hut is nice here… a full menu of calamari, chicken dishes, seafood, and pizza of course.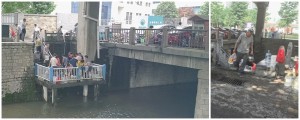 Here is a photo of the endless stream of people coming to gather the spring water. we see them walking long distances with buckets in hand, just hoping the spring water will be available.
Mopeds and bicycles are everywhere. It's one of the most incredible sights to see how all the bicyclists, pedestrians, and motorists share the roads/sidewalks with no collisions. We have felt a bit like the video game, frogger, dodging everyone because we can't seem to make sense of the traffic logic. It feels like mass chaos but it works!!!
Gotcha Day!

OK… now to Gotcha Day!!! We woke up early in the morning (3am early) and we were a bundle of nerves. The orphanage was running late so we had to wait several extra hours which felt like an eternity. Finally we got the call that they were near and so we met in a local hotel lobby. We were told that he had a very difficult morning – saying goodbye to all his friends, he got carsick on the 3 1/2 hour car ride, and he was so emotional he couldn't eat lunch. So we went in to the moment not expecting smiles or hugs, remembering that scared little boy we met last summer and knowing this day was bittersweet for him. It was one of the hardest moments of my life to see the boy we love so much grieving so deeply. The orphanage official told us that he has been waiting for so long for a year to come get him and that he has been telling everyone that his family would come get him but that this moment was overwhelming for him.
In order to give our son space to process his emotions we were very careful with those first few moments with him – no camera and trying not to hold in our emotions. It was about him and not us. All i wanted to do was run to him and hug him but instead we refrained from adding to his stress. After a few hugs and kisses we went next door to take our family photo and his personal photo for the adoption paperwork. During this time we pulled out the iPad which made all the difference in the world. It allowed us to sit near him but distracted him from all the emotions he was trying to process. Then we all drove to the civil affairs office where the adoption paperwork would be processed and finalized. T

his is when Duo broke down in to tears. He sobbed for about 45 minutes as we just held him in our laps, comforting him. Due to Duo's age he has to consent to the adoption, which means he has to verbally tell the official that yes he wants to be adopted. He was so emotional and just cried and cried. We were at a loss for how to comfort him because of the language barrier. Our guide and the civil affairs officer (the beautiful lady in the yellow shirt) were angels from above during this time. They talked with him for about 15 minutes explaining what adoption means and showed him photos of our time hosting him to help him remember how much he loved america. He communicated that he was so upset because he didn't want to leave his friends but that yes he did want to be adopted and go to america. He began to calm down as he consented to the adoption with his hand print as his signature.
Adoption always comes from a place of brokenness. Redemption and healing is hard. the pain and grief he experienced as he left all he knows is overwhelming for me to comprehend. While I know how much we love him and that a family is the design of a family, he doesn't. He will learn to trust us and understand that our love is unconditional and forever. But that takes time and a lot of patience. For now we will slowly be learning how to be a family. He will be learning what a mom and a dad are. He will be learning that he is a son and a brother now. Those roles are foreign to him. So we now will spend the rest of the week learning together.
Everything our son brought from the orphanage. He has slept with this pillow with our photo on it every night for the last year. He had all of family and hosting photos – worn and tattered from looking at them. The sweet caregivers at the orphanage told him he could take any toys he could fit in to the spider man backpack (the one we gave him last year) and so there are several random, toys that he decided to bring. One was a treasured broken remote control car. Going to buy him a new one as soon as possible. So impressed with his orphanage. They gave us a camera filled with photos he had taken himself – we will go develop that film. They also gave us a USB flash drive with many photos from his childhood and a farewell that they taped on his last morning before the adoption. He was loved well.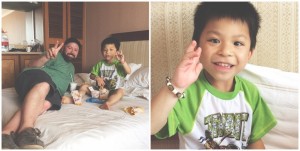 The first morning together was so precious. He slept in bed with his dad and inched closer and closer through the night. Woke up to his smiles and giggles, jumping from bed to bed in delight. We went down to have breakfast and he was so excited – filled two plates full of food. He shoved food in his mouth faster than he could swallow. We ate a bit but then went down to the local coffee shop where we love the barista…  she gets so excited to see us and practice her English.
We then went to the meet the officials at the notary office to finish signing papers. Duo went from a happy, bubbly kid to a confused, fearful boy. He sat in a chair, stiff and shaking, as we signed papers. We had planned to take a trip to the orphanage later this week to take photos, meet his friends, and see the spot he was found. But it was at this point that we decided to cancel our trip to the orphanage as we don't want to harm the bonding/attachment process any further. While we would love to know more of his childhood we have to do what is best for him moving forward. So a change of plans means we will just stay in this city exploring parks, eating lots of food, and having fun together, all while he learns to trust us.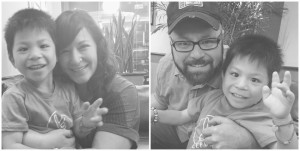 That smile. Thankful he feels safe and secure in our arms. Our Gotcha Day was better than I could have ever hoped for. He trusts enough to grieve in front of us and be comforted by us. Healing is happening.
A Father Prepares to Reunite with His Son
One of our families in the China adoption program has shared their thoughts with us as they prepare to travel to to China to reunite with their son, Duo. After hosting Duo last summer, they have been longing for this reunion since the moment he left. Read their full blog at 
http://raneytraditions.com/blog/
 to learn about their experiences throughout the adoption process, and follow their journey as they prepare to return home with the newest member of their family!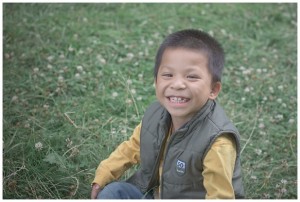 In just a few hours my wife and I will be jumping on a plane, crossing several time zones, and landing in the country that our son has called home his entire life. All of the details have been set and the plans that we have laid out for the last 9 months are finally coming to fruition. It is hard to believe that soon we will be reunited with the little boy that stole our hearts last summer and it is amazing to reflect on how God has orchestrated all of these events to lead us to this night.   Tonight I should be worrying about flight delays, customs agents, and exchange rates.Tonight I should be thinking through our check list, doing a last minute run-through of our busy schedule, or making sure we have packed enough clothes for the journey. However, tonight I am not thinking about any of those things, though I know I probably should.   Instead, tonight I am thinking about Duo Ezra Raney. For so long the idea of him joining our family has felt like a dream, yet soon it will be a reality. I am thinking about when he plays on his first little league team and slides into home. I am thinking about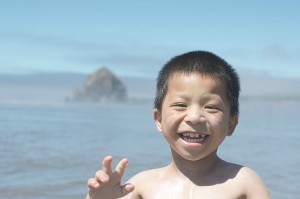 the first time we get to go camping together and he makes his first smore. I am thinking about the first time I nervously sit in the passenger seat of a car has he attempts to learn how to drive. I am thinking about his first date and how nervous he will be trying to get everything right. I think about the day he leaves for college, ready to take the world head on. I'm thinking about the day he gets married and how proud we will be when he finds the love of his life. I'm thinking about when he becomes a father and feels about his child the same way we feel about him.   Tonight I should be thinking about every single detail that the next few days will hold, how stressful the trip could be, and worry if we have missed something. But I can't.Tonight, I think of Duo and the many milestones that he will accomplish. I also think how blessed we are, that God will allow us to see every one of them. That is what I am thinking about tonight.
-Kyle
Read More