Just weeks ago Heidi, one of our China Matching Specialists, had the opportunity to travel to China to meet with GWCA's Orphanage Partnerships. While there, she met countless amazing children that are in need of loving Forever Families. Here is a blog about her experience meeting one particular little lady named Eva!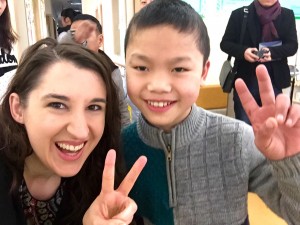 I had the privilege of traveling to China a few weeks ago to visit 6 out of GWCA's 13 orphanage partnerships.  I had an amazing time meeting the staff of these orphanages and 99 kiddos from the Waiting Child Adoption Program.  I got to experience the unique culture of China including their amazing food (let me tell you about how hard it is to eat with chopsticks though!), art, language and customs.  I went to China to meet the kids at the orphanages, learn more about them, and take more photos and videos of them so that when we do receive their files I will have more information to share with families who are interested in adopting them.
Some of the orphanages I went to were in big cities and others were in more rural areas.  No matter where I went though, everyone would stare at me, including the kids in the orphanages.  Most of these children had never met a non-Chinese person before, so they were completely fascinated by me, from the way I talked and how I looked, to how I dressed and even how I interacted with them.  In each orphanage as I was interviewing kids, the rest of the children in the orphanage would gather up in the hallway and peak through the windows and doorways at me.  When I would turn and wave at them and say "Hello" they would  all smile and giggle and run away laughing.  And always they would return shortly after to peer into the room and observe me again.
One of the things I was the most impressed with was the positivity and resilience of the older children who have lived in the orphanages most of their lives.  These are both healthy older children (mostly boys) and children with minor or moderate special needs.  The kids I met have such energy and a zest for life that is utterly infectious the moment you enter the room!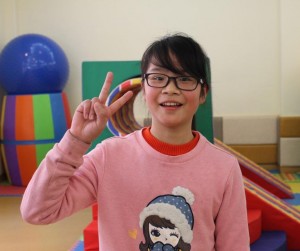 There was one girl, who I'll call "Eva," (pictured) that I met while I was in China who is 13 years old and will be aging out of the Chinese Orphanage system next February.  Aging out means that a child will not be able to be adopted after their 14
th
birthday, so kids like Eva will never get a chance to have a family after they turn 14 years old.  Out of all 99 kids I met over the two week period I was in China, Eva was one that really stood out to me.  Eva walked up to me as soon as I entered the orphanage and with a big smile and lots of confidence she said, "Hello!  I'm Eva.  Good Morning!"  Eva was such a happy kiddo, telling me some in English, some through a translator, what her favorite games to play were, that she is in school and what grade she is in, what her favorite sports are and who her best friends are.  As you can imagine, after years of not being adopted, Eva really wants to be adopted and have parents and a family.  She only has about 10 months left before that will no longer be a possibility.
Every day since I've been back from China I have thought about Eva and what a special little girl she is.  Eva is so very deserving of the love and attention of a forever family, as are all of the wonderful kiddos I met in China.  I have been hoping that there is a family out there who will want to adopt Eva and give her the family that she has always dreamed of!  Could you be that family?
If you are interested in learning how you can become Eve's Forever Family, visit our photo listing, watch her videos below, or contact Heidi at heidi@gwca.org today. She is more than happy to speak with any interested families about her experience meeting this amazing girl.
Read More