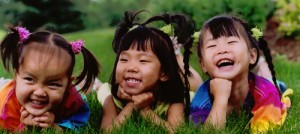 GWCA Partners with Orphanage in Sichuan Province!
We are thrilled to announce that GWCA has just signed yet another Orphanage Partnership, this time with an orphanage in Sichuan province! Our China Matching team had the opportunity to visit this new orphanage during a visit to China earlier this year, and we are so excited to work with them to find loving Forever Families for their Waiting Children!
If you're interested in learning how you can be matched with one of the Waiting Children from GWCA's Orphanage Partnerships, contact our China Matching Team today!
What is an Orphanage Partnership?
GWCA's Orphanage Partnerships work directly with our agency to prepare children's files so that we can place them with loving Forever Families as quickly as possible! Once a child's file has been prepared by one of our partner orphanages, it is given directly to our agency rather than being placed on China's Shared List. This means that our families have the opportunity to be among the first to see these children's files when considering if they would be a good fit for their family. If you're interested in learning more about the kiddos from our OPs, contact our China Matching Specialists, or visit our China Waiting Child Photo Listing today!
Read More