This week we've added 5 NEW KIDS to our China Waiting Child photo listing! If you're interested in learning how you can begin your adoption journey and take the first step towards being matched with one of these kiddos, contact our China matching specialists or visit our photo listing today!
Click here to request a file on our China Waiting Child photo listing!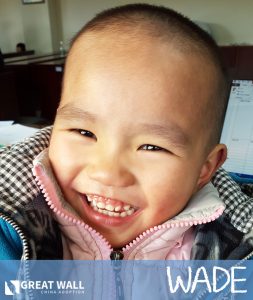 This little cutie's name is Wade! Wade is 5 years old and has been diagnosed with hemophilia. He participated in Summer Hosting in July and had an amazing time with his host family! Here's what Wade's host mom has to say about this little guy:
"Let me introduce you to "Wade".  He is the most handsome, brave, resourceful little boy you'll ever met.
His smile will melt your heart and his curiosity will spark your imagination.  Wade loves to play outside, ride his big wheel, and especially loves water activities.  He is very helpful and very observant….so don't do anything in front of him that you don't want him to remember!  He has a little trouble with the word "no" but then again what little guy doesn't.  He likes to play with other children and really enjoyed his time in the preschool room at church.  He loved the zoo, riding the carousel and watching the orangutans. Wade is an awesome bouncer which was exhibited every time we went to a local inflatable inside bounce house.  He really is a great kid with so much potential.
He isn't even hard to cook for: loved watermelon, bananas, zucchini bread, eggs, chicken, fish, sour cream / onion potato chips and peanuts.  He isn't too fond of pizza, spaghetti or blueberries though.
Wade has hemophilia, which is a blood clotting disorder.  His blood does not clot without the aid of infusions which can be given at home or a clinic.  It is manageable and as you see this does not stop this little one from living life to its fullest…..he runs, bikes, swims and hugs with no problem ! Please consider bringing this amazing child into your family.  He deserves so many wonderful things, most of all a forever family!"
Please reach out to Great Wall if you would like to learn more!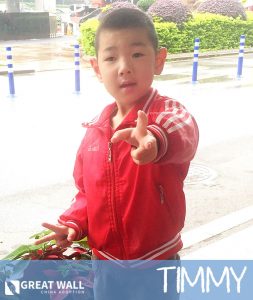 Timmy
is a sweet little boy from China that just recently turned 7 years old. Timmy wasn't brought into care until he was 4 years old, so we can assume he was raised by his family until that time. Timmy has been in a foster family since early 2014, so he is receiving more one-on-one attention than a child living in an orphanage. Timmy was shy at first but he became more sociable after he got used to life with his foster family. He can communicate with adults and children clearly and can speak 5-10 word sentences. He can walk steadily, dance with rhythm, build with blocks and do puzzles. He is in a regular school and is learning with other children of his own age. Timmy gets along with others well and has a ready smile. He is an active boy who is fond of playing games. While his physical examination shows that he has some maldevelopment of his right parietal lobe cortex, it doesn't seem to be affecting him that much. He is not described as being delayed and instead he seems to be a pretty normal 7 year old boy.
You can contact the China Home Finding Team at Great Wall if you would like to learn more about adopting Timmy. We hope we are able to find Timmy his Forever Family soon!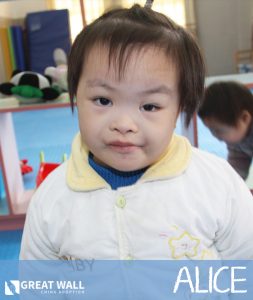 Alice
is an adorable little gal who just turned 4 years old! She was born with Down's Syndrome and seems to be doing well compared to her friends with the same need. She has been in early education classes and she has made great progress! She can get along well with other kiddos her age and loves to share her toys. She is described as being active and cute by her caretakers. Alice can complete simple tasks like washing her hands, walking up and down the stairs by herself and putting away her toys. GWCA is currently trying to gather more information on Alice.
Contact one of our matching specialists if you'd like to review her file!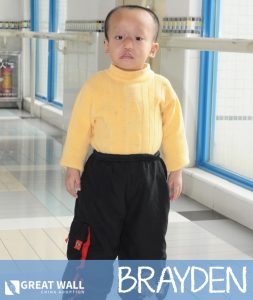 Brayden
is a cutie who is 7 years old! He was born with CHD but has received surgery and recovered well! His file is slightly outdated but when it was prepared in 2013, he was progressing very well. He was living in a foster family and connected very well with them. Brayden could communicate his needs, follow instructions and help his caretakers! He loves playing with legos and small cars. GWCA is currently trying to get an update on how Brayden is doing!
Contact one of our matching specialists today if you are interested in learning more about him!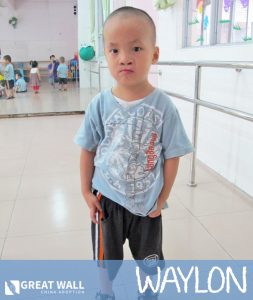 Waylon
is a cute little boy who is 9 and a half years old. Waylon has a repaired cleft lip and cleft palate, and he also has some length differences of fingers and toes. Waylon has normal physical and intellectual development. Waylon is very close with his caregivers in the orphanage. The orphanage staff says that he generally has a happy, introverted and content personality.
You can contact the China Home Finding Team at Great Wall if you would like to learn more about adopting Waylon. We hope we are able to find Waylon his Forever Family soon!
Read More