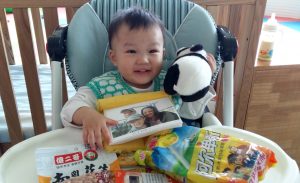 Congratulations to this adorable little lady who was recently matched with one of the families in our China LID adoption program! Since her file was considered LID – meaning she's a younger kiddo with a more minor or correctable need – her family had to have their dossier logged in before they could be matched with her. Now that they're officially matched, they're one step closer to bringing her home forever! They've still got part of the process to complete before they can travel to China, so they've sent her a care package with a photo album of their family that she can look at in the meantime. I think it's safe to say she LOVED the gift!
This particular kiddo was among the children that one of our China matching specialists had the opportunity to meet during her trip to China earlier this year, and we are so happy that she has found a family who is ready to welcome her with open arms.
If your family is interested in adopting a younger child with more minor or correctable needs and you're interested in learning more about our China LID adoption program, contact our matching specialists today!
Read More