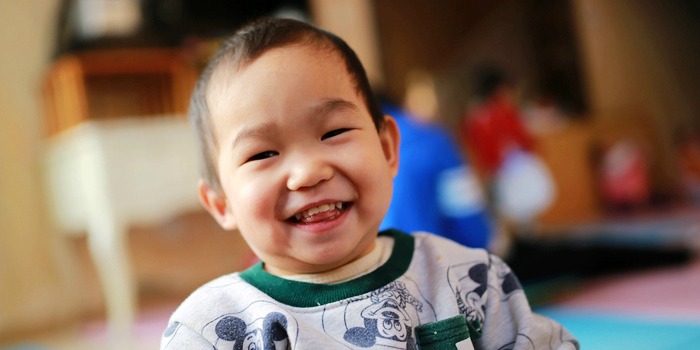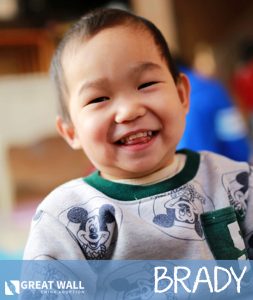 Meet Brady! Brady is an adorable little guy who is 3 years old. Brady was born with additional limbs which were removed shortly after birth. As a result, he has urogenital needs and a wider gait. Since the surgeries and treatments, Brady has made incredible progress! He is now able to stand without assistance, walk, and hop on his legs. He is currently living with a foster family and is doing well in regards to his cognitive development. Brady is very close with his caregivers and plays well with the other children in the orphanage and foster home. He loves to sing and dance to music and often is seen imitating adults. He is a bright, happy kiddo who would thrive with the love of a forever family. Please reach out to Great Wall if you would like to learn more!
Check out Brady's video!
Bryson is a sweet little boy from China that just turned 1 year old in October 2016. He lives with a foster family, so he is receiving much more one-on-one attention than he would be in an orphanage. He is cheerful and will smile when seeing familiar people. He is very interested in toys that can move and make sounds. Bryson turns his head when someone is calling his name. He likes to babble to express his needs and to draw people's attention. He like to be held and cuddled. He is very close with his foster parents. If someone shows that they want to give Bryson a high five, he will give them a high five.
Bryson can push himself up on his stomach and reach for toys. He can raise one hand up to a shelf to try and get a toy down. Bryson can sit up by himself. Bryson can crawl on his hands and his knees. Bryson loves playing with others and he will laugh when being teased. Bryson has something called cerebral agenesis, but it doesn't seem to be affecting him much because he appears to be developing normally according to his brand new file.
You can contact the China Home Finding Team at Great Wall if you would like to learn more about adopting Bryson. We hope we are able to find Bryson his Forever Family soon!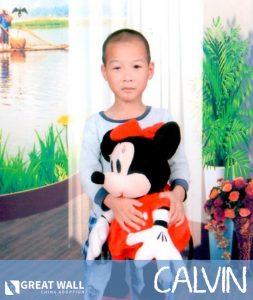 Meet
Calvin
! Calvin is a sweet 6-year old kiddo born with differences of sex development. Calvin can be very shy around strangers and new people, but after he gets to know someone he becomes very loving and friendly. He loves to play with other kiddos!
If you'd like to learn more about Calvin, please reach out to Great Wall!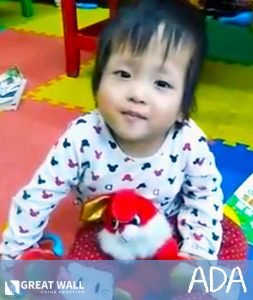 Ada
is a sweet little girl that just recently turned 4 years old. Ada has post-operative spina bifida and post-operative hydrocephalus. It appears that Ada may not be able to walk at this time, but she can sit up by herself. Ada is receiving rehabilitation for increasing her leg strength and she really enjoys going to rehab.
Ada can understand the instructions her teachers are giving her and can follow those instructions. She is very good at imitating adult's words and actions. Ada can speak sentences and she is good at communicating with her caretakers. Ada can hold toys and other items by herself. Ada likes to sing and dance when she hears music. She can count numbers and her caretakers say she is very clever.
You can contact the China Home Finding Team at Great Wall if you would like to learn more about adopting little Ada We hope we are able to find Ada her Forever Family soon!
Click Here to Watch Ada's NEW Video!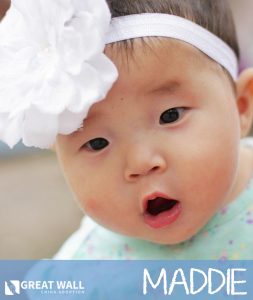 **MATCHED** Maddie is a cute little girl from China that is about to turn 1 year old in January 2017. Maddie has some minor genitalia malformations, but they do not affect her health in any way and can easily be corrected with surgery. Maddie is otherwise healthy and developing normally. Maddie is babbling, scooting on her stomach and learning to crawl, and is learning to sit up by herself. She loves to listen to music and to be cuddled by her caregivers. Maddie is living in a very good foster care facility in China.
Maddie has found her family, however, if you would like to learn more about how you can get matched with a little girl with similar needs, please contact the GWCA China Home Finding Team.
Read More