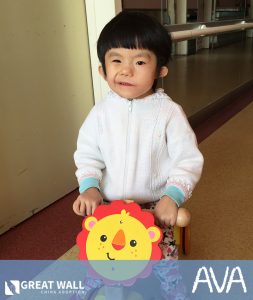 Ava is an adorable little girl who is 5 years old! Her left ear formed a little differently and she has some language development delays. Ava doesn't appear to have any mobility delays; she can walk freely, go up and down the stairs on her own and her fine motor skills seem to be on target! She can put blocks into a cup, can stack blocks, turn the pages in a book and draw using a pencil. Ava loves to laugh out loud and be active with her peers! She is described as being extroverted, happy and quick in reaction! Ava's favorite activity is looking at picture books and playing games. If you are interested in reviewing Ava's medical information, contact GWCA today!
Meet
Lillian
! Lillian is a 3 year old who has post-operative hydrocephalus. Her file is slightly outdated so GWCA is currently trying to get an update on her condition. She was almost 2 years old when her file was prepared. At that time she had some mobility delays in regards to her walking and crawling abilities. She knew her name and knew how to respond to someone calling her. Lillian is described as being quiet and obedient! She is the happiest when her caretaker is cuddling her. Her file mentions that she is very cute little girl that everyone loves!
Please contact one of our matching specialists if you'd like to review Lillian's medical file!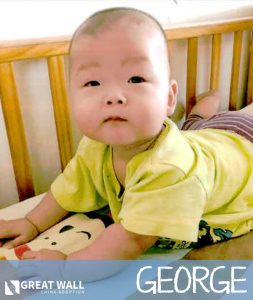 Meet
George
! George is an adorable little guy who is 1 1/2 years old. He has post-operative anal atresia and post-operative transverse colostomy. His file indicates he also has some slight muscular tension in his arms and legs. George is very fond of dancing along to music and clapping his hands! He is described as being a happy and cheerful kiddo. George is receiving rehabilitation services and is improving! His caretakers believe he will continue to make progress. George can hold his head up while lying on his stomach, can roll from supine to prone position on his own, and can easily grasp toys in both hands. He can locate the direction of sounds, visually follows moving objects and laughs aloud. George is smiley and cute and we hope we can find him his forever family soon!
Contact one of our matching specialists today if you'd like to review his medical file!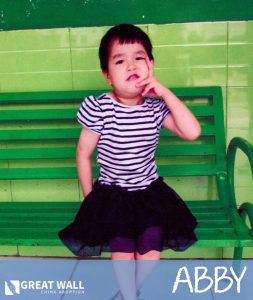 Meet
Abby
! Abby is an adorable kiddo who is 8 years old. She was born with mild cerebral palsy and some language delays. Abby can communicate with language, eat and dress herself independently and can walk alone. She has been receiving rehabilitation training since 2014 and seems to have made a lot of progress! She is described as having a ready smile, is cheerful and has strong self-esteem! Her file indicates she is closest to her caretaker and other children her age in the institution. She is extroverted, fond of playing games and gets along very well with other kiddos! GWCA is currently trying to request some updated information on Abby.
Contact one of our matching specialists if you'd like to learn more about her!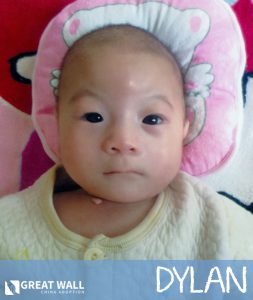 Meet
Dylan
! Dylan is a precious little guy who will be turning 2 this March. He was born with hypospadias, which he has already had a surgery for. He also has a mild heart condition as well as a possible hemorrhage behind his eye. He appears to have some developmental delays overall as a result of growing up in an orphanage environment, but his caregivers say that he is doing well physically and is getting stronger each day! He loves to smile and spend time with his caretakers.
If you'd like to learn more about Dylan, please reach out to Great Wall!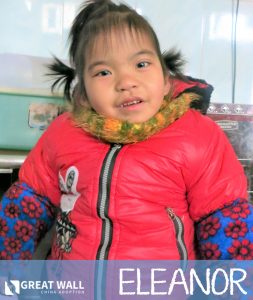 Eleanor
is a sweet little girl from China that just turned 5 years old. Eleanor's left ear looks slightly different than some of her friends, and it is possible that because of hearing issues in her left ear she has some language and developmental delays. Eleanor has been living with a foster family since she was one and a half years old, so she has been receiving better one-on-one attention and care than she would be if she was in an orphanage.
Eleanor likes playing with other children in her neighborhood and she enjoys playing outside. She enjoys dancing and will happily clap her hands she hears music. Eleanor gets along well with her foster family and she likes to help out with simple chores around the house. She is very sweet and when a guest comes to the house, she will carry a chair to the table so they can sit down, and she will wave goodbye to the guest when they leave. Eleanor can point out the different parts of her body when asked. Her speech and cognitive abilities have increased greatly since being in a foster family. Eleanor doesn't currently have a very large vocabulary, but she understands what other people are saying to her and she can follow directions.
You can contact the China Home Finding Team at Great Wall if you would like to learn more about adopting Eleanor. We hope we are able to find Eleanor her Forever Family soon!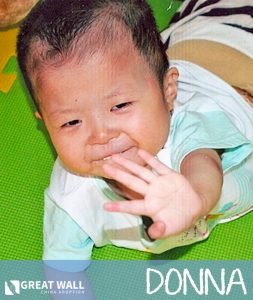 Donna
is a cute little girl from China that is 7 years old. Donna was diagnosed with CHD (VSD, aortic stenosis, two of the abnormal aortic valve, PDA, PHT) and it sounds like she has not yet had surgery for it. Donna likes music and likes to dance to the rhythm. She likes to play with lots of different toys. Her favorite foods are bread, rice and black sesame. Donna's file is a little bit older, so we are working hard to get updated information on Donna.
You can contact the China Home Finding Team at Great Wall if you would like to learn more about adopting Donna. We hope we are able to find Donna her Forever Family soon!
Read More