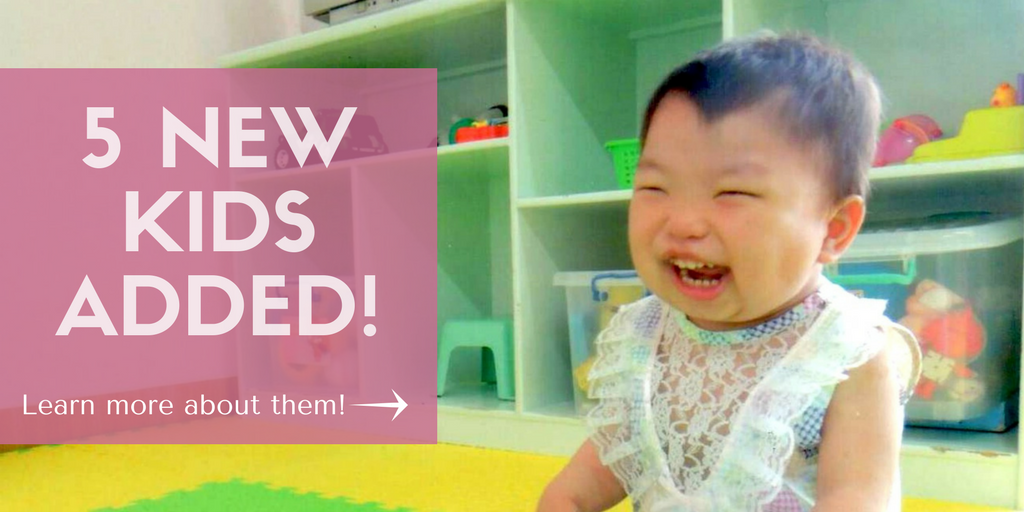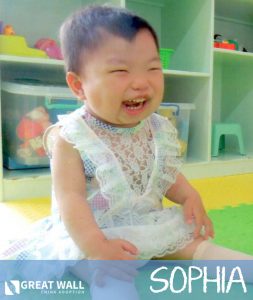 Meet Sophia! She is an adorable little gal who is about to be 6 years old. She was born with CHD for which she has received surgery for. GWCA advocated for her in the past and it was revealed that at the age of 4 she still had some difficulty standing on her own. GWCA is requesting an update for some new information on her progress so far! She is described as being extroverted, humorous and talkative! She pays great attention to her caretakers and loves to be teased! She likes toys that makes sounds and are colorful. She loves listening and dancing around to music! According to her file, Sophia was receiving rehabilitation training.
If you are interested in reviewing her file, contact one of our matching specialists today!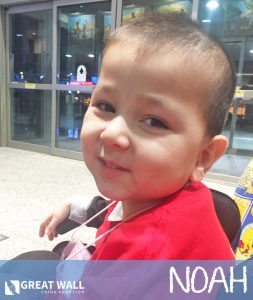 This sweet kiddo's name is
Noah
! Noah is 7 years old. He was born with a meningocele and his spine and a malformation on the base of his skull. He also has been diagnosed with hydrocephalus, but he has being doing great since receiving a shunt as treatment in 2010. He also received surgery for his spinal needs and seems to be thriving! He was hosted by a family in the United States during the holidays, and they had a wonderful time watching his sweet and caring personality shine through. He requires a wheelchair, but his host family believes he may be able to gain enough strength to one day walk using a walker. He is able to crawl on the floor, and his fine motor function is on target. He does not have function of one leg and the other seems to have the ability to be strengthened using physical therapy. His host family has said that he is a smart kiddo who has a very broad Chinese vocabulary. He attached very quickly to the family and had a wonderful time with his host siblings. He is a sweet, smart kiddo who would thrive with the consistent care of a forever family.
Please reach out to Great Wall if you would like to learn more!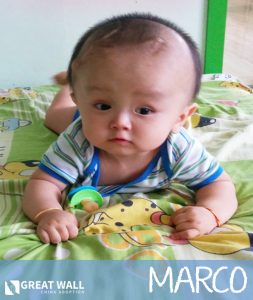 This cutie's name is
Marco
! Marco is an adorable kiddo who just turned 3 years old. He has postoperative hydrocephalus and some overall developmental delays. Marco's file is a little outdated, but we are working hard to find out more recent information. His file says that he loves to play, laugh happily, and spend time with his caregivers. His nannies described him as being a very adorable kiddo with a bright future. They are hoping that he can bring joy and happiness to his forever family.
Please reach out to Great Wall to learn more!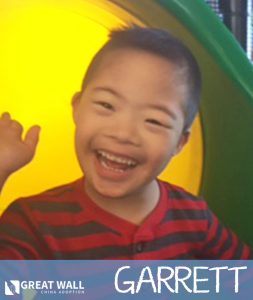 Meet
Garrett
! Garrett is an amazing kiddo who is about to turn 6 in March. He was hosted this winter by a family in the United States, and because of this we really got to see his incredible personality shine through. He was born with Down Syndrome and limb differences on his left hand. His host family describes him as being consistently happy and content, stating that it is clear that he has been well-loved and cared for based on how well he loves others. He can be shy at first but connected easily with his host family. He loves to play with other children and loves to be cuddled by caregivers. His host family has referred to him as a "genuine delight". We love this kiddo here at Great Wall, and we would love to speak further about his adoption!
Please reach out to learn more!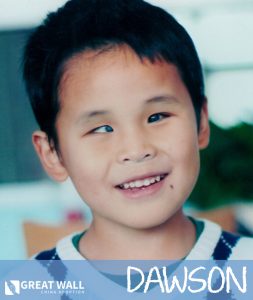 Meet
Dawson
! He is an adorable kiddo who is 8 years old. He was born with congenital microphthalmus which refers to a congenital size difference in his eyeballs. It is unclear in his file whether he is completely blind or not but he does a wonderful job at managing his daily life on his own! He walks independently with a cane and does very well! He can go up and downstairs independently, can walk home from school, can dress himself and use the restroom all on his own. Dawson's caretakers note that he has very strong adaptability and can pick up on new concepts very easily. He has excellent communication skills and can effectively express his daily needs. Dawson has a great sense of hearing and depends on this in his daily life. He loves chatting with other kiddos, singing and acting and is described as very energetic!
If you are interested in reviewing Dawson's file, please contact one of our matching specialists today!
Read More