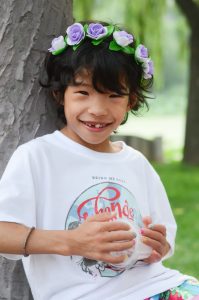 Gloria is an amazing 11-year old girl that has stolen the hearts of the staff here at GWCA! We have advocated for her twice before using the name "Katie" but have sadly not been able to find her family yet. Even when she is not on our agency's listing, we think of this special girl often and are always hoping that she has found her family.
Gloria's bright smile, sunny personality, and the love she has for the other kiddos really shows her gentle spirit and huge heart. She has been to the Bring Me Hope camp for two years in a row, making a lasting impact on the volunteers there. Due to her medical need, she has experienced rapid growth in her left leg, which has thankfully been slowed thanks to medication. Doctors recommend amputation as treatment, but due to the fact that her leg did not grow at all in 2016 it does not need to be pursued at this time. She thankfully has no pain in her leg and her mobility has not been restricted in any way. She loves to run, jump, swim, dance, ride a bike and do all the things the other kiddos in her orphanage can do! She is incredibly intelligent and talkative, even learning some English at the camps she attends! The more that we learn about this sweet girl the more we fall in love with her. She would thrive with the love and care of a family to call her own, and it is our hope to be able to find that for her! Her resilient spirit and bright and happy personality truly make her one of a kind.
Gloria's Bring Me Hope camp counselors shared the following with us:
Gloria is a very special girl. I have been blessed to be her volunteer for two years at Bring Me Hope Camp, and can truly attest to the fact that she positively affects the people she comes in contact with. Her smile is absolutely beautiful, and her laughter is contagious. It has been a joy to get to know her!
During camp, Gloria especially loved painting nails. Hers, our camp director's, other kids, a boys…it didn't matter! 🙂 It was a joy to watch her carefully concentrate on making everyone's nails beautiful. She spoke clear English as she asked people: "What color? Blue, ok!" The simple activity of nail painting truly showed her high intelligence. She not only spoke many English words, but was also so neat and proper in the nail painting.
Gloria's special need is left foot hyperblastosis, which means that her left leg grows much faster than the rest of her body. That's it! She is still fully capable of self care, running, and even graceful dancing. I feel that her biggest special need is for a caring Mama and Baba to lovingly and genuinely tell her how beautiful and amazing she is. We would always tell her that she was beautiful at camp, but she would respond with an adamant "No!" She needs to know how gorgeous she is, inside and out. Gloria is an awesome little girl, and I can't wait to see her in her forever family.
Gloria lights up the lives of all those who surround her, and we're so hopeful that she will find her forever family very soon. If you're interested in learning more about Gloria or reviewing her file, visit our Waiting Child photo listing or contact our China matching specialists today!
Read More