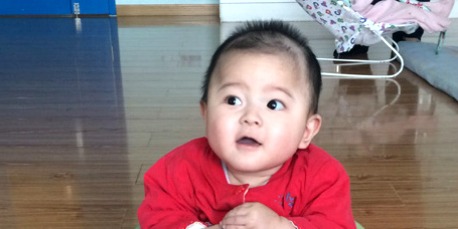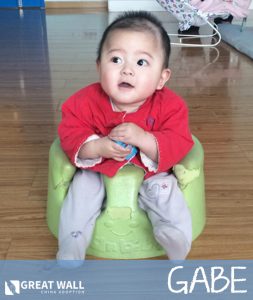 Meet Gabe!  Gabe is a precious 1 and a half year old boy from China that was born with Dandy Walker Syndrome and post-operative hydrocephalus. He received a shunt for his hydrocephalus and seems to be doing great overall!  His file indicates that he might have had a hemorrhage in his brain previously. Gabe is a sweet, happy kiddo who loves to laugh with his caregivers. He is able to turn his body and has excellent fine motor skills. He is unable to stand and walk at this time, but he appears to be making excellent progress overall. He is able to kick his legs and seems to be gaining strength. He can recognize his name and says "Mama!" when he is upset. He can distinguish between strangers and his caregivers. His caregivers love him very much and hope that he can have a happy childhood and a bright future. If you'd like to learn more about this amazing kiddo, please reach out to Great Wall China Adoption!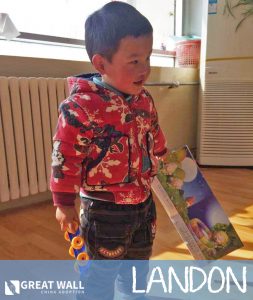 Meet
Landon
! Landon is an adorable little guy who is 3 years old. He was born with an umbilical hernia but it does not seem to effect his mobility! He is receiving rehabilitation services to improve his gross motor skills. Landon lives with a foster family and seems to be very close with them! He can speak in short sentences but his language is slightly delayed when compared to his peers. He can simply express his needs and communicate with his caretakers. Landon is closest to his caretakers and is described as being a quiet kiddo.
If you are interested in learning more about Landon, contact one of our matching specialists to review his medical file!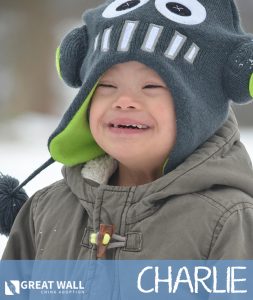 Meet
Charlie
! Charlie is a precious kiddo who is about to turn 5 this March. Charlie was born with Down Syndrome and he seems to be thriving overall! He was hosted over the holidays by a family in the United States who has provided fantastic information on his health and overall well-being. Charlie bonded extremely well with his host family and loved to show affection to his host parents and siblings. He loved to sing into a toy microphone and dance! Charlie also had a great time playing outside with his host siblings in the snow. His host family would be happy to talk further about his time spent here in the United States! He is a sweet, social kiddo who would thrive with the love and care of a forever family.
Please reach out to Great Wall if you would like to learn more!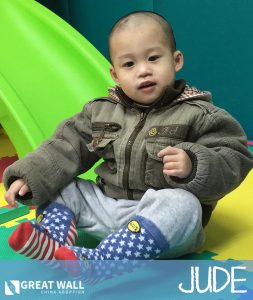 Jude
is an adorable kiddo who is 3 years old! He was born with epilepsy and G6PD which is a condition that effects his red blood cells. He is currently taking medication for his epilepsy and his file indicates that he hasn't had a seizure since he was admitted to the institute. Jude is delayed on his language development compared to his peers but can babble appropriately to express his needs. He likes to listen to stories from his caretakers, listening to music and sometimes even likes to get up and dance! Jude can understand and act on certain instructions from his caretakers such as "clap your hands" or "go get your juice cup". Jude is described as being a quiet kiddo who is on the more introverted side.
If you are interested in reviewing Jude's medical file, contact one of our matching specialists today!
Read More