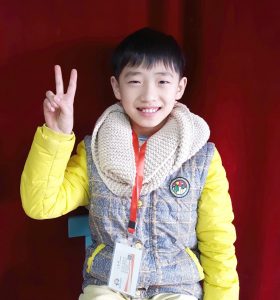 Jonathan currently has adoption grants totaling over $10,000!
(UPDATE: Jonathan's Sponsored Star grant has been extended through the month of March!)
When an orphan 'ages out' in China, they lose their chance to be a part of a family, to be safe, and to be loved. At the young age of fourteen, children are deemed ineligible for adoption, and their hope for a bright future all but vanishes. This is what Jonathan will be faced with unless he's able to find a family who can bring him home by his fourteenth birthday this September.
Jonathan is an incredible kid. You can see this not only in the love that his caretakers have for him, but in the fact that countless communities have come together to advocate on his behalf with the hope that he will find a family before he ages out. With all of these efforts combined, Jonathan currently has a total of around $10,700 in grants available towards his adoption fees!
(Jonathan's Orphanage Donation Fee of approximately $5,700 has been waived, a private donation of $3,000 has been made by a generous benefactor, and through the month of February, he has an agency specific grant of $2,000 as GWCA's Sponsored Star.)
Despite the fact that Jonathan is completely deaf in both ears, he is able to communicate flawlessly using Chinese sign language. It's clear that his cognitive development is right on target, as he's able to quickly solve math problems, write in Chinese, and even write about 40 simple words in English! He is a great student who is helpful around the classroom and very loved by his teachers.
In his spare time, Jonathan enjoys playing sports. He's particularly fond of jump rope, ping-pong and badminton!
Jonathan has told his caretakers that he wants to be adopted, and regularly asks if it will be possible for him to have a mom and dad. If you're interested in learning more about this AMAZING kid and the financial assistance that's currently available towards his adoption fees, contact GWCA today!
Resources:
Read More