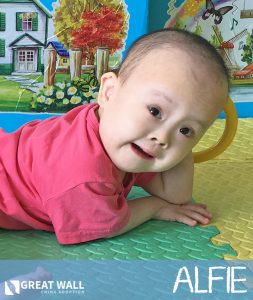 Meet Alfie! Alfie is a precious kiddo who is about to turn three years old. He was born with Down Syndrome and polydactyly of his left hand. Alfie is a happy, sweet kiddo who would thrive with the love and affection of a forever family! He is able to sit up with assistance and appears to be getting stronger each day with the help of his caregivers. He is not verbal at this time, but he can clearly express his needs (such as hunger, thirst). He loves listening to music and described as being very close to his caretakers! If you'd like to learn more about Alfie, please reach out to Great Wall!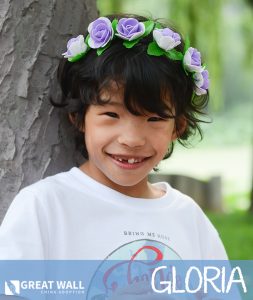 Meet
Gloria
! Gloria is an amazing 11-year old girl in need of a family to call her own. Gloria's left leg grows at a much faster rate than the rest of her body, but it doesn't stop her from running, jumping, swimming, and being an active and happy kiddo. She has a bright and beautiful personality and would thrive with the love of a forever family. A volunteer with Bring Me Hope had the chance to spend some time with Gloria, and they wrote about their experience with this amazing girl:
"Gloria is a very special girl. I have been blessed to be her volunteer for two years at Bring Me Hope Camp, and can truly attest to the fact that she positively affects the people she comes in contact with. Her smile is absolutely beautiful, and her laughter is contagious. It has been a joy to get to know her!
During camp, Gloria especially loved painting nails. Hers, our camp director's, other kids, a boys…it didn't matter! It was a joy to watch her carefully concentrate on making everyone's nails beautiful. She spoke clear English as she asked people: "What color? Blue, ok!" The simple activity of nail painting truly showed her high intelligence. She not only spoke many English words, but was also so neat and proper in the nail painting.
Gloria's special need is left foot hyperblastosis, which means that her left leg grows much faster than the rest of her body. That's it! She is still fully capable of self care, running, and even graceful dancing. I feel that her biggest special need is for a caring Mama and Baba to lovingly and genuinely tell her how beautiful and amazing she is. We would always tell her that she was beautiful at camp, but she would respond with an adamant "No!" She needs to know how gorgeous she is, inside and out. Gloria is an awesome little girl, and I can't wait to see her in her forever family."
We have incredible advocacy and update information for Gloria that we would love to share! Please reach out to Great Wall if you would like to learn more about this special girl!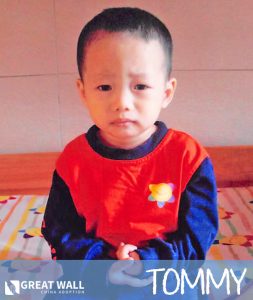 Tommy
is a precious little boy from China that is about to turn 3 years old. Tommy's primary diagnosis is thalassemia (β type) for which he needs blood transfusions every one to two months. Tommy has good mobility abilities and good fine motor skills as well. He can follow simple instructions like throwing away trash when he is asked by his caretaker. Like many little boys his age he does not always like sharing his toys. He likes to build towers with blocks when he is playing and he really likes playing ball games. Tommy is speaking simple words and phrases. He knows what the different parts of his face are and he will point to them when his caretaker asks him to identify his nose, eyes, mouth, ears, etc. Tommy knows how to put his shoes on by himself. He gets upset when he doesn't get enough cuddles from his caretakers. When Tommy goes to sleep at night he usually sucks on his fingers.
You can contact the China Home Finding Team at Great Wall if you would like to learn more about adopting Tommy. We hope we are able to find Tommy his Forever Family soon!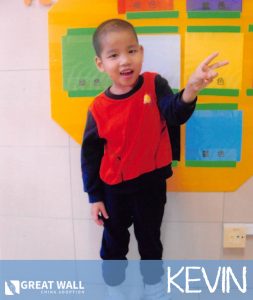 Meet
Kevin
! He is a 7 year old boy who was born with Cerebral Palsy. Kevin is a kiddo with lots of personality. He is in the Sunshine School in his orphanage and has made a ton of progress since admission. He can follow his teacher's instructions, count to 100, knows his colors and different types of food and can talk about the months on the calendar! He is described as being a positive kiddo who can get along with all of his classmates. Kevin receives rehabilitation training for his Cerebral Palsy and seems to have made a lot of progress. His hands and feet are much more flexible than before and can could put on his socks and shoes independently. Kevin has improved from relying solely on his crawling abilities to being able to run! Contact one of our matching specialists today if you'd like to review his medical file!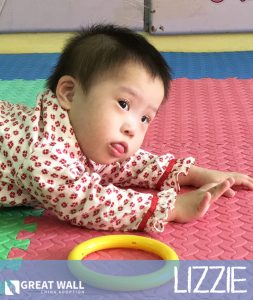 Meet
Lizzie
! She is an adorable 2-year old girl with Down Syndrome! Lizzie is a happy, giggly kiddo who loves to spend time with her caretakers. She can stand and walk with assistance and has excellent fine motor skills. She loves to cuddle and hug her caregivers! If you would like to learn more about Lizzie, please reach out to Great Wall!
Read More