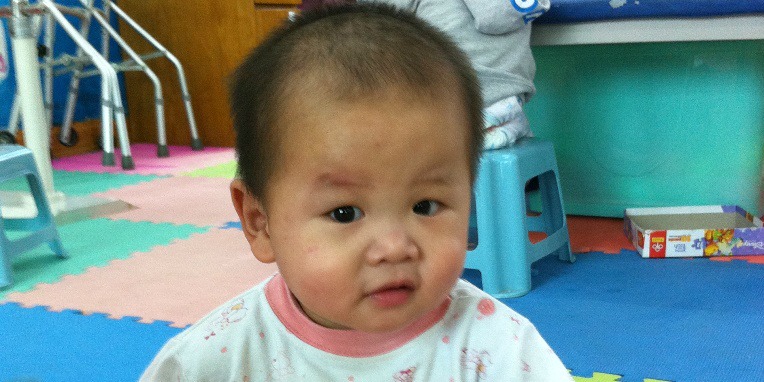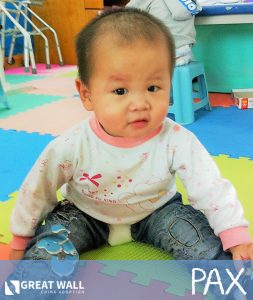 Pax is a sweet little boy from China who recently turned 6 years old. Pax is an optimistic little boy that enjoys the company of others. He is very attached to his caregivers and loves receiving cuddles from them. Pax needed some rehabilitation when he was younger to help him learn to stand and walk, but with hard work and dedication Pax was able to learn how to do this. Pax was born with hydrocephalus, but it is not clear from his file if has received a surgery for a shunt or not. Since Pax's file is a little out of date, our Great Wall staff is working hard to learn more about him.
If you are interested in reviewing Pax's full file, please contact the GWCA China Home Finding Team today!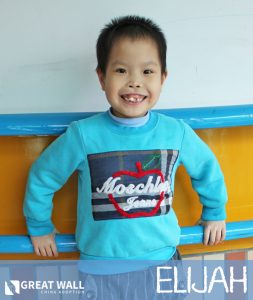 This precious boy's name is
Elijah
! Elijah is 8-years old and in need of a home to call his own. He has been diagnosed with thalassemia and siderosis, which refers to a excess of iron that may be effecting his lungs. He was also diagnosed with hydrocephalus, but he received a shunt and has not appeared to need any follow-up treatment. Elijah's file also indicates that he had a arachnoid cyst, but it appears that he has received surgery for that as well. Elijah is an active, energetic boy who loves to run, jump, ride bicycles, and jump rope. He has a clear language ability and is able to imitate adults and have conversations. He is in school now and is taking courses in Chinese, English, and Mathematics! He can follow instructions well and is even able to sing the Happy Birthday Song in English! He doesn't always like to do his homework and likes to try to convince his caretakers to get out of it. He is a clever, mischievous little boy who would thrive with the love of a forever family.
Please reach out to Great Wall to learn more!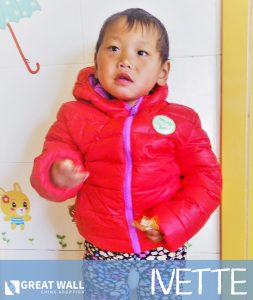 Ivette
is a lovely little girl from China who just recently turned 4 years old.  Ivette lives with a foster family and is very close to her foster mother.  She gets very happy when she hears music and will get a big smile on her face.  She likes to talk a walk with her foster mother every evening after dinner.  Ivette tends to be more extroverted and outgoing, but she does get a bit shy around strangers.
Ivette was born with cerebral palsy but it doesn't appear to affect her mobility much.  Ivette can walk on her own, can pick up toys off of the floor and can turn the pages in the book.  Her muscle tension appears to be the same as other children without cerebral palsy.
Ivette cannot speak words currently and only makes sounds.  Ivette does have some cognitive delays and does not appear to understand simple instructions given to her by adults.  She cannot feed herself and she needs an adult to feed her.  Ivette is not potty trained at this time and need an adults help when changing her diapers and getting dressed.
Ivette needs to be adopted by a Forever Family that will help her get the rehabilitation services she needs to learn how to communicate her wants and needs.  Ivette needs a family who will be patient with her as she continues to develop her communication and cognitive abilities.  If you would like to learn more about Ivette, please contact the GWCA China Home Finding Team today!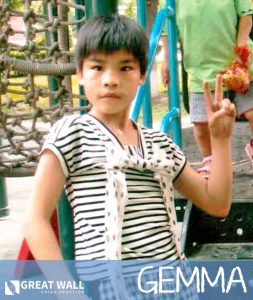 **AGING OUT SOON**  
Gemma
is an incredible and essnetially healthy 13-year old girl who will be aging out of the system this coming Fall. She needs a loving Forever Family to adopt her before she turns 14 or she will never have a chace to know the love and acceptance of a family.
Gemma is a smart, bright, and active girl who would thrive with consistent care and a forever home. She has refractive error in both her eyes, but it is likely she will only need glasses in order to correct her vision.She has been in a foster family since 2006 and has been described by them as being very sensible and obedient.
Gemma likes to do housework and is always available to help her foster family! She is currently in school and is excelling in her studies. She can write over 100 Chinese characters and is able to perform addition and subtraction. She is a great listener and always finishes her homework right after school! Gemma gets along great with her classmates and is well-liked by everyone she meets.
The orphanage and foster family care very much for Gemma and hope that she will have a forever family soon. You can contact the GWCA China Home Finding team today to learn more about how you can adopt Gemma!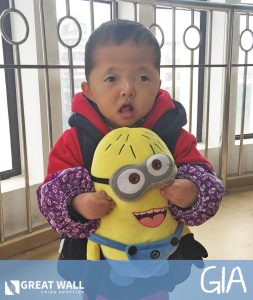 This precious kiddo's name is
Gia
! Gia is 4-years old and has been diagnosed with Apert Syndrome. Gia also has syndactyly of her hands and feet. She is a precious kiddo who is described by her caregivers as being very active and a lovely little girl. She has attached well to her caretakers and can be shy when meeting strangers. Gia would thrive with the love and affection of a forever family!
Please reach out to Great Wall to learn more!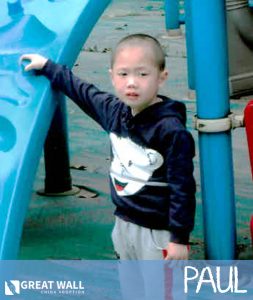 Meet
Paul
! Paul is an amazing 6-year old boy in need of a home to call his own. Paul is fully deaf in his left ear and has moderate hearing impairment in his right. He is an active, extroverted, and intelligent boy. His file indicates that he is not very verbal, but he does a phenomenal job expressing his needs through writing or gestures. He is in school currently and is described as having a very curious mind. He does not have any mobility delays and is very active with his friends at the orphanage. He loves to play on the slide, ride on the rocking horse, and play with puzzles! He's an incredible child who would thrive with consistent care.
Please reach out to Great Wall to learn more!
Read More