What is the adoption tax credit?
The Adoption Tax Credit, which can be claimed for eligible adoption-related expenses, has helped thousands of American families offset the cost of adoption since the credit was established in 1997. It has made adoption a financially viable option for many parents who might not otherwise have been able to afford it, allowing them to provide children with loving, permanent families. With over 100,000 children in the U.S. foster care system currently eligible for adoption, and an ever increasing number of orphaned and abandoned children worldwide in institutions, the continuation of the Adoption Tax Credit is vital to providing love, safety, and permanency through adoption to as many children as possible.
For many families, the cost associated with adopting a child or sibling group can be very discouraging. Even for families with the best of intentions and the purest of hearts, a lack of finances can mean the difference between providing an orphan with a loving home and turning a reluctant cheek to the overwhelming need. The Adoption Tax Credit has done so much to bridge this gap, and for that we are forever grateful!
Why do we need your help to save it?
With tax reform up for discussion once more, the Adoption Tax Credit is at risk of being eliminated. We are asking both past and current adoptive families to share their voices to tell Congress about the importance of this tax credit and the difference that it has made in helping them bring their family together. By making adoption more affordable, this tax credit has literally changed the lives of countless orphans around the world, and this is simply not something that we can risk losing.
How you can help!
If your family has benefited from the Adoption Tax Credit, we need your help! Here are a couple of simple ways that you can share your voice to help this cause:
Send a Letter to Members of Congress
Use this link to send your thank you letter to Members of Congress to support the Adoption Tax Credit: https://secure2.convio.net/res/site/Advocacy?cmd=display&page=UserAction&id=709
Tag your Member of congress and use the following hashtags: #SavetheATC #taxreform!
Example: For me and thousands of families, the adoption tax credit made adoption possible. Watch my story here [LINK] #SavetheATC #taxreform
Link to a family blog post or photo and tell your story! Again, you can use the hashtags #SavetheATC and #taxreform.
Read More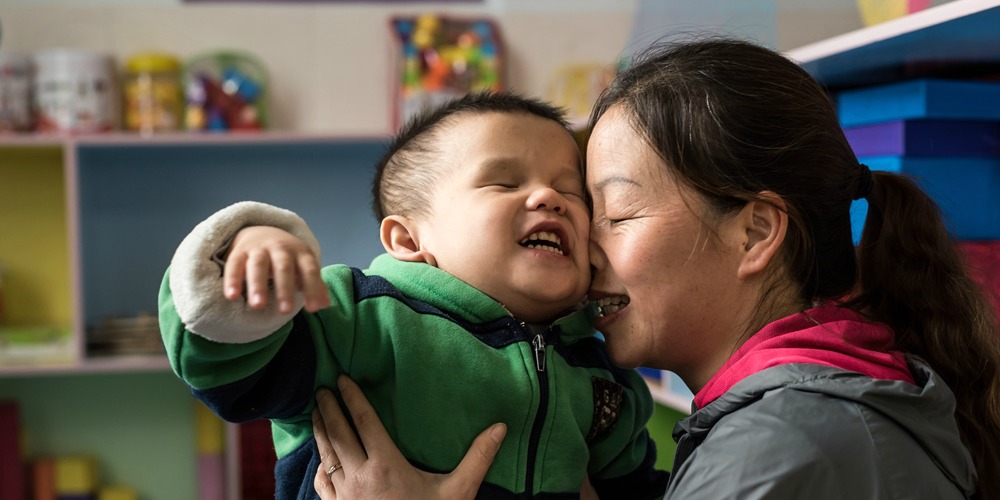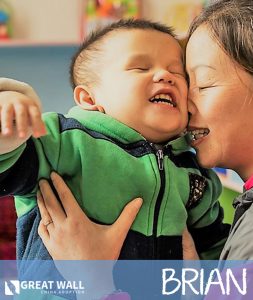 Brian is a sweet little boy from China that just recently turned 4 years old. He has optic atrophy of both eyes which has caused him to lose his sight, but he appears to be physically healthy in all other regards. Due to his lack of eyesight, Brian is delayed verbally, so he isn't currently speaking. However he can make many sounds and he can communicate some of his basic needs such as when he is hungry.
Brian can walk on his own and he can get up on his own from a sitting to a standing position. He is very curious and if he hears a sound near him he will go over to it and feel around for the object or person that made the sound. Brian can use a spoon to feed himself at mealtime, although he still needs some guidance from caregivers since he cannot see the food. He also needs help getting dressed, brushing his teeth and bathing.
Brian is very close to his caregivers, but because he cannot see sometimes it is hard for him to play with other children. He is not shy or timid though and he likes to be around other people.
If you would like to learn more about Brian, please reach out to the GWCA China Home Finding Team today!
Click Here to Watch one of Brian's Recent Videos!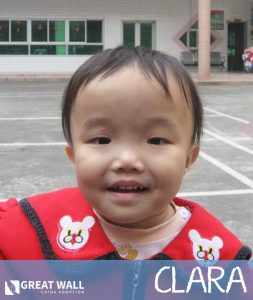 Clara is a darling 8-year old girl in need of a home to call her own! Clara was born with thalassemia, hydrocephalus, and Dandy-Walker Syndrome. Clara has spent some time in a foster home, though it is unclear at this time whether or not she is still with a foster family. Clara is described as being a sweet, shy kiddo who loves to smile and read picture books with her caretakers. She is great at imitating her caregivers words and can respond to questions. Clara is an amazing kiddo who would thrive in a forever home! Please reach out to Great Wall to learn more!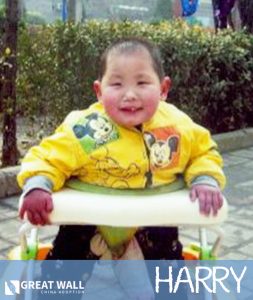 Meet
Harry
! Harry is an amazing 10-year old boy in need of a family to call his own. His file is outdated, but Great Wall is working hard to get updated information! Harry was born with a cleft lip and mild cerebral palsy, but overall he seems to be doing well! Harry received surgery for his lip when he was about 2 years old, and it sounds as though he has recovered extremely well. We are working to learn more about his mobility, speech, and general development.
Please reach out to Great Wall to talk further about this kiddo!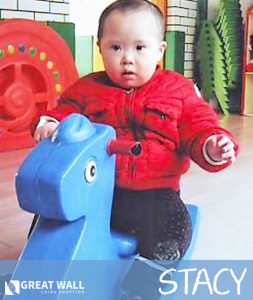 Stacy
is a precious little girl from China that is about to turn 3 years old. Stacy has down syndrome and she seems to be doing well for having that condition.  Stacy can walk and pick up tiny objects with her thumb and index finger. Stacy can imitate basic words that her caretaker says, she understands what "no" means, she understands the difference between hot and cold, and she can follow simple instructions and she can express her needs to her caretakers.
Stacy is an active child with a ready smile. She likes being around others, she enjoys playing games with her friends, she likes music and she enjoys having books read to her.
If you would like to learn more about how you can adopt Stacy, please contact the GWCA China Home Finding Team today!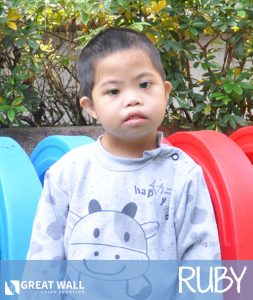 Meet
Ruby
! Ruby is a precious 6-year old girl in need of a home to call her own. She was born with Down Syndrome and congenital heart disease, but after having surgery on her heart in 2013 she appears to be doing great. Ruby is a bright, happy girl who is curious and loves to learn. She is currently in class within the orphanage and appears to be thriving. She follows instructions well, can observe and mimic the teacher's behaviors, and is active and engaged. She does not appear to have any mobility delays overall. Ruby is a sweet kiddo who is very attached to her caregivers and teachers.
Please reach out to Great Wall to learn more!
Read More