As our Sponsored Star, Summer now has a $2,000 grant available towards her adoption fees! If you are interested in reviewing Summer's file or learning how you can be matched with her, visit our China Waiting Child Photo Listing or contact our China Matching Team today!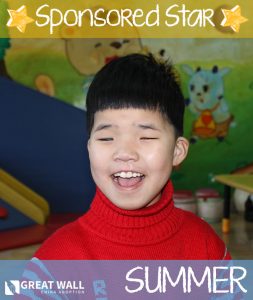 Summer is a precious little girl from China who is 9 and a half years old!  She is described as being a smart, optimistic girl who is polite and likes to spend time with other children.
One of GWCA's Staff Members met Summer when she was in China last year and she would love to speak to any interested families about her! Summer has told her caretakers that she very much wants to be adopted by an American family, and we're so hopeful that she will find her family very soon.
Summer has atrophy of both eyeballs so she cannot see at all. She certainly hasn't let this hold her back, however, as her cognitive abilities are on target and she has good language ability. Summer is currently going to a special school for blind children where she's learning to read braille. She has good self care abilities and can get dressed and use the restroom by herself.
Summer loves to dance and sing children's songs. She is clearly very smart and has a positive outlook on life.  If you would like to learn more about Summer and how you can adopt her, please contact the GWCA China Home Finding Team today!
What is a Sponsored Star?
On the 1st of each month, Great Wall China Adoption will feature one of the kiddos from our Orphanage Partnerships as our monthly "Sponsored Star." As our Sponsored Star, that child will receive a $2,000 grant towards their adoption fees! Each of the kiddos selected will be a Special Focus child,  meaning they have not found their Forever Family yet due to their age or special needs. Together, we can find loving homes for these amazing kids!
We encourage any families interested in learning more about our Sponsored Star of the Month to visit our China Waiting Child Photo Listing, or contact our China Matching Specialists to learn how you can be matched today. Check back on the first of each month to meet the newest featured child!
Read More