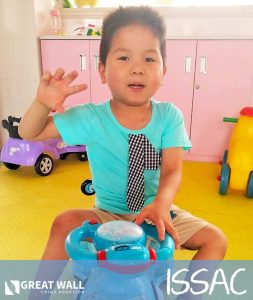 Issac is a cute little boy from China that is 5 and a half years old. Issac is a smart kiddo who likes to listen to music, sing and dance. He has normal intelligence and is developing well cognitively. He has normal language development and can have regular conversations with friends and adults. Issac asks how and why questions such as "What is for breakfast?" Issac is a helpful boy that will assist his caretakers with daily tasks. Issac will sometimes ask his caretakers, "Are you tired?" which shows what an empathetic and sweet boy he is.
Issac was born with a spinal meningocele which was removed during surgery when he was very young. He has clubbed feet, so he cannot walk, but he can hold himself up enough to stand and he can go up and down stairs by himself. He can crawl to get where he needs to go.
It is unclear if this child could walk in the future with the right surgery and rehabilitation services that he could receive in America. Hopefully with the love, care and support of a loving Forever Family, Issac could thrive in the United States!
If you would like to learn more about how you could adopt Issac, please contact the China Home Finding Team at GWCA today!
Click Here to Watch one of Issac's NEW Videos!
Johnny is a sweet little boy from China that just recently turned 5 years old!  Johnny has been diagnosed with hydrocephalus, but he received a shunt shortly after arriving to the orphanage and has been doing great since that time! He is also able to follow directions and has excellent fine motor skills! He is a shy, sweet little boy who would thrive with the love of a forever family. Please reach out to Great Wall to learn more about Johnny today!
Click Here to Watch one of Johnny's NEW Videos!
As our Sponsored Star, Summer currently has a $2,000 grant available towards her adoption!  Summer is a precious little girl from China that is 9 and a half years old!  Summer is described as being a smart, optimistic girl who is polite and likes to have conversations with other children.  Summer has said that she very much wants to be adopted by an American family!  One of our GWCA Staff Members met Summer when she was in China last year and she would love to speak to any interested families about Summer!
Summer has atrophy of both eyeballs so she cannot see at all.  Summer has good cognitive abilities and is not delayed in that regard.  She is smart and going to a special school for blind children where she is learning to read braille.  She has good language ability and can sing many children's songs.  She has great self-care skills including dressing herself, going to the toilet by herself.  She gets along well with other children and adults.
Summer as normal gross and fine motor skills compared to other children her age.  She can walk on her own, although due to being blind she may need a walking cane to get around unfamiliar places.  Summer also loves to dance!  In regards to her fine motor skills, she can button small buttons, build towers with jigsaw blocks and can use chopsticks and a spoon to eat rice and noodles at mealtime.
Summer is doing very well for a blind child who lives in an orphanage in China.  She is clearly very smart and has a positive outlook on life.   Summer would love to be adopted and be a part of a family!
If you would like to learn more about Summer and how you can adopt her, please contact the GWCA China Home Finding Team today!
Click Here to Watch one of Summer's Videos!
Jacob is an awesome little boy from China that is 4 and a half years old.  Jacob is described as being an active, cheerful boy with a ready smile.  He likes to play games with his friends and spend time outside.  Jacob is currently in a regular kindergarten class outside of the orphanage and is doing well there.  Jacob gets along very well with other children and enjoys playing with his peers.
Jacob is very close with his caregivers. Sometimes when his nanny is doing laundry he will sit next to her and try to help her fold clothes.  He is a very helpful little boy who is empathetic and aware when other people need help.  Jacob's physical abilities appear to be normal compared with his peers, such as his ability to walk, jump up and down, and go up and down stairs.
Jacob was born without any ears but he can still hear, but he can still hear quite well! Jacob can hear what others are saying to him and can follow instructions given by his caregivers.  Jacob can say 5-10 word sentences and express his wants and needs.
The right side of Jacob's face also droops somewhat, but it has improved with acupuncture.  Jacob was very brave and behaved well when he was receiving acupuncture, even though it was painful.
If you would like to learn more about Jacob, please contact the China Home Finding Team at Great Wall today!
Click Here to Watch one of Jacob's NEW Videos!
Resources
Read More