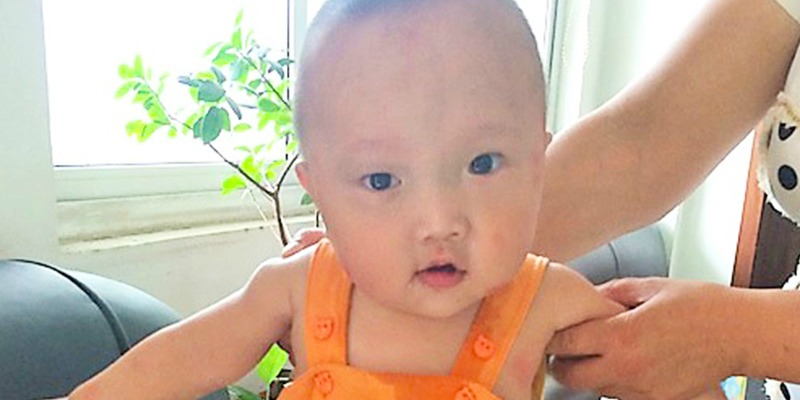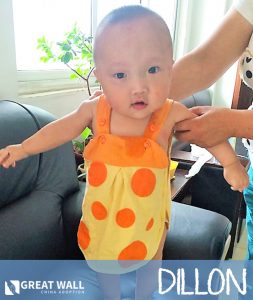 Dillon is a precious little boy from China who just turned 2 years old!  Dillon's file was prepared when he was just 1 year old, so we're working hard to learn some more updated information about him.  As of when his file was prepared it says that he was very cute and everyone likes him.  He could raise his head, roll over, sit against objects, can hold himself up with both hands when sitting, and can stand if being held under his arms.  He was babbling and laughing a lot.  He would hear a sound and turn his head to find out where it was coming from.  He could track with his eyes when someone was moving across the room.  If his caregiver walked past him without giving him a hug, he would cry so that she would pick him up and hug him.  He can hold toys and put them in his mouth.
Dillon's file suggests that he did have some sort of cerebral injury when he was younger.  Dillon has a CT scan in his file that can be reviewed by a family when they request to review his full file.  It is suggested the CT scan results be reviewed by a doctor to get a full picture of how this injury may or may not affect his life in the future.
We hope to get updated information on Dillon soon!  If you would like to review Dillon's file, please contact the GWCA China Home Finding Team today!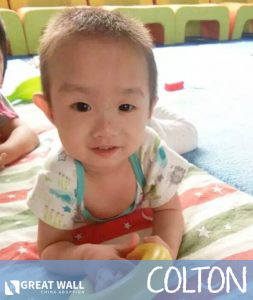 This darling kiddo's name is Colton! Colton will be turning 3 years old this August. He was born with Prune Belly Syndrome, also known as Eagle-Barrett Syndrome. This means that he was born without abdominal muscles. Because of his need, he also has undescended testes, maldevelopment of his urinary system, and a spinal deformity. Despite his needs, Colton's doing great in regards to overall fine and gross motor development. He can stand and walk without assistance, and he appears to be gaining strength overall. He is able to say "Mama" and does a great job imitating others words and sentences. He understands directions well. Colton loves to play with toys, listen to music, and spend time with other kiddos. He has normal eating habits and does not appear to have any difficulty with overall digestion. Colton is currently receiving rehabilitation training and other education focused on his overall needs. He is an extroverted, bright kiddo who would thrive with a forever family to call his own.
Please reach out to Great Wall to learn more!
Goodwin is a sweet boy from China that has just turned 4 and a half years old!  Goodwin was not abandoned and brought to the orphanage until he was 10 months old, so it is believed that he was receiving care from his parents during that time.  It took a while for Goodwin to get used to life in the orphanage, as he was grieving a lot because of the loss of his family, but over time he adapt to his new environment.
Goodwin is described by his caregivers as being a smart boy who has outstanding language ability.  Goodwin likes the company of others and he enjoys listing to music and singing songs.  Goodwin actually performed a song in the recent New Year's Day celebration!  He has normal cognitive and emotional development compared to other children his age. Goodwin likes learning new things and has a good memory and understanding ability.  Goodwin is a kind boy who will share his snacks with other children and teachers and will encourage others in whatever they are doing.  Goodwin likes to play outside and when he sees an animal, like a bird, he will get very excited and point and exclaim, "Mum! A bird!  A bird!"
Goodwin is said to have decreased muscular tension in his left arm and some decreased muscular tension in both of his legs, most likely because he has clubbed feet.  Goodwin received corrective surgery in March 2015 for his clubbed feet.  He would wear orthopedics every day and would receive regular rehabilitation training to strengthen his legs.  He is a strong, patient boy who cooperates well during rehabilitation training.
At this time Goodwin has good physical development, but he is not able to walk.  However, our hope is that with time and the kind of therapies he could receive in the United States, he will flourish!  Goodwin just needs an American family to adopt him so that he can get the best care possible.  Will you be that family?
If you are interested in learning more about Goodwin, please contact the GWCA China Home Finding Team today! 
This sweetheart's name is Jordan! Jordan will be 10 years old this August. He was born with albinism, but that hasn't slowed him down! He is a smart, bright kiddo who will thrive with the love of a family. He understands directions well, has excellent fine and gross motor skills, and has a curiosity to learn. He is delayed compared to his peers, but he has made amazing progress since arriving at the orphanage in 2013. Jordan is described as being smiley and full of energy!
Please reach out to Great Wall to learn more about this incredible kiddo!
Meet Mikey! This darling kiddo is 2-years old. Mikey was born with differences of sex development and a webbed neck. He also appears to have maldeveloped feet, which makes it difficult for him to stand. Because of his needs with his neck and feet, he is delayed overall in regards to his motor development. His fine motor skills are excellent and he is able to grasp small objects and pass them from one hand to another. He recognizes his name and is able to track movement well visually. At the time that his file was prepared in 2016 he was unable to speak, but he has been babbling and is able to understand some words. He is active, and loves to play with toys and other kiddos! He is a very smiley kiddo and will get upset when his toys are taken away from him. Mikey is very loved by his caregivers, who hope that he will have a happy family and wonderful future!
Please reach out to Great Wall to learn more!
Rosemarie is a lovely little girl from China that is 10 and a half years old!  Rosemarie lives with a foster family and she really gets along well with her foster parents and foster siblings.  She is described as being kind to others, polite and sensible.  Rosemarie is extroverted and likes with play with other children and she has good self-estimate.  She is said to have normal physical development and normal cognitive abilities.
Rosemarie has a hearing impairment, but it is unclear how significant it is.  Her file says she is deaf, but it does not give any details about her hearing or speech.  We are asking for more updated information on Rosemarie and we hope to receive that soon.
If you would like to learn more about Rosemarie, please contact the GWCA China Home Finding Team today!
Resources:
Read More