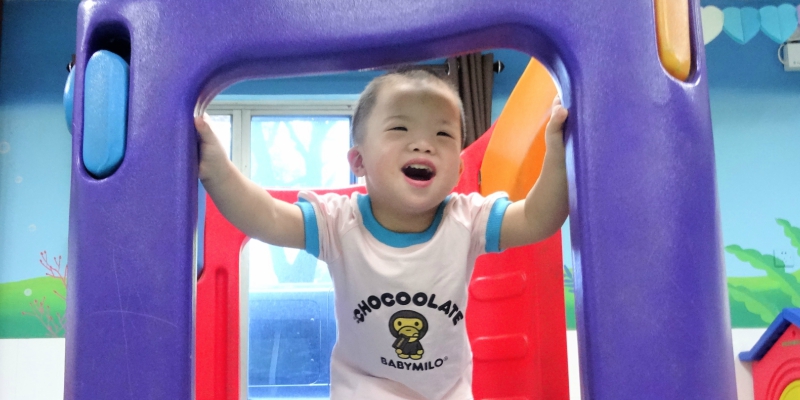 Sage is a sweet little girl from China who just recently turned 4 years old. Sage has Down Syndrome and appears to be doing well overall. Because Sage has Down Syndrome, her speech is delayed, but she can understand what her caretakers are saying to her and can follow simple instructions. Sage does not have any mobility delays, and she is a very active child.
Sage does a great job at completing self-care tasks such as getting dressed on her own and eating by herself. Sage gets along well with other children. She has a ready smile and is described as being a little sweetheart! Sage loves to jump and play, and she especially loves to dance with her caretakers!
If you would like to learn more about sweet Sage, please contact the GWCA China Home Finding Team today!
Leo is a sweet 8 year old boy in need of a family to call his own! Leo was hosted in the United States during the summer of 2016 for a month and has made leaps and bounds since arriving! He has made incredible progress with his muscle strength, learning capacity, and English vocabulary.
He giggles often and has a big belly laugh that has brought a lot of joy to his host family. His host family describes him as incredibly adaptable and resilient. He has been able to adjust to any situation that he is given, and he has an incredible ability to develop trusting relationships with both adults and children. He loves his host brother and has made great connections with parents, grandparents, and neighbors. He is a loving and bright kiddo who has made a lasting impact on everyone he has met!
Leo's medical need is unclear at this time based on the information provided from his orphanage. CT scans indicate that he has a brain need, but we are unable to get further information without a doctor's consultation. Please reach out to us at GWCA to discuss this sweet kiddo's needs further! He is a bright, smart boy who would be a wonderful addition to any family.
Click here to check out Leo's videos!
Fiona is a precious little girl from China who is 3 and a half years old! Fiona was born with Down Syndrome, and she seems to be doing well overall. Fiona knows how to walk and is saying some words. She is described as being cute and affectionate.
Although her speech is slightly delayed, communication does not seem to be an obstacle for her. Fiona understands instructions from her caregivers such as "sit down, stand up", and she can point the position of "nose, eyes, and ears" on someone's face. Fiona will kiss her caretaker's face when she is happy.
If you would like to learn more about sweet Fiona, please contact the GWCA China Home Finding Team today!
Will is an amazing 9-year-old boy in need of a home to call his own. When he was brought to the orphanage, he was treated for a cytomegalovirus infection and hepatitis, but since that time he appears to be doing great overall! He has been living with a foster family since 2009 and is described as being very independent and helpful. He loves to assist his foster parents by setting the table, sweeping, and doing other daily chores. He can be very shy when you first meet him, but once he gets to know you he is very active and extroverted!
Will is currently in school and has taken classes in Chinese, math, fine arts, and physical education. He is a very active little boy who loves to run, jump, play sports, and play football! He also loves to paint and draw animals. He does very well in school, and all of his teachers and classmates love him. He is a smart, sweet little boy who would thrive with the love of a family. Please reach out to us at GWCA to learn more about him!
Max is a precious little boy from China who recently turned 6 years old! Max was born with a clubbed foot, but he had surgery to fix it, and now he can walk normally like any other child. Max also has one testicle that hasn't dropped yet, but that is fairly common and it will either drop naturally in the next few years, or a very simple procedure can be done to fix it.
Max is described as being an obedient, well-behaved, and outgoing child. He enjoys bath time, watching cartoons, and playing with other children. Max helps his nannies take care of the younger children in the orphanage. He can say many words and understand what others are saying to him. Max is said to be loved by everyone who meets him.
If you would like to learn more about Max, please contact the GWCA China Home Finding Team today!
**AGING OUT** Rory is a sweet girl from China who is 13 years old. Rory will age out of the China adoption system in May 2018 if she is not adopted before then.
Rory lived with her birth parents until they both died in 2008. Rory then went on to live with her grandmother until she died in 2013. She lived with an aunt and uncle for a while, but when it was discovered that she had HIV (human immunodeficiency virus), she was forced to drop out of school. Rory's aunt and uncle did not feel they could care for Rory because of her having HIV, so they decided to send her to the orphanage, and they signed off on allowing her to be adopted internationally.
Rory is now living in an orphanage with a program called Aids Care China, so she is receiving the care that she needs for her HIV. She has been taking anti-viral medication since September 2011.
Rory is overall in good physical condition. She is cheerful, sensible, extroverted, responsible, and helps take care of the other children in the orphanage. Rory is in 6th grade in school. She likes to sing, dance, paint and play sports.
If you would like to learn more about how you can adopt Rory, please contact the China Home Finding Team today!
This precious boy's name is Caleb, and he is 6 years old! His medical file states that he has autism, but Great Wall is working to learn more about this diagnosis. His caregivers describe him as independent, energetic, and introverted. He loves to play outside and will pull on his caregivers hand to come outside with him! He loves to smile and play with his caregivers. Please reach out to us at GWCA to learn more about Caleb!
Check out Caleb's NEW video here!
Resources
Read More