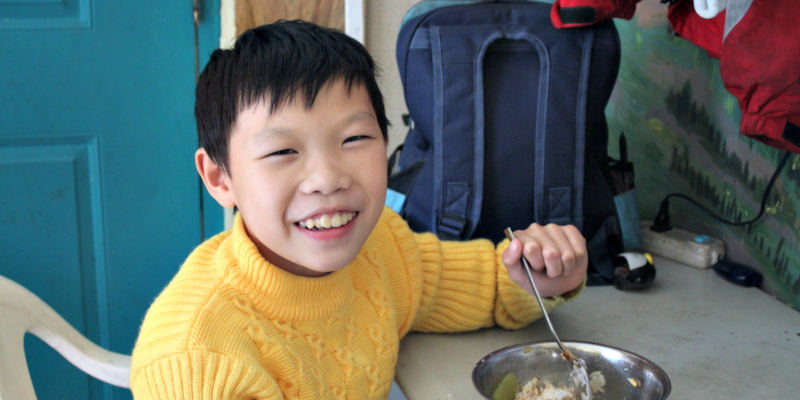 Jude is an incredible boy who will be turning 12 this October. He was born with mild cerebral palsy and muscle weakness of his legs, but with hard work and perseverance, he has learned how to walk without assistance! He is a brave, resilient boy who is described by his caregivers as being a child who "never gives up." He wakes up one hour early every day so that he can practice walking for one kilometer!
He is incredibly intelligent and loves to study hard and learn. Jude is very independent, and he is able to use the bathroom without assistance and care for the younger children in his foster home. He is a sweet, kind, and caring boy who continues to have hope that his family will find him.
Jude is very ambitious and likes to say that he has several dreams that he hopes to accomplish! He wants to be a chef, an astronaut, a bicycle or motorcycle rider, a runner, and a doctor. He also is very hopeful that he will be adopted, saying that he hopes to be able to stay with a family until he is 100 years old. He sometimes becomes sad about the idea that he may not be adopted, and he says that he will "try very hard to be a good man."
Jude is incredibly empathetic and loving to all caregivers and children he meets. A staff member took him to eat at a restaurant and he became sad, saying that everyone was able to eat at the restaurant except the waitress. He even asked the staff member if the waitress could eat with them! He also told the staff member that he did not want her to spend too much money on him, insisting that he only needed one steamed bun for lunch. He is a very thoughtful and tenderhearted boy who needs to find a family to call his own. Please reach out to us at GWCA to talk more about this incredible kiddo!
This beautiful girl's name is Chloe! She is 5 years old. Chloe's file indicates that she may have autism, but GWCA is working hard to receive updated information. She is a sweet, loving girl who is described by her caregivers as being very sunny and active. When she is in an unfamiliar place, she becomes very close to her caregivers, indicating that she has attached very well to them.
She can speak small phrases and express her needs to her caregivers. She can follow simple instructions and loves to listen to music and play with toys. She has excellent fine motor skills and is able to grasp toys and items. She is an amazing girl who would thrive with the consistent care of a family. Please reach out to us at GWCA to learn more!
Click here to watch Chloe's NEW video!
Peter is a precious kiddo who just turned one year old in August! Peter was born with a congenital heart defect and a brain need, but overall he appears to be doing very well! Peter is currently living with a foster family and has shown very healthy attachment towards his foster parents.
Peter is very curious and loves to explore new things! He can sit up without assistance and has excellent fine motor skills. He can call to his caregivers to express his needs and is able to say "ma"! He is a happy, bright kiddo who would thrive with the love of a family.
Please reach out to us at GWCA to learn more about Peter!
Lorelai is a lovely girl from China who is 11 years old! Lorelai is a healthy girl with no known special needs. Lorelai has many good friends and enjoys spending time with them. She is a generally happy girl with a good temperament.
Lorelai goes to a regular school outside of the orphanage and she has average grades in school. She does not like doing homework, so often times her caregivers have to help her finish it.
Her file is brand new and is from one of GWCA's orphanage partnerships. If you would like to learn more about Lorelai, please contact the GWCA China Home Finding Team today!
This sweet 9-year old boy's name is Brandon! Brandon has an extra finger on his right hand, and his left ear is slightly deformed, but he doesn't appear to have any hearing impairment. He also has severe scoliosis, but he is able to walk without assistance!
Brandon is a kind, shy kiddo who is hoping to have a forever family soon. He was hosted by a family in the United States and had a amazing time! Brandon transitioned incredibly well with his host family and brought them a lot of joy and happiness. He has a sweet, infectious laugh that his host family loved! They describe him as kind, inquisitive, and helpful, saying that he has a very gentle spirit. Please reach out to us at GWCA if you'd like to learn more!
Check out this amazing video of Brandon!
Luna is a sweet little girl from China who recently turned 7 years old. Luna has lived with a foster family for most of her life and is very close with her foster mother. She is described as being beautiful and having a happy disposition.
Luna has a congenital cleft soft palate, which has not been repaired, and she is delayed in some areas because of this. She also has a hard time balancing sometimes. Luna is a brave girl, and she will seldom cry when she falls down. She has an outgoing personality and likes playing with other children. Luna has become a very good eater over the years and rarely gets sick. Luna can put on her clothes by herself and can speak in simple words and phrases.
Luna's physical development has always been delayed compared to other children her age. She does have overall delays, but it is not entirely clear why. Her CT scan came back clear with no abnormalities. If you would like to learn more about Luna, please contact the GWCA China Home Finding Team today!
Resources
Read More