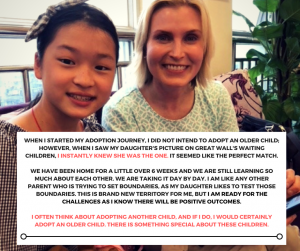 Older children are often passed over for international adoption as many families choose younger children. We highly recommend any potential adoptive family consider adopting an older child as they are often healthy and simply languishing in a system through no fault of their own. There is a tremendous need for special families that will consider opening up their hearts and homes to an older child. Many older children in China will either be healthy or have mild needs. These kiddos WANT and NEED the love of a permanent family!
GWCA is currently advocating for two older children for adoption from China – Danielle and Kevin!
Danielle and Kevin are just two of the thousands of children in China that will age out of the system on their 14th birthday. Every Waiting Child will have a unique set of talents, and they all have so much love to give!
Older children are advocated for on photo listings, like ours! If you're interested in learning more about Danielle, Kevin, or another Waiting Child that we're advocating for, contact our matching specialists today!
Resources:
– Learn more about China adoption
– Visit the Waiting Child Photo Listing
– Contact a China adoption specialist!
Read More