As part of our #WaitingChildWednesdays series on older child adoption, we wanted to share with you a family story. This family adopted an aging out boy from China almost three years ago.
This is a REAL story in the family's own words (emphasis ours) that shows that adoption can be hard and take time – even after the finalization is official. But it is worth it.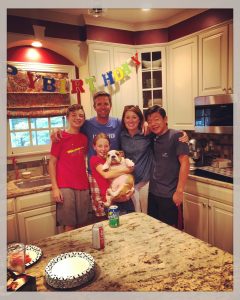 On June 23, 2015, a Facebook video crossed our paths and we both felt this boy was our son.  We really had never seriously considered adoption for our family, and any idea of adoption had certainly never included a 14 year old.  We already had two biological children who were 9 and 13 at the time. But there was something about him, and after talking it over with each other, our children, our family and friends, they all felt it too.  We called seven agencies who all told us there was no way we could complete his adoption before his 14th birthday – October 19, 2015.  Our eighth call was to Great Wall, and after some lengthy discussion, they said it was highly unlikely we could complete our adoption in that short window, but if we were willing, they would help us try.  
Over the next couple of months, we worked with a sense of urgency like never before, and with a lot of help from above, we flew to China on September 11, 2015, and brought our new son home to America exactly three months from the date we completed our application for adoption with GWCA.  They told us we set a new record for completing an adoption in such a short period of time. We were proud, excited, and ready for all of our dreams to come true as a new family of five.
And then the real hard stuff started.  We had dental and medical issues to take care of.  We could barely communicate without the help of Google translate, and that wasn't perfect and created additional challenges. We both worked full-time jobs and had busy lives and Isaac started school as an 8th grader with our other son two weeks after being in America.  Isaac was overwhelmed and frustrated and mourning everything he knew and thrust into a different life on the other side of the world.  For the first time, he was expected to brush his teeth twice a day, shower daily, keep the toilet seat clean, chew with his mouth closed, sit through a church service, share, follow a new set of rules and expectations, etc.  All the food was new and different, he could not escape the constant stimulus of a foreign language, he felt like an alien and could not talk to anyone. We were eager to listen to him pour his heart out and connect with us and love us and share every feeling freely with us.
I remember some particularly hard times that first year.  On a family vacation to a theme park in Orlando, he got upset about something and took off.  Once we found him, we were all so stressed and upset we had to go back to the hotel room. The next two days of our vacation, one of us had to stay in the room and try to keep him in the room while he emotionally melted down.  The other one took our other children to the theme park. Another time, he got upset and decided he was running away, and took off to the field behind our house. We could see him, so we let him stay for over an hour while we watched.  When he finally came inside, he was covered with huge welts from mosquito bites. I felt horrible.
Every night when I tried to sit him down and review English words, he would belch (or worse) repeatedly, or lay his head down on the table, or anything else he could think of to frustrate me until I gave up.  It often worked. We tried to limit his electronics, and he would melt down and rant in Chinese for hours in his room, and refuse to eat. We all worried about him so much and wondered if we had done the right thing for him by adopting him.  I would go to great lengths to cook anything and everything, somedays, all at once, because food felt like the only way we could make him happy. We walked on eggshells and tried not to upset him. Things weren't fair and we kept the scales tipped in his favor in an effort to keep peace in our house.  When we had family and friends over, they usually got to witness the chaos firsthand. It was embarrassing and we felt like it was damaging to our relationships, and we withdrew from a lot of people in our lives. We loved him deeply, but often hated what we thought our family had forever become. We occasionally entertained the idea of disruption, but knew in our hearts that we would continue to destroy a soul that had felt the deepest sense of rejection at least twice in his life already.
That feels like a different universe to me today.  Somewhere between year one and year two, it got a little easier for us.  Somewhere between year two and year three, it became easy. And normal. And happy.  Isaac is an amazing person. He is very smart and earned all A's and B's during his sophomore year of high school.  He can read very well and we have no trouble communicating. He still has a strong accent and sometimes we all have to repeat ourselves, but he understands the language fully now.  He's kept a part-time job for over a year and will work hard. He loves to play video games and has his license but is still a homebody.
We know him now.  We know his heart and his likes and his dislikes.  We know what makes him laugh and what motivates him.  He is always kind to animals and children. He is quick witted and clever and a good cook.  He is a good brother and has finally built strong bonds with his brother and sister. They laugh and play together, and generally enjoy each other's company.  He loves us and loves being part of our family and he shows us that through his actions more than saying the words. Our last theme park trip was filled with joy and nothing but good memories together.  I can look back on those though times now and know they were the result of a complete lack of trust in us, fear of rejection, and the stimulus of a completely different world. He is truly a great son, and while the road was nothing like I imagined, this is what I hoped for him and for us.      
Older children are WORTH IT.
Read More