Help Gloria Find Her Family!
China | 11 years old | Girl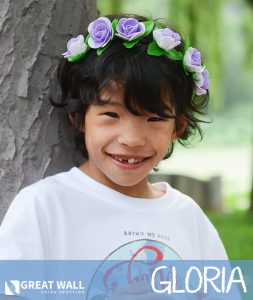 Meet Gloria! Gloria is an amazing 11-year old girl in need of a family to call her own. Gloria's left leg grows at a much faster rate than the rest of her body, but it doesn't stop her from running, jumping, swimming, and being an active and happy kiddo. She has a bright and beautiful personality and would thrive with the love of a forever family. A volunteer with Bring Me Hope had the chance to spend some time with Gloria, and they wrote about their experience with this amazing girl:
"Gloria is a very special girl. I have been blessed to be her volunteer for two years at Bring Me Hope Camp, and can truly attest to the fact that she positively affects the people she comes in contact with. Her smile is absolutely beautiful, and her laughter is contagious. It has been a joy to get to know her!"
We have incredible advocacy and update information for Gloria that we would love to share! Please reach out to Great Wall if you would like to learn more about this special girl!
Visit the photo listing today to request Gloria's file or to see her blog!
CLOSE