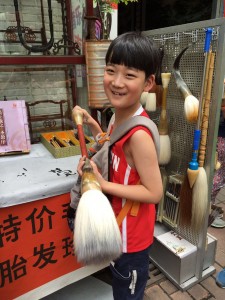 This past April we had several amazing families travel to China for our very first JOY Mission trip. Among these families was an adoptive father who had the pleasure of spending his week getting to know two kiddos, Josiah and Amelia.
Josiah is a 10 year old boy with a heart condition that needs medical attention. This is the second hosting program of ours that Josiah has participated in, as he came to America a year and a half ago for our Winter Hosting program, and we're absolutely determined to find this incredible boy a Forever Family. In fact, the JOY family that spent time with him in April is so confident that Josiah's Forever Family is out there, that they have provided him with a $1,000 grant towards his adoption fees! Below is a blog post that was written by Josiah's JOY family.
If you or someone you know is interested in learning more about Josiah, you can contact his JOY family at the email address listed at the bottom of the post. For more information on the China adoption process or to learn how you can be matched with Josiah, contact our China Matching Specialists at mallory@gwca.org.
The Empty Cup
What are Josiah and Amelia doing now? As I write this from the end of a sunny, spring, Wisconsin day, they are experiencing another Monday morning of their years of routine behind their walls. A routine I am hoping to free them from, in order to establish new routines with families, who  will help them grow stronger.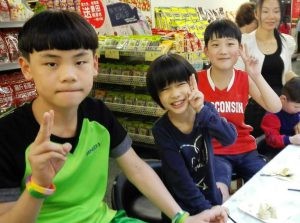 I came back from China knowing  the JOY Program would be different from last summer's hosting program, when we hosted Jacob. I When I reflect on Josiah and Amelia, and their future, I am not handling the unknown for them well. Conversely, I know  that Jacob and Wen have met their new families and will be landing in Wisconsin next week. Jacob and Wen are both finding families who, 12-months ago, were not even entertaining the thought of expanding their families. But there they are, in China, awaiting to bring home two tween boys. They know there will be many challenges. Their families are not doing this because it is easy, but because they had room their cups that needed to be filled for these two boys.
There are people who want to help, have some room left in their cup, to help Josiah and Amelia. It might not be to commit to adopt, but will share the stories to connect two hands. They will give words of support and strength. To enlighten others on the greatest gift that can be given: a forever family.
A lot of friends have asked me what I hoped to gain out of my trip to China. They asked if I had fun. Seeing Josiah smile as he was making dumplings (video below). And seeing Amelia grow with pride as she mastered writing another Chinese symbol or master walking down stairs: that filled some of my cup. But that is not what I was hoping to gain from my trip. I am, and was, hoping to connect these two souls to their forever families. Families who still have room in their cups. Families who will enter into the unknown, but who have the knowledge that I will pass on, about how awesome each of these kids are. The knowledge that these children WANT most line their lives, a forever family. They love. They cried. They wanted. Are you their Forever?
How to Help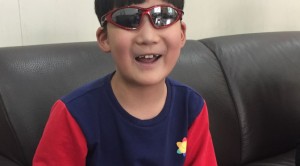 I have gotten a lot of questions about how to help Josiah.  The question is usually prefaced with comments like "What a great kid he is," and "… it was amazing he could translate between you and Amelia," and, "he just needs to find a family."
Easy right?  Well no-one advocating says adoption is easy (neither is childbirth).  But sharing the message is.  I respond the question of how to help with the answer of amplify the message.  But what does that mean?
We all have different circles we run between.  We have our social media networks, we have our work networks, we have our neighborhood networks, we have our church networks, and we have our other research networks.  Your voice can carry a long, long way if you look at all the concentric circles you go between. But what do you say?
Tell your friends, colleagues, co-volunteers Josiah's story.  It is something to talk about.  People like talking about kids. Tell them he is looking for a family.  Point them to this blog.  Point them to me.  And point them to Great Wall China Adoption if they are interested in learning more.  Share the information:
Blog Link: http://wahe.us/AdoptionJOY/
My Email: stefan@wahe.us
The Adoption Process: http://www.gwca.org/china-adoption/the-process/
Read More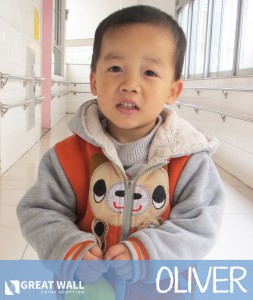 Oliver is a cute little guy that will turn 4 in July! He was born with Congenital Heart Disease but has not received any sort of surgery for his condition. Surgery for his heart is planned but not yet scheduled. Oliver is described as having an active personality! We received an update on him and his caretakers say that he is super talkative compared to his peers! His updated information also indicates that his cognitive development has been above average compared to his peers. He loves being around other children and always has a ready smile. Oliver is fond of playing games and listening to music and his caretakers say he is quick in reaction. He is able to go up and downstairs on his own and he can assist his caretakers in getting dressed. If you are interested in reviewing Oliver's file, contact one of our matching specialists today!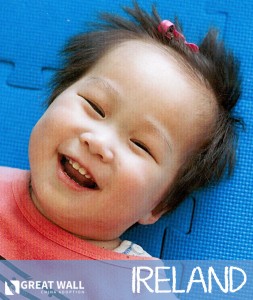 Ireland is an adorable little girl from China that is two and a half years old. Ireland has cerebral palsy and esotropia of her eyes. Ireland's file was prepared in February 2015, so all of the following information is from when she was only 16 months old. Ireland is receiving rehabilitation training and so she is learning to stand. Ireland can sit up on her own and stand holding on to things. Ireland is babbling and laughs happily when her caregivers speak to her. She can hold toys on her own and will turn her head when she hears her name being called. Her caregivers say she is very happy and cooperative when she is receiving rehabilitation training.
Since Ireland's file is over a year old we are working hard to get some more updated information about her. You can contact the China Home Finding Team at Great Wall if you would like to learn more about adopting Ireland. We hope we are able to find Ireland her Forever Family soon!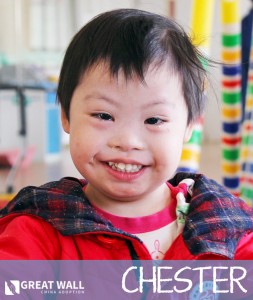 C
hester
is a cute little boy from China that just turned 4 years old. Chester has Down's Syndrome and is happy little boy.
One of our GWCA staff members met Chester when she visited China earlier this year and she would be happy to speak with any interested family about Chester.
Chester is described as a happy little boy that enjoys being around other people. Every morning he will energetically walk into every classroom to great his friends and teachers. He will sometimes crawl into other children's beds and wake them up so that they can play with him.
Chester likes to listen to music and watching TV. Chester can understand his caregiver's instructions and can respond to them. Chester speaks some basic words, although his pronunciation is somewhat unclear. Chester imitates his caretaker's words and actions. Chester is not potty trained yet, but that is not uncommon for a child his age with Down's Syndrome.
You can contact the China Home Finding Team at Great Wall if you would like to learn more about adopting Chester. We hope we are able to find Chester her Forever Family soon!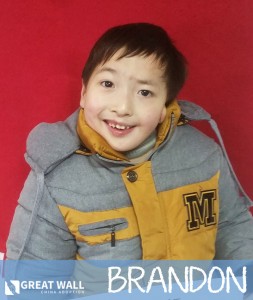 This sweet 8-year old boy's name is
Brandon
! Brandon has an extra finger on his right hand and his left ear is slightly deformed, but there doesn't appear to be any hearing impairment. He also has severe scoliosis, but he is able to walk without assistance! Brandon is a kind, shy kiddo who is hoping to have a forever family soon. Please reach out to Great Wall if you'd like to learn more!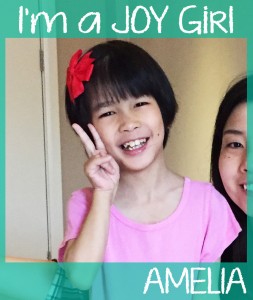 Amelia
was recently apart of our JOY program! A family spent a week getting to know Amelia and these are some of the amazing things they have to say about her! If you would like to learn more about Amelia, contact GWCA and we can connect you with her advocate. Amelia is nine-years old with development delays both physically and mentally. Physically she would be listed in the 20th to 30th percentile category for height and weight on the American scale (please note this is an estimate, I did not measure her). I would estimate her head circumference is more on the 85th percentile. Her arms have little muscle mass and tone. Her legs have good muscle tone but she has difficulty with stairs. She will need some physical therapy but I am confident with good parental support that she will quickly gain the strength she needs. She is able to get around well, runs and climbs. In other words, it doesn't slow her down one bit! She is active and engaging. She understands Chinese well and has some understanding of English. She communicates well with her caregivers as well as others. She has been very responsive with me. My evaluation is that on a maturity/education level she is currently on par with a five-year-old (kindergarten). She will need dedicated instruction to get caught up. But again I have noticed that when I have presented her with learning opportunities that she has eagerly accepted them. What she needs is a loving family. She would make a good younger sister. She is a little girl in need of more attention that what she is receiving from the orphanage. But then again, what child in this situation is not in the same boat.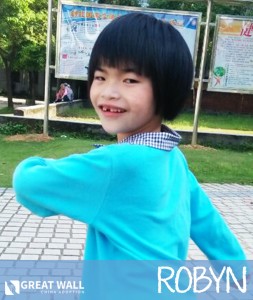 This sweet girl's name is
Robyn
, and she is 8 years old! Robyn's ankles turn inward slightly, but other than that she is a very healthy kiddo! Her language is somewhat delayed, but she is able to speak sentences of 5-10 words and often asks questions to increase her vocabulary. She likes to imitate her caregivers, and loves to listen to music and spend time with other kiddos in her orphanage. She is very extroverted and energetic, and she loves to smile! If you'd like to view her full file, please reach out to Great Wall!
Check out my NEW video!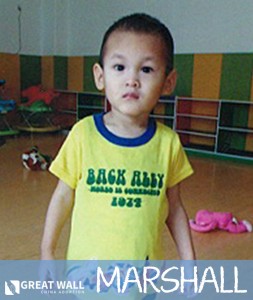 Marshall is an adorable kiddo who is 4 years old! Upon coming to the institute it was discovered that he has syphilis. Marshall is described as being a timid kiddo but gets along great with other kiddos. He has delayed physical and cognitive development but it is unclear whether these delays are a result of his syphilis diagnosis or his institutional environment. Marshall is fond of listening to music and playing games with other children! He can follow instructions and help his caretakers with simple tasks. Marshall's file is a little outdated so Great Wall is working on getting some updated information. Contact one of our matching specialists to review his file!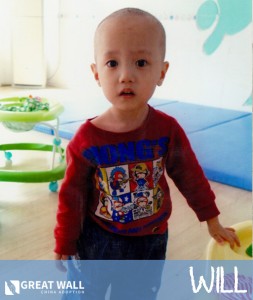 Will
is a cute little guy that just turned 4 years old in February! Will's file suggests that he is developmentally delayed compared to his peers. He loves playing with other children his age and is described as a quiet kiddo. Will was 2 1/2 years old when his file was prepared and at that time he could walk with support and run quickly using his toy walker. He loved being around familiar caretakers and always had a ready smile! He was babbling, saying some simple words and imitating adult's actions. His caretakers describe him as being tender and cute! Great Wall is working toward getting some current information on Will's development. Contact one of our matching specialists if you would like to review his file!
Read More