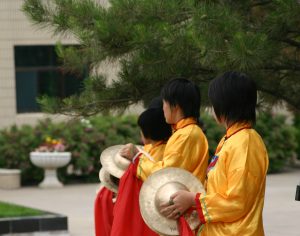 We are honored to announce that the CCCWA and Sichuan Civil Affairs have approved a new orphanage partnership between GWCA and Luzhou Orphanage! Our GWCA Orphan Care team recently had a chance to visit this orphanage, where they were able to meet with children and conduct an initial interview. The information that is gathered in these interviews is incredibly helpful to our China matching specialists, as it allows us to provide potential families with the most up-to-date information on their development and needs. Luzhou Orphanage is currently preparing these children's files for international adoption so that our matching specialists can begin advocating for them.
If your family is interested in learning how you can be matched with a child from one of our orphanage partnerships, contact our China matching specialists today!
What are orphanage partnerships?
With thousands of Waiting Children in China, agencies have begun to partner with specific orphanages. These partnerships allow adoption agencies to give back to Chinese orphanages by providing them with the resources to help prepare children's files for international adoption, and improving programs within the orphanage, giving each orphan the opportunity to thrive. This also means the orphanage provides any new files that are prepared exclusively to their partner agencies rather than releasing them to China's shared list. This gives each child a greater chance of being placed, as the agency begins advocating for their adoption immediately. Some orphanages partner with multiple agencies in order to best advocate for their waiting children. It is not uncommon that we will learn of certain children before their files become available. This allows and even greater chance for child advocacy.
Why are they important?
Orphanage partnerships are an important part of the China Waiting Child adoption process, as they benefit all parties that are involved. Not only do they contribute to the well being of each orphan within the institute, they help in the process of finding them a forever family by ensuring that their files are prepared and provided to an agency. This benefits the agency as they receive both files for Special Focus and Non Special Focus children. These files can then be reviewed by any families that are in process with the agency, as they have exclusive access to the file for a period of time. Partnership with an orphanage also allows for better and quicker updates, more photos, and more videos that aid in the placing of children with their forever families.
If you're interested in learning more about the orphanages that GWCA is currently partnered with, visit our website or contact our matching specialists today!
Read More