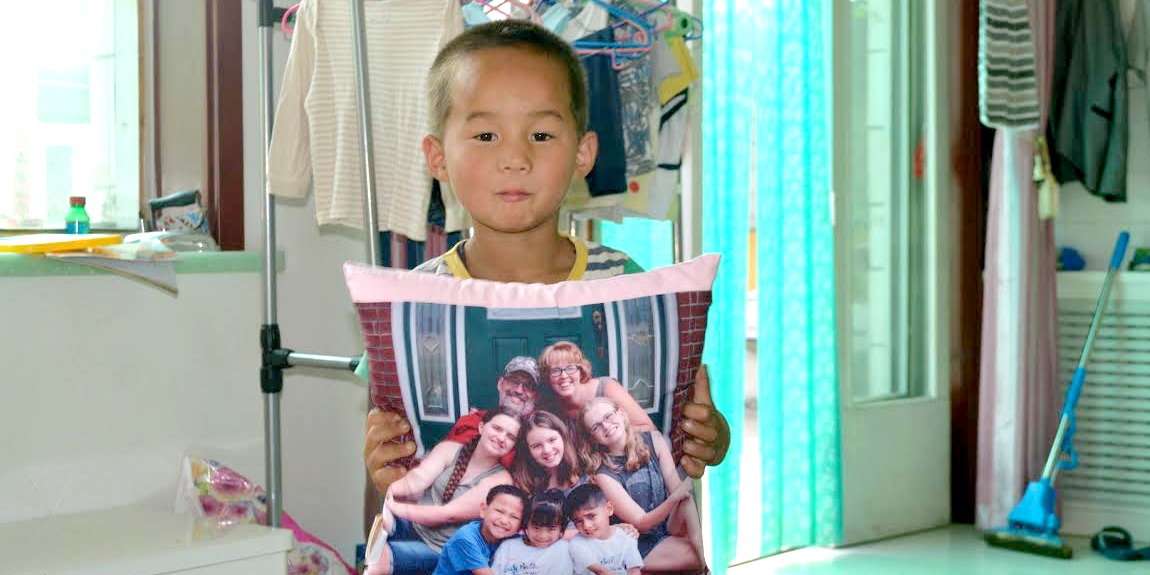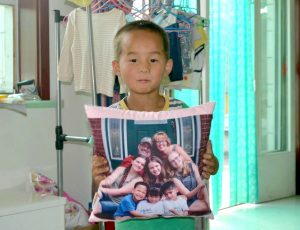 There's nothing like being able to hold your family in your arms even when they're thousands of miles away. Lucky for this little guy, this pillow from his care package is about to be replaced by the real deal–this week, his family is heading to China to bring him home forever! While the pillow that his family sent him was a great way for him to familiar himself with their faces throughout their adoption journey, he will finally have them right by his side. This is a moment that both he and his new forever family have been waiting for for quite some time and we're so happy that it has finally arrived!
Congratulations to this little guy and his new family, and safe travels as you make your way home!
China Waiting Child Adoption
This little guy, who we advocated for with the nickname "Matthew," was matched with his family through China's Special Focus adoption track. In this track, families can be matched with a child at any point in the process – even if they haven't completed all of their adoption paperwork. As such, when his family found him they were able to request to be matched with him right away!
GWCA is currently advocating for over 60 Waiting Children who are in need of families. These kiddos' limited profiles can be found on our China Waiting Child photo listing. and their full files can be requested by contacting our adoption specialists. For more information on how you can adopt a child from China, visit GWCA's website or contact us today!
Resources
Read More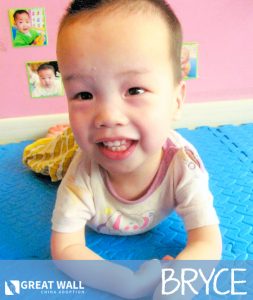 Bryce is an awesome little boy from China that is 3 and a half years old.  Bryce was born with abnormal development of all four of his limbs and the dislocation of his hip joints.  Bryce can get around by rolling on the floor and also by scooting on the floor.  He has flexible feet and can play ball games with other children by kicking the ball.  Bryce receives water therapy and he loves it!  He will kick his legs in the water and splash around and laugh.
Bryce is an extroverted little boy that loves to be around people.  He is described as being active and very adorable.  He will giggle when being tickled, which he loves!    Bryce can imitate the words of others.
We are working on getting more updated information on Bryce from his orphanage and we will update his profile when we receive it.
If you would like to learn more about Bryce, please contact the GWCA Home Finding Team today!
Zaden is a wonderful child from China that is 8 and a half years old.  Zaden was born with clubbed feet, but he received surgery in 2014 and now it appears that he can stand and walk on his own.  He is described as having normal intelligence development and that he communicate verbally very well with others.  His caretakers say he is a smart boy and he likes to learn.  Even though Zaden has faced many changes in his life due to his special need, he is very optimistic and has great character.  His caretakers say he is a generally happy boy that smiles a lot.
If you would like to learn more about Zaden, please contact the GWCA Home Finding Team today!
Beckett is a sweet little boy from China that is 2 and a half years old. Beckett's left ear formed a little bit differently but other than that he seems like a generally healthy kiddo. Beckett has normal mobility for a child his age as he can walk, trot and go up and down stairs by himself. He has good holding abilities and he likes to play with various toys in the activity room. He can understand the directors he receives from his caretakers and can follow simple instructions.
Beckett's language is delayed compared to some of his peers, but that makes sense given his left ear deformity. He can make sounds such as "aaa" and "yiyi yaya." Beckett is happy boy that is very active and loves to play. His favorite toys are cars and a wooden rocking horse.
You can contact the China Home Finding Team at Great Wall if you would like to learn more about adopting Beckett. We hope we are able to find Beckett his Forever Family soon!
Click Here to Watch one of Beckett's NEW Videos!
Trey is a healthy 13-year old boy who will be aging out next summer. He is in urgent need of a family to call his own! Trey was hosted here in the United States in the summer of 2016. Here is what his host family had to say about him:
"Trey was truly an awesome boy and would fit in to anyone's family. He tried ALL foods, joined in all activities, and LOVED to help do everything…especially make (and drink) kool-aid. Even when we were doing summer schoolwork (math problems), Trey wanted to join in and indeed, worked out problems in my son's math book! He tried hard to communicate with us, and used google translate well to ask questions and to tell us what he would like to do. He learned many English words while he was here, and taught us quite a few Chinese phrases. Trey is pretty athletic and loved to play baseball! He also loved board games and readily joined in. He got along very well with all members in our family, extended family, and church family."
Trey also participated in Bring Me Hope's summer camp! His advocates say he is a smart, ambitious boy who hopes to have the chance to go to college some day. He makes friends easily and is a sociable, sweet kiddo.
Please reach out to Great Wall to learn more about this amazing boy!
Wesley
Meet Wesley! Wesley is an incredible 12-year old kiddo in need of a forever home. He was born with difference of sex development, but his file indicates that he identifies as male. Wesley is a smart, active kiddo who is very attached to his caregivers in his orphanage. He can be very mischievous, and loves to play with the younger kiddos in the orphanage. He is described as being joyful and outgoing. He loves to sing on stage and participate in different activities that the orphanage organizes! He is a clever child who would thrive with a family.
Please reach out to Great Wall to learn more!
Resources
– Visit the China Waiting Child Photo Listing
– Contact a China Adoption Specialist
– Learn More About China Adoption
Read More