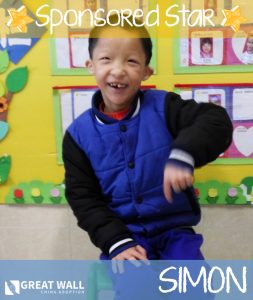 Meet our new Sponsored Star for January, Simon! He's a precious 7-year-old boy who is deaf, but he's great at understanding facial expressions and can communicate using hand gestures and instructions. Simon is a self-independent and cheerful boy who laughs easily and gets along with others. He loves to dance, play sports and games, and paint in art class. Simon would thrive with the love of a family!
As our Sponsored Star for December, he has a $2,000 grant available towards his adoption fees! If you're interested in learning more about Simon, visit our photo listing or contact our matching specialists today!
What is a Sponsored Star?
On the 1st of each month, Great Wall China Adoption will feature one of our Waiting Children as our monthly "Sponsored Star!" As our Sponsored Star, that child will be provided a $2,000 grant towards their adoption fees. Each of the kiddos selected is a Special Focus child, meaning they have not found their Forever Family yet due to their age or the degree of their needs. Together, we can find loving homes for these amazing kids!
We encourage any families interested in learning more about our Sponsored Star of the Month to visit our China Waiting Child Photo Listing, or contact our China Matching Specialists to learn how you can be matched today! Check back on the first of each month to meet the newest featured child!
Resources
– Learn more about China adoption
– Visit the Waiting Child Photo Listing
– Contact a China adoption specialist
Read More