Help Laney Find Her Family!
China | 2 years old | Girl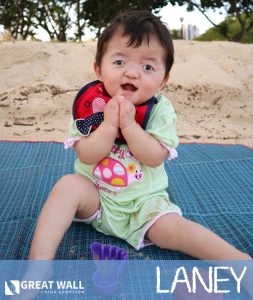 Laney is a precious little girl from China that just turned 2 years old!  Her updated medical information states that she has Apert syndrome, as well as limb differences of her hands and feet. She recently traveled to Singapore to receive incredible surgeries to reconstruct her fingers and assist with her skull development, and she has made a fantastic recovery!
Laney's caregivers describe her as an active, charming, and lovely girl. She is extremely affectionate and loves to be held and hugged by her nannies and nurses. Please reach out to Great Wall if you would like to learn more about adopting little Laney!
Visit the photo listing today to request Laney's file or to see her blog!
CLOSE