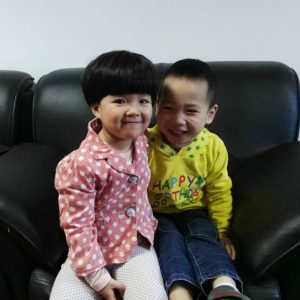 Every family's adoption journey is unique, and our China matching specialists love being a part of each one. GWCA's China adoption program gives families the opportunity to play a role in their matching process, so from the moment a family begins their journey, they work with our adoption specialists to figure out what age range, needs, and gender they might be looking for in a kiddo.
Due to the policies in place by the Chinese government limiting the number of children that each family can have, it is very rare that we see sibling groups available for adoption in China. As such, many families choose to adopt two unrelated children simultaneously so that they can travel to China and welcome both of them into their family at the same time. While the two children being adopted may not be related biologically, simultaneous adoption is a fantastic way to bring two different children from a shared past into a shared future!
The story below is from one of our China adoption specialists, Mallory, who had the pleasure of working with a family that began their adoption journey with the idea of siblings in mind. Now, just one year after beginning their paperwork, they've been matched with two incredible kiddos from the same orphanage and they're preparing to bring them home forever!
Last year, I was able to match a family that I have always enjoyed working with. When they first came into the office, they were seriously considering moving forward with on of our CAN international adoption programs in hopes of being matched with a sibling group. However, the consistent and predictable nature of the China program ultimately led to their decision to move forward with a China adoption.
Since this family was looking for children with more minor medical needs, we initially held off on looking at special focus children during their dossier phase so the family could have the option to be locked with an LID child.
Three weeks before the family was about to submit their dossier we received two special focus kiddos from one of our newest orphanage partnerships. The girl was 4 years old and the boy was 3 years old; both with heart conditions.
It's not often that we receive files for children from the same orphanage with the same need who are so close in age.  I immediately thought of this particular family knowing that this might be the closest to adopting siblings as they were going to get.
The family had both files reviewed by a physician who had nothing but amazing things to say about the prognosis for both children. These two kiddos wound up being the perfect matches for this family and our partnership with their orphanage made this possible. This family had a very unique process and their children will have a very unique and special story to tell someday. I couldn't be happier for them!
If your family is interested in learning how you can be matched with a child or two unrelated children through our China Waiting Child adoption program, visit GWCA's photo listing or contact an adoption specialist today!
Resources:
Read More