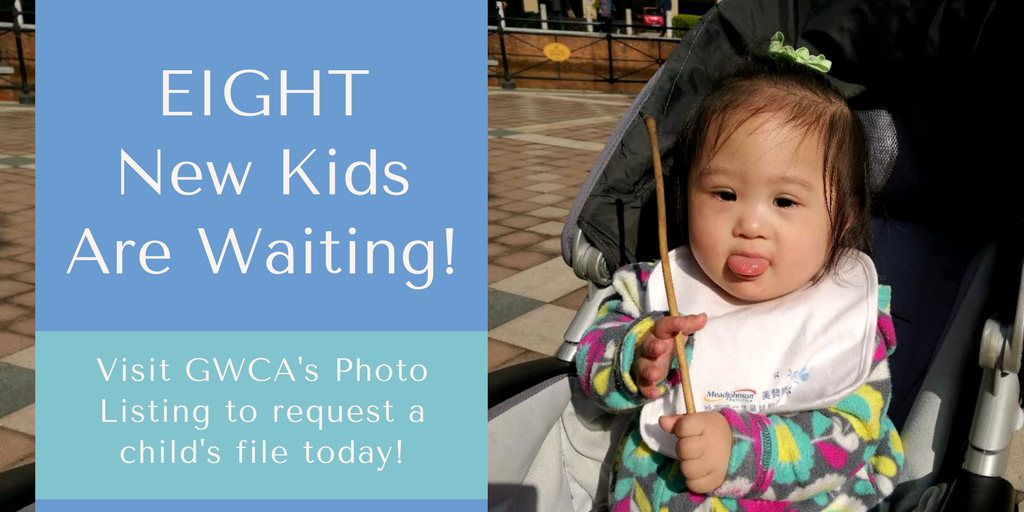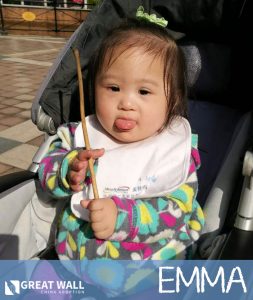 Meet Emma! Emma is an adorable little girl who is 1 1/2 years old! She was born with Down's Syndrome and anal atresia. She has received 3 surgeries for her anal atresia and is doing very well now! Emma is developing extremely well for her age and for her special need. She is able to sit and crawl independently and can stand holding the handrail. She babbles all day long and loves to giggle at her caretakers. She is described as being quiet, cute and well behaved. She loves to smile when someone calls her name and she can say hello and goodbye by waving and blowing kisses! Emma loves to clap her hands to the rhythm of music and play seesaw with her friends. Emma is from one of our orphanage partnerships but has also spent some time at an American run foster home in China where she has been exposed to English! Contact one of our matching specialists today if you'd like to review her medical file.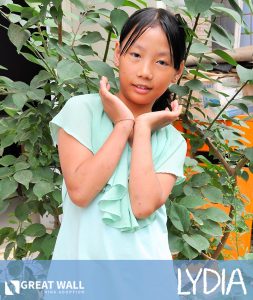 Lydia is a beautiful, extroverted and active 12 year old girl from China who is hoping to find her forever family. She was brought to the orphanage at the age of 10 after being abandoned, and it is believed that she spent the early years of her life being raised by her biological family.
Lydia has been diagnosed with HIV and tuberculosis, however, her growth and development are right on target. She has good self-care abilities, and she gets along well with her caregivers, teachers and peers. She is described as being kind, optimistic, cheerful and generous, and enjoys spending her time singing, dancing, drawing and playing with other kids.
If you're interested in learning how you can be matched with this incredible girl, contact heidi@gwca.org today!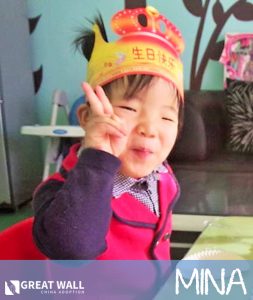 Mina
is an adorable little girl from China who is about to turn 8 years old. She was not abandoned and sent to the orphanage until she was almost 6 years old, so she was presumably with her birth family for the first 6 years of her life. This probably means that she received more one-on-one attention when she was a young child before coming to the orphanage.
Mina has a hearing impairment and she started to wear a hearing aid as of May 2016. Because of this, Mina is delayed on her language development. However she can understand the instructions of her caretakers, partially by observing the mouth shapes that her caregivers make, and she can use signs to convey what she wants and needs. She is making sounds and she picking up more and more all the time.
Mina is described by her caretakers as being adorable, having a ready smile and being very kind. She likes to play outside and with other children. She is also said to be a great helper to her caregivers and will do things like throwing trans into the trash can and cleaning up water that has spilled on the floor.
You can contact the China Home Finding Team at Great Wall if you would like to learn more about adopting Mina. We hope we are able to find Mina her Forever Family soon!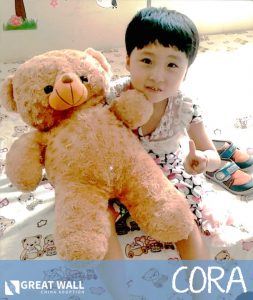 This adorable kiddo's name is
Cora
, and she just turned 7 this past January! Cora has been diagnosed with cerebral palsy, a malformed right hand, and a malformed left food. She is able to understand most language, but has trouble expressing language herself. That being said, she has a wide range of expressive ability and is able to express her needs clearly to her caregivers. She is currently receiving physical rehabilitation services, music education, and acupuncture to help with her mobility delays. She is thriving with the assistance of her caregivers and will likely do even better with the consistent care of a forever family. She loves to listen to music, watch cartoons, build blocks, and play with her friends. She loves puzzles and is able to finish them quickly! Cora has incredible self care ability, and is able to put on clothes and take off shoes without assistance. She does still need assistance to use the bathroom, but she is making great progress. She is a bright, smart kiddo who would thrive with the love of a family. Please reach out to Great Wall to learn more about this special girl!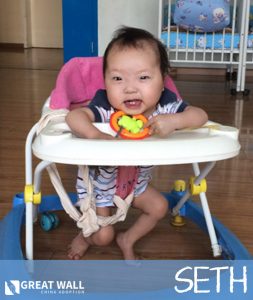 Meet
Seth
! Seth is a cute little guy who will be turning 2 years old in April. He was born with cerebral palsy and CHD. He received surgery for his heart condition and is doing much better now! He was 1 year old when his file was prepared and at that time he was described as active, obedient and giggly! His motor skills were developing typically and he was able to sit up on his own and hold his toys. He could understand the facial expressions of adults, respond when his name is called and eat treats independently. If you are interested in learning more about Seth, contact one of our matching specialists today!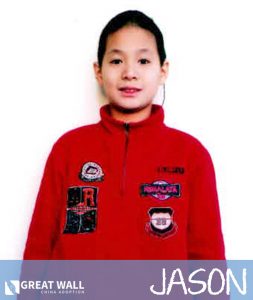 Jason
is a sweet boy from China that recently turned 11 years old. Jason was born deaf but has since received a Cochlear Implant and so he has quite a bit of hearing ability now. Since he received his Cochlear Implant 4 years ago, has attended a special boarding school to help him learn language and speech.
Jason has great self-care skills and he is a very easy person to live with. He has an easy-going personality and gets along well with others. He likes to draw and make models with his hands. Jason is good at math and he likes to play basketball with other children at school.
You can contact the China Home Finding Team at Great Wall if you would like to learn more about adopting Jason. We hope we are able to find Jason his Forever Family soon!
Click Here to Watch one of Jason's NEW Videos!
You can watch more NEW videos of Jason when you request to review his file!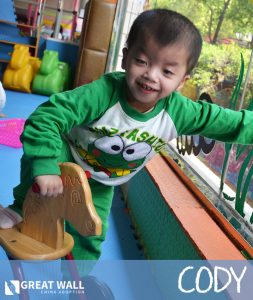 Meet Cody! Cody is an adorable little guy who is 4 years old. One of his testicles has not yet descended but he seems to be developing typically in all other areas! Cody can effectively understand and follow directions from his caretakers and independently manage some self care tasks. He can get dressed on his own, feed himself, help his foster mom in the kitchen and express his daily needs! Cody's fine and gross motor skills have developed typically for a child his age and he doesn't seem to have any delays in these areas. Contact one of our matching specialists today if you are interested in reviewing Cody's file!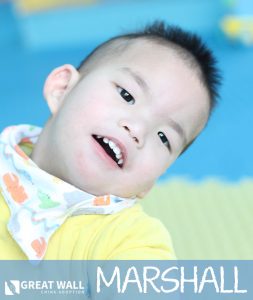 Meet
Marshall
! Marshall is a precious kiddo who just turned 3 in February. He is diagnosed with encephalopathy and a possible chromosomal abnormality. He also has cryptorchidism, meaning that his right testicle has not descended. Overall, he is a sweet kiddo who would thrive with the love and care of a forever family! He does have overall mobility delays, but he is able to turn, crawl, raise his head, and hold on to his favorite toys. He is babbling to express his needs and loves to hold hands with this other kiddos. He is described as being a cheery little guy! If you'd like to learn more about Marshall, please reach out to Great Wall China Adoption!
Read More