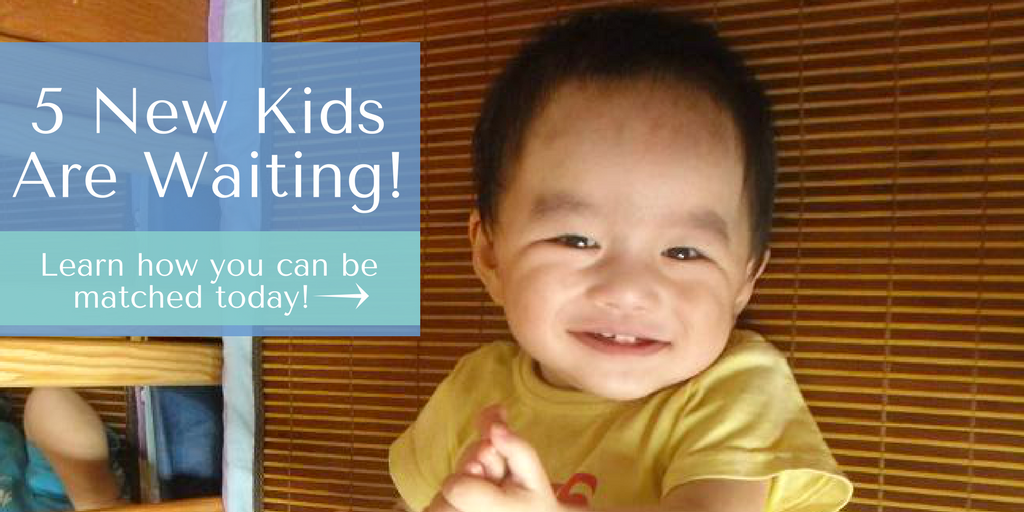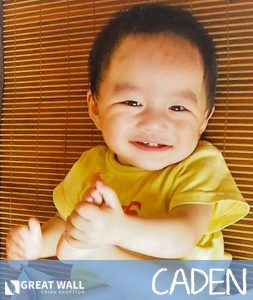 Caden is a sweet little boy from China that is 5 years old. Caden is described by his caregivers as a very lovely boy that gets along well with other children. Caden is will blow kisses at his caregivers when they walk in and out of the room. Caden likes to play with toys and play games with his friends in the orphanage.
Caden has cerebral palsy, so his lower limbs are a little bit weaker, but he can stand and at the time his file was prepared in 2013 he was learning to walk. Caden's upper body and limbs appear to be normal and it sounds like he is doing well cognitively. He is a little behind on his language development, but he can understand what his caregivers are saying to him. Caden will wave bye-bye to his caregivers as they leave the room.
Because Caden's file is a little bit out of date, we are working hard to get more updated information on him.
If you would like to review Caden's full file, please contract the China Home Finding Team at Great Wall today!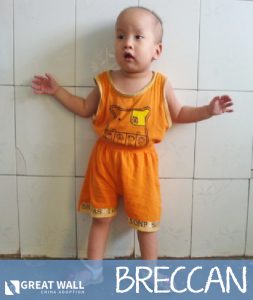 This sweet kiddo's name is Breccan! Breccan is an 8-year old boy in need of a home to call his own. He was born with hydrocephalus and a meningocele on the base of his skull. Breccan's caregivers say that he is an active, restless kiddo who loves to play with toys and listen to music. He is a smiley little guy who is described as being very extroverted and lively. He has attached very well to his caregivers and loves to spend time with the other children. His favorite activities include playing with toy cars and being outside! Please reach out to Great Wall if you would like to learn more!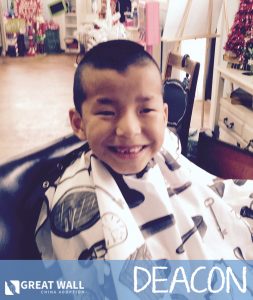 This cute kiddo's name is Deacon! Deacon is 9-years old and is in need of a family to call his own. Deacon was hosted in the United States for one month in December of 2015. Sadly, he still waits to be matched with a family to call his own. Deacon has cognitive and language delays, but he appears to be making incredible progress with the consistent care of his orphanage! His caregivers describe him as kind, helpful, and respectful of others, saying that is playful and loves to make friends with new people. He is very sweet and loves to spend time with his caregivers. Deacon would thrive with the love of a family.
Please reach out to Great Wall if you'd like to learn more!
Check out my NEW video!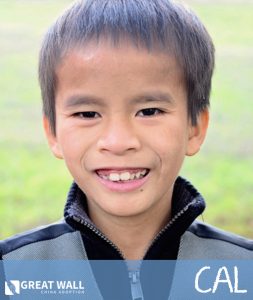 Meet Cal! Cal is an amazing 11-year old boy in need of a forever family. He was hosted through our Winter hosting program for one month in December of 2015, but sadly he still waits for a family to call his own. His host family has advocated strongly for this incredible kiddo since he arrived back in China and would love to talk to any interested families further about his time spent in the United States. Cal has differences of sex development and identifies as a boy. He also has possible hydrocephalus, but overall he appears to be on target in regards to his cognitive development. He is a bright, sweet kiddo who would thrive with the consistent care of a family. Here are some words about this amazing boy from the family who hosted him!
Host Mom: "Cal is a bright 9-year-old boy who lives in China. He is in the fourth grade and loves math and science. He is observant and a quick learner. He speaks some English and understands even more. He is very polite and is eager to learn. He flourishes from individualized attention and praise. His favorite pastimes include basketball, soccer and riding bikes. He also loves logic and math games. Cal is very small for his age but is persistent and determined. When he came to stay with his host family, he couldn't hang onto the monkey bars, much less make it across. After two weeks, he can now do both. He enjoys new experiences and soaks up praise for his accomplishments. He is a reserved child who has a sensitive side but he can become quite animated when he's excited. He gets along well with other children and enjoys working toward a common goal (building something, puzzles, etc…). He is affectionate little guy who likes to hug. He has amazing potential in a family!"
Host Dad: "From Day One, while reserved Cal had a 'want': a want to play football with others, a want to wrestle and a want for us to treat him no differently than the other kids. While small, he loved the physical contact of football, the excitement of being thrown in the air just to get caught, the joy and laughter of being in a human dog pile or having someone watch him while he was riding the bike or skateboard. Joining a family with or without other kids he has a want and a need to be physically active – that is exactly what I would want in a kid joining my family."
Host Grandmother: "Christmas is a time of family getting together, so I wondered how Cal would feel being with our family. At first, he was a little reserved. But he soon settled in. Cal goes with the flow and just rolls right along. He is a sweet, smart, easygoing, affectionate child.  One night when I was helping get everyone to bed, he came downstairs with arms opened wide to give "Grandpa" a big hug. Another night, after watching me fluff pillows and smooth the sheets for Jessica's children, he wanted me to do the same for him. He was so delighted over something so minimal. We got him a watch for Christmas. You would have thought it was a year's pass to Disneyland or SeaWorld when in reality it was just a little inexpensive Spiderman watch. When you have few possessions, even something small is a really big deal.  Frequently from the expression on his face, you could see he was enjoying being with us but was wistful for a family of his own. This is heart wrenching and we have been praying for a family to come forward."
Please reach out to Great Wall if you would like to learn more about this amazing boy!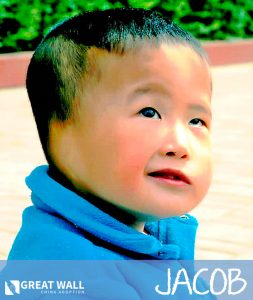 Jacob is an awesome little boy from China that is 4 and a half years old.  Jacob is described as being an active, cheerful boy with a ready smile.  He likes to play games with his friends and spend time outside.  Jacob is very close with his caregivers. Sometimes when his nanny is doing laundry he will sit next to her and try to help her fold clothes.  He is a very helpful little boy who is empathetic and aware when other people need help.  Jacob's physical abilities appear to be normal compared with his peers, such as his ability to walk, jump up and down, and go up and down stairs.
Jacob was born without any ears but he can still hear, though not as good as most of his peers.  Jacob understandably has a language delay, but he is able to respond to his caregivers when they call his name and ask him to do simple tasks.  Jacob can also say some words and is able to communicate with others. The right side of Jacob's face also droops somewhat, but it has improved with acupuncture.  Jacob was very brave and behaved well when he was receiving acupuncture, even though i twas painful.
If Jacob could be adopted by a loving Forever Family and come to the U.S. to get the surgical procedure's he needs to be able to hear better, there is no telling how far he could go in life!  However he will never get that kind of medical care in China, so he will most likely be unable to hear much and never get much better at his language skills if he stays in China.  Will you be the family who helps Jacob live his life to the fullest?
If you would like to learn more about Jacob, please contact the China Home Finding Team at Great Wall today!
Read More