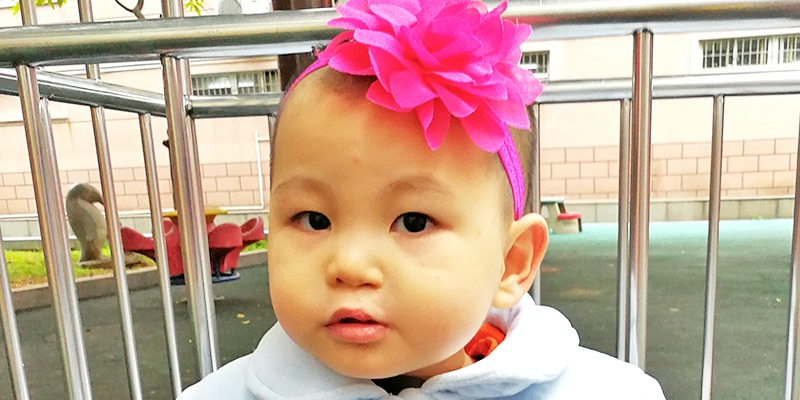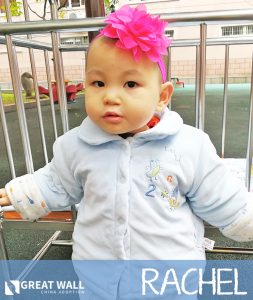 Rachel is a precious little girl from China who is about to turn 2 years old. Rachel has thalassemia beta, a repaired cleft lip and an unrepaired cleft palate. Rachel can walk on her own, eat by herself and can follow simple instructions like throwing a piece of trash away. She can say some simple words, but her speech will most likely be delayed due to her cleft palate. Rachel can wave "bye bye" and blow kisses. Rachel gets along well with other children and she is close with her caretakers.
If you would like to learn more about Rachel you can request to review her full file. The China Home Finding Team would love to speak with you about how the China Adoption matching process works and how you can adopt a kiddo from China that is a good fit for your family!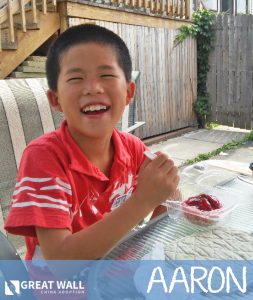 Meet
Aaron
! Aaron is an amazing 10-year old kiddo in need of a loving home to call his own. Aaron is completely healthy and is doing great in regards to his overall development. He participated in summer hosting through GWCA, meaning that he was in the United States with a host family for a full month! Because of his time here we have fantastic information on his personality and overall health. Aaron had a wonderful time with his host family and loves the United States. He learned some English during his time here and was able to confidently express his needs to his host family. He loved helping his host family around the house but doing household chores, watering plants, and feeding their pets. Aaron played very well with other kiddos and loved sharing his toys and games! His host family describes him as energetic, smart, playful, and affectionate.
If you'd like to learn more about Aaron, please reach out to Great Wall!
Nora
is an incredible kiddo that was hosted with GWCA in Summer of 2016. Here is more about Nora from her host family:
"Nora is an amazing little girl. She was born in 2006 with Down Syndrome and a CHD. The heart condition was repaired at some point in time when she was younger, though her file does not state exactly when. She was hosted in the US in the summer of 2016 by a family who would love to talk with anyone interested in knowing more about this precious child. Nora is very independent and cognitively very able. She was able to confidently take care of all her needs. She has extremely long hair that she did not like to have to brush, but was willing to have it braided to have it out of her way! She talked very clearly in Chinese and was able to communicate her needs to her host family. She ate well and was very healthy. She adored the younger children in the family and wanted to help in caring for them! She enjoyed having jobs to do with the other children in the home. She liked to play outside and go on trips but she also loved to look at picture books and draw in notebooks. She also loves animals!
She was examined by a pediatrician, dentist, and ophthalmologist while in the US. The pediatrician said she was very healthy and well taken care of. She also said Nora's heart sounded very healthy. Nora does not need glasses but does have a few cavities that will need some treatment once she is adopted. Nora would do very well in a family – she loves being with people, especially children. She adored her host dad in particular but also loved to snuggle with her host mom and their children. She is very bright and curious. She wants to learn and explore. She is a treasure just waiting to be claimed."
Please reach out to Great Wall to learn more about this amazing kiddo!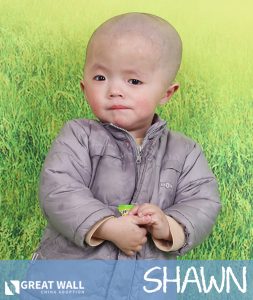 This sweet little guy's name is
Shawn
! Shawn is a darling 3-year old boy in need of a home to call his own. He arrive to the orphanage with a condition called plagiocephalia, meaning his skull was malformed. Shawn's language development is slightly delayed, but he is learning some simple words by participating in early education activities! He is able to understand adult's instructions and speak a few simple sentences. He's a sweet kiddo who loves to listen to music and play with his caretakers!
If you'd like to learn more about Shawn, please contact our GWCA China Matching Team by calling #512-323-9595 or by e-mailing us at info@gwca.org.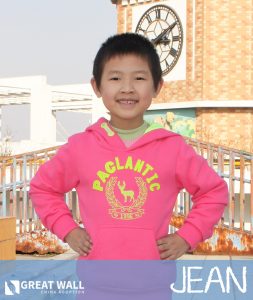 Meet
Jean
! Jean is a sweet 8-year old kiddo in need of a forever family. Jean is a lively, active kiddo who gets along great with other students, teachers, and caregivers. Jean is a Jean has differences of sex development, meaning that she has both male and female genitalia. She has XY chromosomes and bilateral testes, but a difference of sex development advocate we work closely with believes that Jean may identify as a girl based on the information presented in the medical file. She appears to be mostly female in her genital region, indicating that this may be her preferred gender identity.
Jean takes initiative in greeting new people and is not shy in front of strangers. She loves to play toys and games with other kiddos! Her file indicates that she was incontinent at the time her file was prepared in 2016, and Great Wall is working hard to learn more recent information. She is able to change her diapers by herself and does a great job taking a bath, brushing her teeth, and taking her clothes on and off. She is able to control her defecation without the need of diapers.
Overall she is a bright, happy kiddo who would thrive with the love of a forever family. Please reach out to Great Wall to learn more!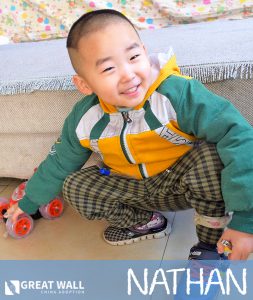 Nathan
is a sweet little boy from China that is 4 and a half years old. Nathan lives with a foster family within the grounds of the orphanage and gets along well with his foster parents and foster siblings. Compared to children of his same age, his mental development is normal. Nathan is described by his caregivers as being extroverted, active and happy.
Nathan can walk by himself, go up and down stairs, run and jump very well. He loves to jump on the trampoline. He also has good fine motor skills and can pick up small objects. He can communicate and interact normally with adults and children. His favorite activity is to play outside with other children. He can follow the instructions of his caregivers very well.
Nathan has post-operative CHD and post-operative cystostomy. He has normal bowel movements and urination. He does have a urine bag. Is has not been potty trained yet so he is still wearing a diaper. He does have scoliosis, but it appears to be a more minor form based on the updated, recent videos of Nathan.
Nathan appears to have broken his leg recently, but that doesn't seem to be related to his special need, we think that is just something that happened separately. He is getting rehabilitation to get his leg strength back.
We are very excited about helping Nathan find his Forever Family! Please reach out to the GWCA China Home Finding Team to find out more about Nathan and to review his file!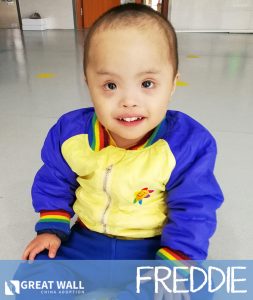 Meet
Freddie
! Freddie is an adorable 3-year old boy with Down Syndrome and a congenital heart defect. He is an active and happy little guy who loves to play with his peers and caregivers. He is described by his nannies as being curious, loving, and affectionate! He can walk without assistance and can eat, drink, and go to the bathroom independently. He is also very responsive when his name is called and cooperative when his caregivers give him instructions. His is a happy, sweet little guy who would thrive with a forever family to call his own.
Please reach out to Great Wall to learn more!
Check out my video!
This amazing kiddo's name is Ben! Ben is a sweet 10-year old boy in need of a forever home. Ben was hosted in the United States through GWCA's hosting program for a month in summer of 2016! He had an amazing time while being hosted and bonded extremely well with his host family. He was born with very mild clubbed feet, but he has not needed any physical therapy or surgery to walk and run without assistance. He also had some seizures when he was younger, but he has not had one since 2008. He is very sociable and loves to say hello and thank you in English. He is on target developmentally and is a bright, intelligent kiddo. He is very active and outgoing and loves playing with other children! He loved playing with his host siblings and would make a fantastic brother. He is a sweet, charismatic kiddo who would thrive with the love of a forever family! Please reach out to Great Wall to learn more!
Read More