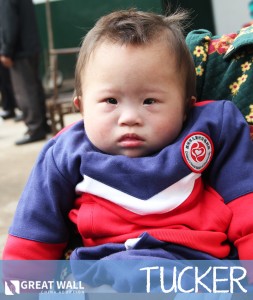 Tucker is a cute little guy that is 1 1/2 years old! Tucker has Down's Syndrome and CHD. He lives with a foster family and has been thriving in their care. Tucker has some difficulty sitting up and standing on his own but his file indicates that he's always trying to strengthen his abilities. We think that with the right family and rehabilitation plan, Tucker will be able to overcome these delays! His caretakers say that he loves being in crowded places so he can be observant. Tucker has good grasping ability and can play with toys on his own. His caretakers say that he loves watching television and frequently giggles at the TV! Contact Great Wall if you'd like to review Tucker's file!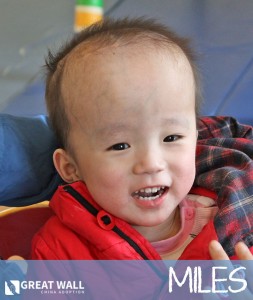 Miles is an adorable 4 year old boy who loves to laugh with his friends and caregivers! Miles was diagnosed at a young age with hydrocephalus, and had a shunt inserted into his head in June of 2013. The shunt helped to alleviate some of his symptoms, but unfortunately he began to develop excess fluid in his head once again and is now in need of further treatment. He is delayed in language, mobility, and cognition, but has made improvements during his time with his caregivers. His caregivers say that he gets along well with other kiddos, and that he loves to laugh! The describe him as a lovely child, and they are very hopeful that he will find his forever family soon. If you'd like to learn more about Miles, please reach out to Great Wall!
Click here to watch my NEW video!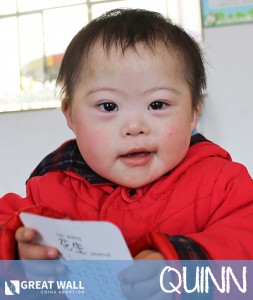 Quinn is an adorable little girl from China that is 2 and a half years old. Quinn has Down's Syndrome and is doing quite well. One of our GWCA staff members met Quinn when she visited China earlier this year and she would be happy to speak with any interested family about Quinn! 
Quinn has been described by caregivers as clever, introverted, cute and energetic. Quinn lives in an imitation family on the orphanage grounds, which is like a foster family, so she is receiving more one-on-one attention than some other children. Quinn can use her hands to hold small objects, such as sticks, books, spoons, etc. Quinn can pass toys between both of her hands and can use hands to support herself. When Quinn is sitting up the child has good balance and can change her position freely. Quinn can crawl, she can stand up by herself and is learning to walk. Quinn likes to walk around using small chairs and stools to help her balance. Like many children with Down's Syndrome, Quinn's language abilities are delayed compared to other children her age without Down's Syndrome. However, Quinn can say words like "ma ma," "ba ba," and she imitates what adults and children around her are saying. Quinn enjoys listening to music, looking at picture books and dancing. Quinn can color on paper and play with puzzles.  Quinn is clearly a very curious little girl and always seems to want to figure out how things work.
You can contact the China Home Finding Team at Great Wall if you would like to learn more about adopting Quinn. We hope we are able to find Quinn her Forever Family soon!
Click Here to Watch My New Videos: Video #1! | Video #2! | Video #3!
Jack is a sweet 3-year old boy looking for his forever family! Jack's official diagnosis is cerebral palsy, and it is unclear as to whether or not he has been diagnosed with a syndrome as well. Jack is able to walk with the assistance of his caregivers, and has good fine motor skills. His language is delayed, but he does imitate his caregiver's language and expressions through his actions. He will even observe his family doing housework and will imitate their movements! He is very close with his foster grandmother and has formed excellent attachments with his caregivers. Jack makes his caregivers very happy, and they said that they love him very much. If you'd like to review Jack's full file, please reach out to Great Wall!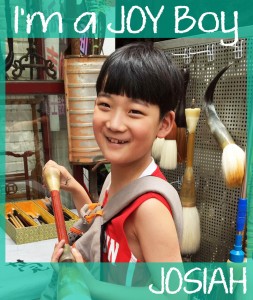 Josiah
was recently apart of GWCA's JOY program. A family spent a week getting to know Josiah and these are some of the amazing things they have to say about him!
Mr. Josiah is the cool kid who just wants to please! He's hilarious and has a killer sense of humor! Josiah is not only fluent in Mandarin and Cantonese, but he is extremely good with the English language. Often times on our journey we were grateful we had Josiah as he was able to translate for us in a pinch! He REALLY is hoping to find a family, soon! Josiah is an all-around HAPPY dude. He has great friends, including another Joy kiddo named Sean, does excellent work in school & isn't afraid to jump into the mix of things no matter what they are. One of my favorite things about Josiah is the wonder in his eyes. With every new experience he was ready to take it on with an open mind & no hesitation! Josiah would be an excellent big brother, little brother or only child… he's really a happy-go-lucky kiddo who just wants to belong & be loved! Josiah has a congenital heart defect. At two years-old he had surgery that, if he was born in the US, would have been done at infancy. This probably saved his life, for now. The procedure was successful, but what happens when kids get older? They grow, and so do their hearts. Josiah will most likely need another procedure. We will not know until a cardiac surgeon has the opportunity to complete a full medical profile. What Josiah wants the most is a family. I witnessed this every moment I was with him last week in China. He wanted to please me. He wanted attention from me and the other advocates. He wanted to be friends with the other kids. And he was all that and more.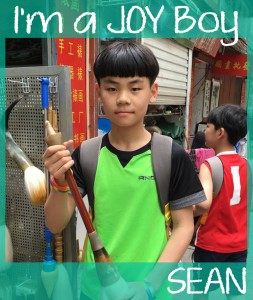 Sean
was recently apart of GWCA's JOY program. A family spent a week getting to know Sean and these are some of the amazing things they have to say about him! Sean is a clever, well-mannered and helpful 13 year old boy. Our family spent 5 days getting to know Sean, and within hours of meeting him we could see that despite the fact that he is deaf and mostly mute, he is very intelligent. He had hearing aids until he was 3 years old but they were uncomfortable so he quit wearing them. Then, when he came into the orphanage they were no longer accessible. He says he cannot hear from his left ear but he can hear sounds and words from his right ear if he is wearing an earbud headphone. Sean is fluent in Chinese Sign Language and seemed to be keen on learning ASL signs as well. He can also read and write in Chinese. He is very "tuned in" to whatever is going on around him and finds ways to communicate with others. He is well behaved, patient, observant and helpful. Since we spent 5 days with him, we were able to watch him even when he wasn't aware we were doing so. His excellent behavior was consistent at all times. Sean has an amazing sense of humor! His humor is universal and he understands other's level of "fun" and play easily so nobody ever got hurt! Sean also knows there is a time & a place for this kind of silly, and quickly reels it back in when necessary. We had younger children in our group, and he was always patient as we had to tend to their many needs. We got to play ball, jump rope, blow bubbles, play tag, and even had a water fight. We could tell that Sean is an incredibly active, athletic and agile kiddo. This young man would fit well into any family. He is longing for parents and even siblings of his own. He is TRULY an amazing young man & the family whom steps up to adopt him will be so fortunate to have him in their lives!
Click Here to Watch a Video of Me!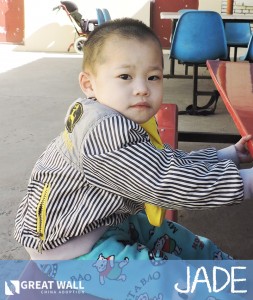 Jade is an adorable little gal that is 4 years old! Jade was born with PKU. She is also delayed compared to her file does not indicate how significant her delays are. She can walk freely, go up and downstairs on her own and can help her caretakers with some basic self-care needs. Jade is delayed on her language development but her caretakers say that she is eager to get the attention of new and familiar people. Jade's file is limited so GWCA is working on getting an update on her. Please contact one of our matching specialists if you are interested in reviewing her full file!
Read More