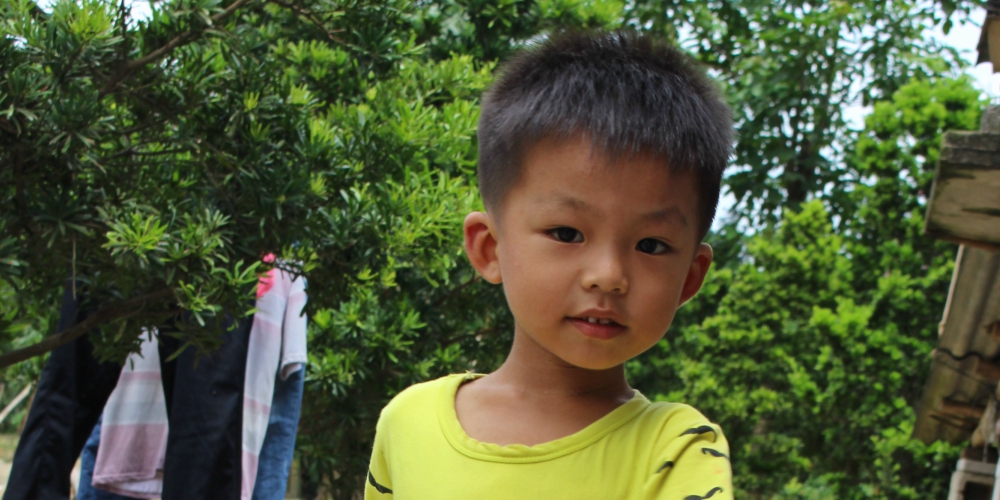 Dimitri is a precious 6-year-old boy who has been diagnosed with cerebral palsy. He's able to walk on his own and go up and down the stairs. He can follow simple instructions, such as putting his clothes on and participating in chores. Dimitri was placed in a foster home, and he quickly attached to his foster parents. He loves to be mommy's little helper and run errands with her, and he loves playing toys with his foster dad.
Dimitri does not speak too often, but he is able to say a few words, such "mama", "popo", and "hug". Sometimes he likes to be silly and act like he is singing in a microphone. Like most kids, Dimitri loves to play outdoors with his foster sister. Most of all, he loves receiving hugs from his foster parents. Dimitri is an adorable little boy who has a lot of love to give to his future family! Please reach out to us at GWCA to learn more about him!
Maggie is a precious little girl who is 5 years old! Her file indicates that when she came to the institute, she had severe ear infections in both ears, for which she underwent a procedure. Maggie also has some muscular tension on the left side of her body. She listens and follows instructions very well and loves to be close to her caretakers. She is described as being an extremely curious and happy kiddo.
It is unclear in her medical file why she exhibits some muscular tension, but she is able to stand, walk and run independently. Maggie also has some language delays but can easily understand those around her. Her favorite activity is listening to music and dancing with children in the orphanage! GWCA is currently requesting some updated information on Maggie. Contact us if you would like to learn more about her!
*AGING OUT* Hunter is an older healthy boy who is 13 years old and will age out in May of 2018. He has no known medical diagnoses and seems to be doing very well! He was raised by his uncle up until he was about 9 years old, when he was taken to the institute. Hunter does well in school and does not have any health conditions or delays compared to his peers! He is described as being a relatively introverted and thoughtful kiddo who gets along very well with other children. He has expressed a great desire to find a family and would very much like to be adopted. Contact one of our adoption counselors today if you would like to learn more about Hunter!
Duke is an adorable 3-year-old boy who is in need of a forever family! Duke has postoperative congenital heart disease. GWCA is currently obtaining updated information on him, as his file is currently outdated. Duke is able to stand alone and say a few words. He has been described as an outgoing boy who loves to laugh and cuddle with his caretakers. Please reach out us at GWCA to learn more about him!
Reese is a charming 12-year-old boy who has been diagnosed with a lower limb disability. He has received surgery for his need and can now walk with a walker. He continues to receive daily rehabilitation training. Reese lives in a foster home and has formed healthy attachments to his foster parents. He is self-independent and adapts well to change. Reese's foster parents have described him as an outgoing, respectful, and well-mannered boy. He is very talkative and makes friends easily. He helps out around the house by doing chores and caring for his younger foster siblings. Reese attends school, and he does very well because he is a hard-worker and likes to study. Reese is a caring boy who will bring joy to his future family's home! Contact us at GWCA today to learn more about him!
Resources
Read More